1–What is the title of your latest release?
2–What is it about?
A SPOT OF TROUBLE is a sweet 101-Dalmatians-inspired romantic comedy about a cupcake baker and a new-to-town firefighter who both have two very opposite pet Dalmatians.
3–What do you love about the setting of your book? 
The setting of this book is a fictional, small North Carolina beach town called Turtle Beach, and it's actually very near and dear to my heart, because it's based on a real place called Topsail Island, NC. My family has been visiting Topsail nearly every summer for more than twenty-five years. 
4–How did your heroine surprise you? 
By listening to her own heart from the very beginning of the book, in spite of her family's efforts to protect her from getting hurt. 
5–Why will readers love your hero? 
Readers will love Sam because he's swoony and stoic and loves Violet just as she is.
6–What was one of your biggest challenges while writing this book (spoiler-free, of course!)? 
Not going out and adopting a Dalmatian! Ha! (For real, though.)
7–Do you look forward to or do you dread the revision process? 
Revisions are actually my favorite part. I look at that part of the process as a puzzle and my job is to get it together just so and make the prettiest picture in the end.
8–What's your favorite snack to have on hand while writing? 
Flavored coffee with a giant dollop of milk or cream. And maybe a cupcake.
9–Where would you go for an ideal writer's retreat? 
London or Paris. I would love to move to either of those cities for a few months and write a book set there from start to finish.
10–What's the best piece of writing advice you've received? 
Write what you truly love. It makes all the difference in the world.
11–Who is the fictional character you want to hang out with the most? (anyone in literature!)
Becky Bloomwood from Sophie Kinsella's Shopaholic series. I love those books. We would obviously go shopping together.
12–What's one of your earliest book memories? 
Going to KMart on the weekends and getting to pick out a new Nancy Drew book every Saturday. Also, participating in the summer reading challenge at my local public library every summer.
13–If you had to write in a different genre, what would it be and why? 
I would love to try my hand at a cozy mystery because I enjoy reading those.
14–What song will automatically put you in a good mood? 
Come on Eileen. It's my favorite. I remember it playing in the delivery room when my son was born and it's been my jam ever since.
15–What is your favorite way to practice self-care?
A lavender-scented bubble bath at the end of the day.
16–What can you eat and never get sick of? 
Pizza and red wine.
17–Will you share a favorite, recent-ish book you recommend? 
I just read Battle Royal by Lucy Parker and enjoyed it very much. It's a must-read if you're a fan of The Great British Baking Show.
18–Do you have any hobbies? 
I love fashion and I like to knit and read, but my main hobby is taking pictures of my Cavalier King Charles spaniels. (I am obsessed. haha)
19–Are you an early bird or a night owl?
More of early bird because my dogs don't typically let me sleep in.
20–What can readers expect from you next? 
Next year I'll have another book in the Turtle Beach series, LINE IN THE SAND, plus a royal Christmas book coming from Hallmark. It's going to be a fun year!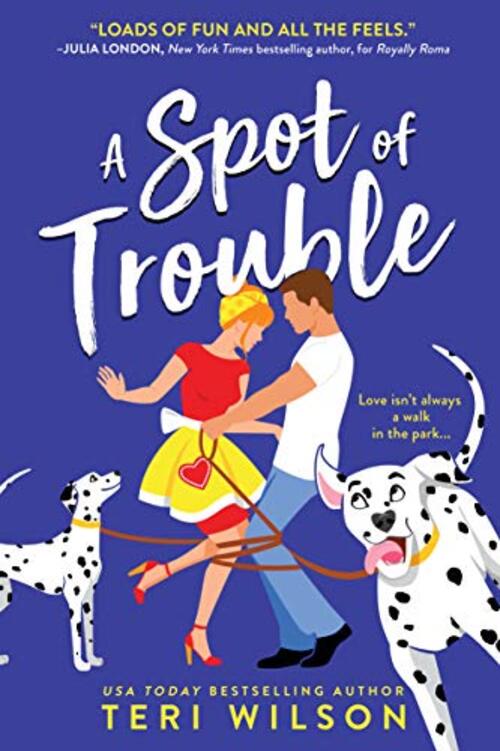 Get ready to laugh out loud with this hilarious romantic comedy featuring:
A grumpy firefighter who thinks his way is the only way
A bubbly yoga teacher who prefers to go with the flow
Adorable Dalmatians who swap places—and the chaos that ensues
An opposites-attract romance that'll warm your heart
Violet March and Sam Nash are as different as night and day and have been enemies ever since Violet accused Sam of dognapping her beloved Dalmatian. Sam knows that's impossible—for one thing, his dog Cinder is a well-trained fire safety dog who never steps out of line. Violet's dog Sprinkles, on the other hand, has never met a command that she didn't ignore completely, much like her bubbly owner. So when Sprinkles and Cinder accidentally switch places during the annual police vs. fire department softball tournament, Violet is thrilled by her dog's sudden perfect behavior, while stubborn-yet-charming Sam is horrified to find that his dog no longer listens.
But when the dogs are eventually switched back, Sam and Violet are shocked to find that not everything is as simple as it seems. And a little puppy love might be just the thing they've been missing…
Romance Contemporary [Sourcebooks Casablanca, On Sale: September 7, 2021, Trade Size / e-Book, ISBN: 9781728214795 / eISBN: 9781728214801]
USA Today Bestselling Author Teri Wilson writes heartwarming contemporary romance with a touch of whimsy. Three of Teri's books have been adapted into Hallmark Channel Original Movies by Crown Media, including UNLEASHING MR. DARCY (plus its sequel MARRYING MR. DARCY), THE ART OF US and NORTHERN LIGHTS OF CHRISTMAS, based on her book SLEIGH BELL SWEETHEARTS. She is also a recipient of the prestigious RITA Award for excellence in romantic fiction for her novel THE BACHELOR'S BABY SURPRISE. Teri has a major weakness for crowns, cute animals and pretty dresses, and she loves ballet and Audrey Hepburn films.