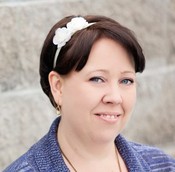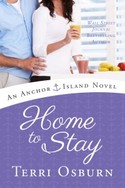 After eighteen years in a dying town where nothing ever happened, I struck out on my own and ended up living in five different states over the next two decades. And in that time, I never lived in the same house for more than a couple years. But all that changed when I settled near the ocean and finally bought my first home.
I guess I just had to find the place that felt like home to me. I wasn't necessarily looking for it, and neither is my heroine in my latest release HOME TO STAY. In fact, the last thing Willow "Will" Parsons can afford to do is settle in one place. You see, she has a secret. A big one. And that secret is on her tail.
But the very remote Anchor Island, at the base of the Outer Banks and accessible only by ferry, gives Will a little breathing room. She's still ready to leave on a moment's notice, but the longer she stays, the more she feels at home. And then Randy Navarro works his way into her life and her heart, giving Will an even bigger reason to stick around—the love she never expected to find.
Here's a little excerpt from when Will first starts really falling for her hero:
"Sorry about earlier," she said, watching a moth dart around the streetlight at the edge of the parking lot. Will understood how the moth felt, drawn to something that could do it harm. "I really do have a good reason for acting the way I do. It's hard to explain."

"If my guess is right," Randy said, "you've been in survival mode for a while now. Being suspicious is part of that." He laid an arm across the back of the bench, turning his body toward hers. "But you're still here. That's a good sign."

His face was hard to make out in the low light, but she caught a glimpse of white teeth and could imagine the grin that accompanied it.

"Does anything ever bother you?" she asked, truly curious. "I've never met anyone so mild-mannered."

"Well," he said, followed by a long sigh. "When I think about another man hurting you, I want to find him and break both his legs. So that bothers me."

Will held her breath. "How do you know a man hurt me?"

Randy leaned close, the hand behind her toying with a loose lock of her hair. "For months, I watched fear fill your eyes whenever I was around. With Joe or Lucas or even Tom, you're relaxed. But not with me."

With a lump in her throat, Will whispered, "I'm sorry about that."

"No apology needed. It took me a while to realize it wasn't about me." He lifted her chin until her eyes met his. "Then last weekend, when we talked outside the restaurant, I knew."

The truth swirled at the end of Will's tongue, choking her with the need to blurt out everything. The need to share the burden of what had happened to her. Of what could happen again if Jeffrey found her.

But emotion drowned out the words, and tears flooded her vision. For the first time in more than three years, Will felt safe.
So tell me, what says home to you? Is it the big city or a small town? Friends and family? Perfect weather? One lucky commenter today will win a signed copy of HOME TO STAY (open to US residents only.)
HOME TO STAY will officially release in all formats on May 1, 2014, but if you're a Kindle reader, the digital version is featured all this month in the Kindle First program. Go to Amazon First for details.
The first two books in the Anchor Island Series, MEANT TO BE and HOME TO STAY are available now, and the fourth and final book of the series, MORE TO GIVE, will release later this year. For more information about Terri and her books, check out her website at www.terriosburn.com. You can also find Terri on Facebook, Twitter (@TerriOsburn) and Goodreads.
To view the trailer for HOME TO STAY go to trailer.
To comment on Terri Osburn's blog please click here.