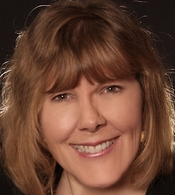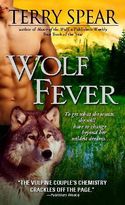 When writing a series, fresh is definitely the name of the game! WOLF FEVER has just been released so for the blog tour, that's my focus.
But at the same time, HEART OF THE HIGHLAND WOLF is up on Amazon for pre-orders (book 7) and I'm waiting approval for DREAMING OF THE WOLF (book 8), plus I'm working on book 9 right now, THE WOLF AND THE SEAL. While I'm writing all these books, I continually think about how each can be a really different story so that readers hopefully won't be shaking their heads and saying: same story, changed character names, but nothing new and different.
As an author of a series, we have to really strive to make each of them unique.
In the making of WOLF FEVER, I wanted to write Carol's story since so many fans loved her in DESTINY OF THE WOLF and asked to see more of her. She's strong and courageous and sensitive—trying to save others at risk to herself. And smart and determined, too, as a nurse who won't back down to anyone. She's caught the eye of a gray wolf leader, Chester Ryan McKinley, from another Colorado town. Now he says his interest in her only has to do with how she used her psychic abilities to learn of a murder case he was investigating. But she knows his interest in her goes much more deeply—if he'd only admit to it!
I came up with one plot idea, but I have to credit my editor, Deb Werksman, who truly is the greatest, for mentioning that I might focus on the aspect that Carol is a nurse, and how the story could relate to that. About that time, the World Health Organization was raising the alarm that we might have a terrible flu epidemic. So I was thinking, what if a flu virus affected wolves, well, werewolves, differently? What if the fate of the pack depended on one newly turned wolf?
WOLF FEVER was born. Thanks, Deb!
Writing fresh doesn't mean changing the world though. It's the same wolf world, just different scenarios, and it's not only fun but challenging to write about characters from the past. This is the first story that involves a large cast from a previous book, and it's interesting to show how they relate to one another from different main characters' points of view. It's also a challenge to do this, but still keep them true to their original character personalities in the earlier book, Destiny of the Wolf. And I hope that fans of the series will enjoy seeing more of the characters from the earlier book.
By having them in another book, their characterizations all deepen as they struggle through new conflict and work together or against each other. Plus, research is always important, and so I had fun coming up with tried and true (well, maybe not the true part) methods used in ancient times to rid oneself of being a werewolf.
I have to say that my wolves are very well adjusted, most were born that way, and would never think to change that part of their nature. So THEY never considered for a moment the notion they would be getting rid of their werewolfism. Just…fixing a problem with the shifting aspect.
Now, yes, these methods were purported to have been used and worked in earlier times, but if the character is a lupus garou, these methods will NOT truly work as in change the character so that he or she is now only strictly human. I just wanted to make that clear. Those were just myths and legends. Or sure, they might work on someone who THOUGHT he or she was a lupus garou, but wasn't. In any event, Carol had to try anything that might work.
Like the other books—mystery, adventure, romance, and humor abound in this latest tale of living within a wolf pack…werewolf style.
I hope fans of the series will find this story freshly entertaining as much as I had fun writing Carol and Ryan's story, as the wolves play and work and deal with troubles in their world unique to their kind.
So what cures the flu when it adversely affects a werewolf population? Come find out in WOLF FEVER.
Thanks to Fresh Fiction for having me, and I have one question for readers: With the flu season upon us again, what do you find works best for helping ease the symptoms of the flu?
WOLF FEVER by TERRY SPEAR—IN STORES DECEMBER 2010
Hospital nurse and newly turned red werewolf Carol Woods is being pressured by her pack leader to find a mate, but he's the only guy in the pack who remotely attracts her…
Why is he playing so hard to get?
Gray pack leader Ryan McKinley doesn't want anything to do with Carol unless she's willing to embrace her wolf nature—no matter how beautiful she is.
But when a virus infects the local lupus garou pack, Ryan realizes just how wrong he's been not to seize the moment with the woman he's come to love. And now, it may be too late…
Praise for Terry Spear's TO TEMPT THE WOLF:
"Ms. Spear's has spun a web of drama that pulled me in… Get it; read it; you'll love it!"—Romance Reader at Heart
"A paranormal romp that sizzles! Action-packed romance and suspense-filled plot add up to pure magic. I couldn't turn the pages fast enough. Terry Spear is a great addition to the paranormal genre!"—Armchair Interviews
ABOUT THE AUTHOR
With almost 56,000 copies sold, Terry Spear is a retired lieutenant colonel in the U.S. Army Reserves. She received her MBA from Monmouth University. An eclectic writer, she dabbles in the paranormal as well as writing historical and true life stories for both teen and adult audiences. Spear lives in Crawford, Texas. For more information, please visit http://www.terryspear.com/.
To comment on Terry Spear's blog please click here.