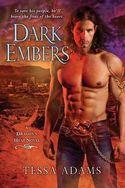 I'm so thrilled to be here today, talking about my first book as Tessa Adams, Dark Embers. The first novel in the Dragon's Heat series, Dark Embers tells the story of Dylan MacLeod and Phoebe Quillum. He's King of the Dragonstar clan, desperately searching for a way to save his people and she's a human biochemist with a dark past who is frantically looking for funding for her own research into curing Lupus.
To introduce you to DARK EMBERS, and the world I've created for these modern day dragons, I thought I'd interview Phoebe, so you can see this strange world through her eyes.
1. Phoebe, if you had to use three words to describe what its like being in love with a dragon, what words would you use? Fascinating, Dangerous, and Sexy—of course, those words could apply to Dylan himself, as well 😉
2. What's the hardest thing about being part of Dylan's world? At first, the hardest thing was simply accepting that shapeshifters exist. I'm a scientist and I've spent my whole life dealing only with facts, so when Dylan showed up at my lab, I had a hard time buying into what he was selling. Of course, when he insisted on a blood test I had a hard time arguing … Now, however, the most difficult part of being in Dylan's world is accepting the fact that his life is in danger every day—if not from blatant attacks from his enemy (we've had a few of those) but also from this virus that is ripping through his clan and killing so many of the Dragonstars. I'm working with Quinn Maguire, the clan healer, to find a cure or a vaccine to combat it, but so far it's proved impossible.
3. The deserts of New Mexico are a far cry from a research lab at Harvard—have you had a difficult time adjusting? I think it was a lot harder getting used to the fact that my lover can grow scales, wings and claws, not to mention breathe fire, than it was to adjust to New Mexico, LOL. But, yes, moving from my two-bedroom apartment in Cambridge into a desert cave in the middle of New Mexico has definitely taken some adjustments. Thank God my honey is pretty much a portable water heater …
4. You've had a pretty difficult time yourself, before hooking up with Dylan. Do you want to tell us a little bit about your past I don't, really. The past is done and I firmly believe it should stay buried. But if you're going to insist, I guess I'll just say that all the things that happened to me as a teenager led me to become a doctor and a researcher, which in turn led me to Dylan. So while I wouldn't want to relive them (that's an understatement) I can't regret that they helped make me a woman strong enough to handle the King of a dragon clan.
5. Above, you used three words that could be applied to Dylan, but if you had more space to describe him, what would you say about him? Dylan is … the best. He really is. I've never met a man who cared more for the people he was responsible for, a man who would do anything to save the people in his clan. His life hasn't exactly been easy, you know. He lost his parents and older brother, which in turn led him to have to assume the crown when he'd never anticipated it. Add in the fact that this virus has hit the clan so hard, and Dylan has had a rough few decades. And yet, he's an incredible King. Kind, fair, smart and absolutely determined to steer his people through this—I admire him more than I can ever say. Add in the fact that he's tall, dark and sexy as hell … what's not to love?
6. Last question—this book has some surprises in store for its readers. How do you feel about those surprises? Oh, wow. You don't ask the easy questions, do you? I feel … shocked, more than surprised, not to mention completely discombobulated (don't you love that word?) But I think, in the end, they turn out to be good surprises. I mean, where else can you find–
Oh, I think that's enough, Phoebe. We don't want to spoil the end for any readers out there. Oh, right. Of course. Sorry, Tessa.
That pretty much wraps up my interview with Phoebe, but if you'd like to see more of her, there's an excerpt up at my website and a pretty cool contest going on over at my blog. Stop by and learn more about Phoebe and Dylan and the Dragonstars. And since we're talking paranormals, I thought I'd ask—what's your favorite kind of paranormal hero/heroine? Shifters, witches, immortal guardians, vampires, fairies … the list goes on and on. I'm obviously partial to dragons, but I'm also a big fan of cat and wolf shifters and witches.