The Wet 'N Wild Authors are at it again, this time featuring Navy SEALs – heroes ready for action, on the job and off! We asked each of the 10 bestselling & award-winning authors, "The SEALs are WET – how is your story WILD?"
Tawny Weber's A SEAL'S PROPOSAL, much like its heroine, is sassy, sexy and wild! Sam vowed if he ever became a SEAL, he'd do it as a single man. Bryanna isn't willing to give up the man she loves. She has 2 weeks to convince him that he can have his career, and everything she has to offer, too, if they stay together. How? With wild sex, of course.
For Commander Marc Miller, Hell Week begins the moment one red-hot redhead, a well-connected junior officer, waltzes through his door & gets inside his head. In Rogenna Brewer's SEAL IT WITH A KISS, Lieutenant Tabitha Chapel will have to match wits with the best to become the first female SEAL – but the limits of her determination are tested by the only SEAL capable of commanding her heart.
One. Wrong. Move. In ROGUE by Laura Marie Altom, disavowed Navy SEAL, Nash Adamson, knows that's all it will take for his high school sweetheart, Maisey, and her unborn child to die at the hands of her psychopath ex. When the exertion and stress send Maisey into early labor, the clock is ticking for Nash to save her and her child from not just lethal swamp creatures, but the man who wants her dead.
Jennifer Lowery's A SEAL'S SONG features Jack Taggart, a SEAL searching for some downtime in the tropics. Jack is a real charmer, using humor to help Darci O'Shea get through their mess – a wedding, a kidnapping, inner demons – to find rescue in each other's arms.
Caitlyn O'Leary's HER SEAL'S VIGILANT HEART is a wild tale that tugs at your heartstrings as the wedding of Mason and Sophia finally arrives. While the two fall deeper in love, the Midnight Delta SEAL team and their women are intent on making their wedding memorable. This story has romance and fun & will leave you sighing with pleasure.
In WITHHOLDING EVIDENCE by Rachel Grant, former SEAL sniper Keith Hatcher has a deadly secret. When he finds himself intensely attracted to the woman the Navy has tasked with uncovering the truth, he makes the wild–and potentially foolish–decision to pursue the Naval historian. The chemistry between Keith and Trina turns explosive, leaving Keith to wonder if his reckless choice endangered the woman he's falling in love with, or if she is the true threat.
Kade Jordan, the hero of Anne Marsh's HER FIREFIGHTER SEAL, is wild at heart, wild for the heroine, and spends a great deal of time in the wild. As a smoke jumper, Kade parachutes into wildland fires to combat the flames. As a former SEAL captured by insurgents in Afghanistan, he fights PTSD. And when he meets the pregnant widow of a jump team member, he falls head-over-heels for Abbie.
Patricia Keelyn says the wild thing about Sam Cooper in NOBODY'S HERO is that she never planned for him. He faced off with the hero in Keeping Katie. He was uncontrollable; a dangerous stranger with a mysterious past who was searching—hunting? —for the heroine. Patricia realized she had to write his story to find out just who – & how wild – he was.
Teresa Hill believes you have to embrace your wildness to be a Navy SEAL. As careful and precise as they can be in the way they operate, SEALs also have that special something inside of them that makes them want to test themselves in a way few people do. And if an innocent woman is caught in a terrifying situation, they want to rescue her, no matter what it takes. In HERO OF MY HEART, Will Gerard decides right away he's going to get Amanda Warren out of the foreign school where she's been taken hostage – no matter what. He's all alone, facing overwhelming odds, and he's going in anyway. It's who he is. It's what he does.
In Barbara Raffin's SEEKING BLISS, when former Navy SEAL Jake St. John's life is being exposed by bestselling novelist Bliss O'Hara, he demands she cease writing about his missions. But her looming deadline for book two forces them to work together editing out anything damaging to his Saint Security firm. Add kidnapping, the Illuminati, on-line gaming, and a foreign setting and you get a wild ride of gunfights, intrigue, and sexual tension.
For a chance to win a digital copy of Wet 'N Wild Navy SEALs, tell us which Navy SEAL will be your next book boyfriend (but really, why would you want to limit yourself to just one???)
Join the authors at Facebook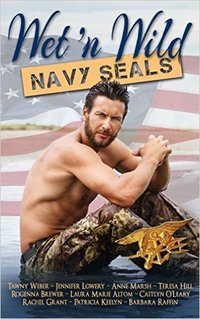 Get swept away by 10 hot Navy SEALs…
Whether you're looking for a little sizzle or a lot of steam, you'll find the hard-bodied, soft-hearted hero of your dreams on SEa, Air or Land in these sexy romance-packed novels and novellas brought to you by 10 of your favorite New York Times, USA Today and other award-winning and best-selling authors.
Limited Edition Boxed Set––Grab your copy today before it's gone!