I'll let you in on a little secret…life is hard! Some days it seems to be harder than ever. How wonderful that we have books to escape into. Magical stories to sweep us away to other lands, other times. Allowing us to slip our feet into the shoes of queens and dukes….and pirates!
In my new release, WITHIN A CAPTAIN'S TREASURE, my pirates do a lot of escaping. Battling on the high seas, they escape death at every turn. They escape the heartless peril of the sea itself. Their lives are one step away from a hangman's noose.
My heroine, Alice Tupper, knows more escape tricks than Houdini! Trying to break away from the deeds of her past, she heads toward America only to be captured by pirates. Through pure guts and a lucky shot, she frees herself from one band of pirates only to end up in the hands of another. She climbs the mast in the middle of a storm and survives. Stares down the barrel of more than one gun and manages to live to tell the tale. She even manages to flee into the night after being discovered for the pirate she truly is.
Turns out, what she can't escape is falling in love with Captain Gavin Quinn—even after his insistence that she keep her physical and emotional distance. But there is no escape from love.
I hope you'll let me sweep you away from the stresses and storms of your life and take you for a bit of an adventure with my Captains of the Scarlet Night series. We could all use a bit of a get away, so welcome aboard, hold on, and don't look back!
***
Alice Tupper refused to look back. As the Olivia Grace pulled away from its docking, she didn't line the gunwales with the others waving farewell to England. She stood at the farthest point of the bow instead, pulled her woolen shawl tight about her shoulders, and lifted her face to the freshness of the open sea. Her gaze rested on the thin line where the sea and the sky lay atop one another like lovers–that was where her new life would begin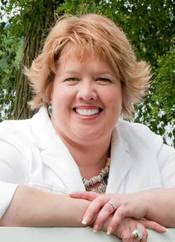 Author's photo courtesy of Jenny Sinclair Photography.
Lisa A Olech is an artist/writer living in her dream house nestled among the lakes in New England. She loves getting lost in a steamy book, finding the perfect pair of sexy shoes, and hearing the laughter of her men. Being an estrogen island in a sea of testosterone makes her queen. She believes in ghosts, silver linings, the power of a man in a tuxedo, and happy endings.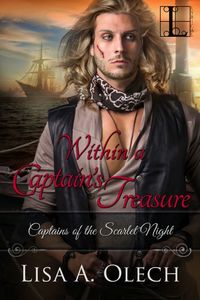 This pirate's latest prize may be love…
With a single pistol shot and the swing of a cutlass, Alice Tupper saves her mistress's life. But no lady's maid in polite society has ever killed a duke—at least, not on purpose. So Alice sets sail for America and her new destiny—only to find herself battling pirates on the high seas. Aboard her rescue ship, The Scarlet Night, she is hailed a hero and earns her place among the crew…as well as the ire of Captain Gavin Quinn.
Gavin chose this pirate's life, but he knows it's no place for a woman, especially one as exasperating—and beautiful—as Alice. Despite his desire for her, Gavin is determined to do the right thing and deliver her to the new world. But Alice's deepest wish is a life by Gavin's side. Will his heart overrule his sense, and will he risk everything to pursue his greatest treasure of all?