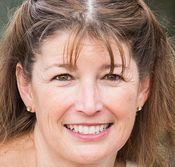 If you grow up in a less than a Leave-it-to Beaver home environment like Catherine and Thomas did without good role models, there are bound to be some adjustment issues. Heck even with good role models, there will be growing pains.
Living and melding your life with another person's is hard—then when you add in the complications of old emotional baggage on either, or both sides, it can really be really challenging and one has to keep a sense of humor and perspective to survive those early years where a couple is feeling their way around, trying to create their own rhythm—hmmm no sexual puns intended.
But now that you went there . . . sex does serve to complicate things. Just sayin'.
Anyhow, sex aside, trying to live with another person and be a good, roommate, companion, confidant, support, lover, etc. takes work, as Catherine and Thomas found out.  And there are bound to be a bunch of missteps—like Catherine making Thomas enough breakfast for four men, and the eggs that could be used as hockey pucks that Thomas gamely tried to choke them down, while trying not to look at his watch 'cause he never ate breakfast and taking the time to do so is going to get him stuck in traffic and make him late for work.
Catherine tries again and again to connect with Thomas, without actually coming out and telling him what she's doing or why.  She reads magazines about how to please your man and follows that advice, but it doesn't work out so well for her.
Even couples from functional families (is there really such a thing?) have their initial missteps and awkwardness in learning the marriage ropes. We all do silly things when first married in effort to be the perfect spouse.
What silly newlywed thing did you do in an effort to please your new spouse? What awkward/funny incident will you never live down?
About Theresa
Theresa Rizzo is an award-winning author who writes emotional stories that explore the complexity of relationships and families through real-life trials. Born and raised in Grosse Pointe, Michigan, she currently lives outside of Boulder, Colorado with her husband of thirty years. She's raised four wonderful children who are now scattered across the country.
Find Theresa On the Web:
Website |  Facebook | Twitter | Goodreads
Buy HE BELONGS TO ME : Amazon  | Kindle | Barnes & Noble | iBooks/iTunes
To comment on Theresa Rizzo's blog please click here.