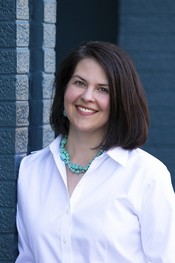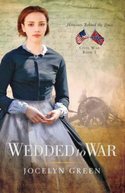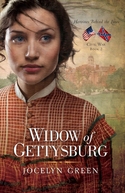 Publishing and promoting a book is definitely a team effort, and one of the teams whose work I am most fascinated by is the one who created the book trailers for my Civil War historicals, WEDDED TO WAR and WIDOW OF GETTYSBURG. The two trailers are quite different, yet both are compelling.
Take a look at the trailers from this page and then read on for an interview with Phil Jacoby, creative producer of Mothlight Creative, the company who made this happen.
Jocelyn: Take me through the process of creating a book trailer, from the time you accept the job to completion.
Phil: It all depends on the project. We pitched a few directions to the publisher and the decision was made to proceed with the live-action option. Budget and time dictate (to an extent) what is possible in any project so we had to come up with a way to tell the story without overtelling it, lest we run out of time and/or resources. For Wedded to War, for example, from the time the project was approved to delivering the final product was roughly a month or so.
Jocelyn: I read on your Web site that the music you used was an original score you created, as well. How do you determine the best tone (in terms of music) for a book trailer?
Phil: The score was created by Paul, one of our animators, and myself. We decided what the general tone of the trailer was and then added a pace to it. Music and sound tend to tell an audience how to feel about something, so even if we filmed images that we thought of as sad or tense, the audience would not necessarily fully believe those things unless the music told them to. I came up with a melody on guitar and Paul came up with a cooperative melody on piano. Once we had those things figured out all it took was placing percussion and small musical textures in the right places to create the dynamic shifts. We are pretty happy with how it turned out.
Jocelyn: In your professional opinion, what makes a trailer effective?
Phil: A trailer is not supposed to tell you everything. A trailer is supposed to entice you. It is supposed to show you something indicative without spelling things out for you. I think a good trailer, be it for a film or a book, knows when to stop. It invites you, but it doesn't let you in.
Award-winning author Jocelyn Green inspires faith and courage in her readers through both fiction and nonfiction. A former military wife herself, she offers encouragement and hope to military wives worldwide through her Faith Deployed ministry. Her novels, inspired by real heroines on America's home front, are marked by their historical integrity and gritty inspiration. Visit her at www.jocelyngreen.com.
Do book trailers influence your decision on whether to read the book depicted? One commenter will win a commemorative Gettysburg Magazine and a Lavender Sachet just in time for the 150 Anniversary of the battle. (US only)
To comment on Jocelyn Green's blog please click here.