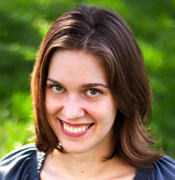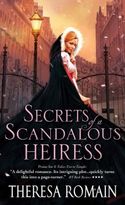 I'm so glad to be here on Fresh Fiction to chat about my new historical romance, SECRETS OF A SCANDALOUS HEIRESS. As you'd expect from the title, it's the story of an heiress who uses a trip to Bath to hide her scandalous identity and forge a new one. But our heroine, Augusta Meredith, didn't count on meeting someone she knew: blunt, witty Joss Everett, an Anglo-Indian with secrets of his own.
Since it's a new year and we're all full of advice and resolutions, I'd like to present…
Miss Augusta Meredith's Guide to Keeping a Secret

(Please note: these tips are intended for trained professionals on a closed course.)
1. When constructing a new and false identity for the pursuit of pleasure, avoid the company of people you know.
2. If the company of acquaintances cannot be avoided, make sure at least to avoid handsome men with uncomfortably perceptive wit.
3. If such a man cannot be avoided, and such a man uncovers one's new and false identity, distract him with an indecent proposition. He is unlikely to accept if he is a gentleman, but he will not be expecting it and will grow fuddled. Take every advantage, ladies!
4. If he does not accept the indecent proposition, then you will have to find out a secret of his. Turnabout is fair play.
5. Be prepared for the possibility that his secret—the reason for his own presence in Bath—might inspire confidence, sympathy, and the desire to help. These are admirable feelings, but they are to be guarded against.
6. You didn't guard against them, did you?
7. No. You didn't. And now you have taken him into your full confidence and are working as a team to mutually solve your difficulties. What has happened to your resolve?
All right. No, that's all right. Your false identity is still publicly in place.
8. At this point, you might find yourself coveting the company of the one person who knows who you truly are. This is an understandable feeling, but it is to be guarded against. One cannot afford to grow too close to a perceptive and witty gentleman with stubborn pride, a desperate mission, and no desire for an indecent proposition but a great deal of other desire.
9. You didn't guard against it, did you? I hope you have not allowed him to call upon you. Or slipped away to his hired lodging. You do not intend to fall in love, you know.
10. Or do you?
Readers, do you have any more advice to add to Augusta's guide? Are you any good at keeping secrets?
About SECRETS OF A SCANDALOUS HEIRESS
One good proposition deserves another…
Heiress Augusta Meredith can't help herself—she stirs up gossip wherever she goes. A stranger to Bath society, she pretends to be a charming young widow, until sardonic, darkly handsome Joss Everett arrives from London and uncovers her charade.
Augusta persuades Joss to keep her secret in exchange for a secret of his own. Weaving their way through the treacherous pitfalls of a polite world only too eager to expose and condemn them, they begin to see that being true to themselves is not so bad…as long as they're true to each other…
Historical romance author Theresa Romain pursued an impractical education that allowed her to read everything she could get her hands on. She then worked for universities and libraries, where she got to read even more. Eventually she started writing, too. She lives with her family in the Midwest.
What's your most scandalous secret?
To celebrate the release of Theresa Romain's latest title, SECRETS OF A SCANDALOUS HEIRESS, we invite you to take part in her two truths and a lie prepub blitz! Tell two truths and one lie about yourself over Twitter and Facebook with the tag #ScandalousSecrets from December 29th to January 9th and challenge your friends and followers to see how well they know you! And enter the Rafflecopter giveaway here.