I first fell in love with time-slip novels after reading Susan Meissner's THE SHAPE OF MERCY, quickly followed by Rachel Hauck's THE WEDDING DRESS. I felt I had discovered a whole new world—and I had. There's just something about a story with both a contemporary and historical timeline that I love. And now, with summer upon us (and maybe some days by the pool or the beach with a good book!), I'm hoping you might give time-slip novels a chance, too. But just in case you need a little convincing, here are three reasons you might be interested in this genre. J
1) With time-slip novels, you get two books for the price of one.
Who doesn't want a bargain? And while I love a good contemporary story, I also love a good historical one. With time-slip novels, we can experience both in one book. Yes, the two stories will be connected, but they are, in essence, also very separate from one another.
2) They help us think outside the box.
Time-slip novels bring a unique element to the table. Literary components can merge with romance, mystery, and contrasting time periods to create a different type of story, a different type of satisfying ending. They can stretch our minds in new ways and give us an appreciation for the real people who lived in a different time period than we do.
3) Time-slip novels help us see how the past can influence the future.
Who doesn't long to leave some type of legacy, some type of meaning, after they are gone from this world? Most of the time, we will not be able to witness firsthand how this might be so for us. But in a time-slip novel, we get to see how characters, living generations apart, can impact one another. In Freedom's Ring, we meet two heroines, one from present day and one from Revolutionary Boston, both struggling with the very same thing—fear. The circumstances surrounding their struggles are different, but the underlying battle is the same because we, as humans, have experienced this challenge since the beginning of time.
Stories from the past are worthwhile and very much alive. They live on in us. They inspire us. Which, in some ways, is a time-slip story all within itself!
Heidi Chiavaroli is a writer, runner, and grace-clinger who could spend hours exploring Boston's Freedom Trail. She writes women's fiction and won the 2014 ACFW Genesis contest in the historical category. Her debut novel, Freedom's Ring, releases from Tyndale House Publishers in August 2017. Heidi makes her home in Massachusetts with her husband, two sons, and Howie, her standard poodle. Visit her online at HeidiChiavaroli.com.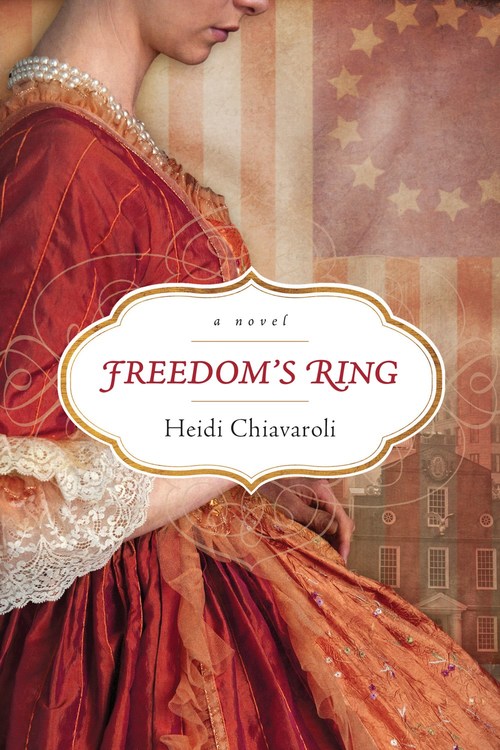 Boston, 2015
Two years after nearly losing her life in the Boston Marathon bombing, Annie David is still far from "Boston strong." Instead she remains isolated and defeated—plagued by guilt over her niece, crippled in the blast, and by an antique ring alongside a hazy hero's face. But when she learns the identity of her rescuer, will he be the hero she's imagined? And can the long-past history of the woman behind the ring set her free from the guilt and fears of the present?
Boston, 1770
As a woman alone in a rebellious town, Liberty Caldwell finds herself in a dangerous predicament. When a British lieutenant, Alexander Smythe, comes to her rescue and offers her employment, Liberty accepts. As months go by, Alexander not only begins to share his love of poetry with her, but protects Liberty from the advances of a lecherous captain living in the officers' house where she works.
Mounting tensions explode in the Boston Massacre, and Liberty's world is shattered as her brother, with whom she has just reunited, is killed in the fray. Desperate and alone, she returns home, only to be assaulted by the captain. Afraid and furious toward redcoats, Liberty leaves the officers' home, taking with her a ring that belonged to Alexander.
Two women, separated by centuries, must learn to face their fears. And when they feel they must be strong, they learn that sometimes true strength is found in surrender.
Women's Fiction Historical | Women's Fiction Contemporary | Inspirational Historical [Tyndale House, On Sale: August 8, 2017, Trade Size / e-Book, ISBN: 9781496423122 / eISBN: 9781496423139]