In this scene from Hard Lust, Megan has continued to break countless rules—a no-no in Hell. Aroused by her spunk, Vespar tosses her over his shoulder and carries her to the club's voyeur area.
***
Megan hoped breaking the rules didn't mean she'd have to face her demons—for real. Working double shifts at Sally Jean's had almost killed her. Down here, she didn't have the luxury of checking out permanently, only an eternity without any employee rights, raises, or bonuses. Unless she wanted to count a bite of chocolate every billion years.
Or the sex.
Vespar bypassed devils and servers humping on equipment she'd never envisioned nor heard about in Story of O, a book she couldn't bring herself to read. Misogyny in real life was bad enough. Who'd want to revisit the same concept, juiced on steroids, for entertainment?
Moans, grunts, and wails competed with the music. Upon climax, the servers and demons they passed wore ecstatic grimaces, each lost in their own world that had taken them far from the ordeals here. Maybe they were on to something.
Hell might be hell, but sex with Andros, Racan, and Vespar, three of the hottest demons around, was another matter entirely and not something she intended to miss.
Giving in to her basest emotions, she pressed her cheek to Vespar's back.
His muscles rippled against her and his spicy fragrance seduced, masking the hideous sulfur odor. Dazed, she breathed him in, slipped her hands beneath his leather pants, and cupped his hard ass.
He halted.
She didn't. Gawd. He couldn't have been more toned if Heaven had carved him from rock. How anyone there could find fault with him didn't make sense. He was great to look at and touch, and also had a decent inner core. Him saving her from psycho Giselle and then practically strangling her in the process proved as much. She fondled his butt cheeks.
Pleasured sounds flowed from him.
A welcomed response, but she demanded more proof as to his delight. Despite the snug space his pants allowed, she ran her finger down his smooth furrow.
He trembled.
She explored, loving his sleek skin, so soft yet hard beneath the surface, his muscles bunching at her touch, his tight ring constricting. Paying no heed, she worked her little finger into the passage.
He panted.
An invisible force pulled her off his shoulder and dropped her.
She fell gracelessly to the floor, or rather, stage.
He'd brought her to an area she could only describe as a coliseum. Benches ringed the circular space, row upon row rising toward the ceiling, all facing the platform in the middle. Romans had used similar structures to amuse and appease the public. Giving them blood sports starring gladiators or survivor-type games featuring lions and recalcitrant citizens who refused to praise Caesar.
She shivered. He couldn't be planning to torture her here, teaching her a lesson she'd never forget.
Pushing to her knees, she had to make a run for it.
Wasn't possible. Demons already filled the benches, servers at their feet or sprawled on their laps, most cheering. Whether it was for Vespar or her wasn't apparent, but she bet only the servers cared about her fate. Except for Giselle. She had a ringside seat and drew her finger across her throat in a slashing motion.
Looking worried, Katie gave Megan two supportive thumbs-up.
This hadn't been in the handbook.
Vespar snapped his fingers.
She froze, expecting a torture device to appear.
A large four-poster bed popped into existence, its silk linens black, gauzy red cloth trailing down the posts.
That didn't make sense.
How could he torment her on a comfy mattress? Unless he planned to bring her close to orgasm, then stopped before she rode off into the sunset and repeated the act for hours, days, or longer, driving her nuts.
That would be hell.
And not something she'd run toward if she could avoid it. Demanding her own pleasure, she unsnapped his metal button, pulled down the fly, then yanked the leather to his knees.
His family jewels sprang out, hard and proud.
Glory be. He was ten inches, at least, and smelled divine. She buried her face in his thick, musky curls, not caring what rules she broke or how awful the resulting penalty would prove. Her heart turned over at his scent, heat, and sheer masculinity, making her crime worthwhile. Hands on his ass, she tugged him closer and nipped at his thatch, pulling those springy hairs between her teeth.
He laughed and then groaned and cupped her head to keep her close.
Not wanting to be anywhere else, she trailed kisses down his thick column. Faced with so much bounty, she didn't want to choose which pleasure to indulge in first. Everything about him called to her.
© Tina Donahue, Entangled Publishing, 2020. Reprinted with permission from the publisher.
***
I'm hosting a giveaway for Hard Lust (runs June 1 to August 1). One lucky winner will receive $365 in GCs and ebooks from bestselling authors.
Enter here: http://www.rafflecopter.com/rafl/display/ec8aae6737/?
***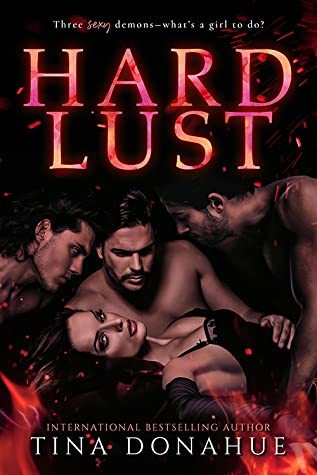 Don't ever trust a demon. Unfortunately, Megan has learned that lesson too late. The deal she made to save her sister's life–has landed her in hell temporarily and about seventy years early. And now she has three sexy demons trying to tell her what to do.
Nope. Not going to happen.
These guys have never had to deal with such defiance. Andros figures she's due for some erotic discipline, which he'll happily provide. Racan's pure alpha, his hardcore plans include bondage and submission. Quiet yet intense, Vespar expects endless kink to spice up their carnal play.
Who would have ever expected she'd end up falling for them? Too bad demons can't be trusted. . . because someone is trying to kill the magic and threatening her stay in this lusty world.
Romance Erotica Sensual | Romance Paranormal [Entangled One Handed Reads, On Sale: June 15, 2020, e-Book, ISBN: 9781949038330 / ]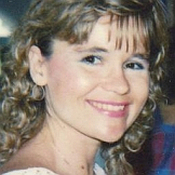 Tina Donahue is an Amazon and international bestselling novelist in erotic, paranormal, contemporary and historical romance for traditional publishers and indie. Booklist, Publisher's Weekly, Romantic Times and numerous online sites have praised her work. Three of her erotic novels (Freeing the Beast, Come and Get Your Love, and Wicked Takeover) were Readers' Choice Award winners. Another three (Adored, Lush Velvet Nights, and Deep, Dark, Delicious) were named finalists in the EPIC competition. Sensual Stranger, her erotic contemporary romance, was chosen Book of the Year at the French review site Blue Moon reviews. The Golden Nib Award at Miz Love Loves Books was created specifically for her erotic romance Lush Velvet Nights. Two of her titles (The Yearning and Deep, Dark, Delicious) received an Award of Merit in the RWA Holt Medallion competition. Take Me Away and Adored both won second place in the NEC RWA contest (different years). Tina is featured in the Novel & Short Story Writer's Market. Before penning romances, she worked at a major Hollywood production company in Story Direction.