The Summer BBQ Recipe Roundup continues with the main course, provided by contemporary romance author, Dylann Crush and her new book, THE COWBOY SAYS I DO. And don't forget to check out yesterday's post. . .  and come back tomorrow for more delicious fun!
Day 1, an appetizer with Lynn Austin: https://freshfiction.com/page.php?id=10708
Thanks so much to Fresh Fiction for inviting me to share a little bit about the first book in my new Tying the Knot in Texas series. . .  The Cowboy Says I Do.
Like my heroine, Lacey, I grew up in Texas where everything seems bigger, including the cowboys' appetites. There were plenty of backyard cookouts and gatherings with family and friends. But it was always so hot out that no one wanted to stand in front of a blazing grill.
Lacey knows how to throw a party, so when she's feeding a crowd she likes to toss together a batch of this Perfect Pulled Pork. Not only does it take just a few minutes of prep work, but it can be cooked the night before so a cowgirl doesn't have to miss out on the party. There's no such thing as a small get together in the town of Ido, so it's a good thing this recipe makes plenty to go around.
Perfect Pulled Pork
8lb Pork Roast (I like to use the 4-pack of Pork Sirloin Tip Roasts from Costco)
2 TBSP Onion Powder
2 TBSP Garlic Powder
2 TBSP Dark Chili Powder
2 TBSP Pepper
1 TBSP Salt
1 TBSP Cumin
1-2 tsp Cayenne Pepper
2 Cups Chicken Broth
Mix all of the spices together. Pat the meat dry with a paper towel. Sprinkle the spice mixture over the meat. Using your hands, massage the dry rub into the meat. To maximize flavor, put the roast back into the refrigerator for at least 5-6 hours to let the spices soak in. When ready to cook, place the meat into a large slow cooker and add approximately 2 cups of chicken broth. Cook on low for 10-12 hours. Remove meat from slow cooker and shred. (A quick way to do this is by using two forks.) Reserve some of the juices if desired for serving.
This freezes well and can be used to make pulled pork sandwiches or Bodie's favorite. . . shredded pork tacos with fresh-made guacamole and a squeeze of lime.
***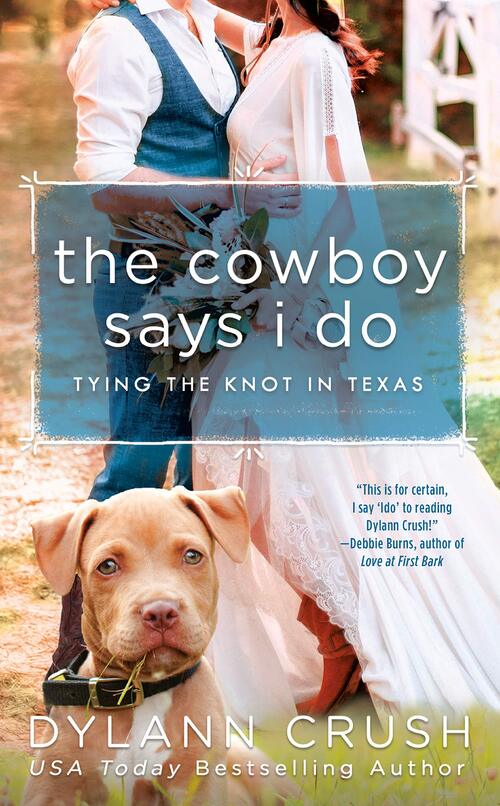 It's anything but a wedding cake walk for the mayor and the deputy sheriff when they team up to reinvent the town of Idont, Texas to Ido.
Newly elected mayor, Lacey Cherish, ran for office to redeem the family name after her father had to resign for un-mayorly like conduct. But if she wants to salvage her family's reputation, along with the town's economy, she'll need to think fast. With few options at hand, she starts to rebrand Idont as Ido, as the most romantic place in Texas to tie the knot.
Lacey's grand plans have just made Deputy Sheriff Bodie Phillips's life a whole lot harder. He's got bigger problems than helping the mayor bring in brides. Like figuring out why his dad and grandfather mysteriously shut down the family business, and who's abandoning dogs within the town limits.
When Lacey's chance at getting major publicity for Ido's first wedding is jeopardized, she's forced to rely on Bodie for help. But as their attraction heats up, they both have to decide how far they're willing to go to revive the town and their families' honor.
Romance [Berkley, On Sale: August 4, 2020, Mass Market Paperback / e-Book, ISBN: 9780593101643 / ]

Samaria | Holiday, Texas | Tying the Knot in TexasDylann Crush writes contemporary romance with sizzle and sass. A romantic at heart, she loves her heroines spunky and her heroes super sexy. When she's not dreaming up steamy storylines, she can be found sipping a margarita and searching for the best Tex-Mex food in Minnesota. Although she grew up in Texas, she currently lives in a suburb of Minneapolis/St. Paul with her unflappable husband, three energetic kids, a clumsy Great Dane, a rescue mutt, and a very chill cat. She loves to connect with readers, other authors and fans of tequila.
GIVEAWAY: What's your go-to party food? Do you bring an appetizer or a dessert. . .  or something else? Share your favorite festive treat, and you'll be entered to win a copy of THE COWBOY SAYS I DO by Dylann Crush.  US only–Best of Luck!!