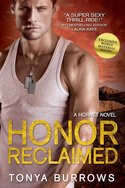 One question I'm constantly asked at conferences: was I in the military? Short answer is no, although I have come close to joining several times. But, see, there's an old writer's axiom—"write what you know"—and because of that, people seem to assume that having military experience is the only possible way I can write my books. And, yes, maybe that was true back before the technological advances of today when research was much harder to do. Now, however, I think it's the biggest load of hooey told to budding writers. C'mon, I'm a small town girl with a perennially boring life not at all conducive to writing the kinds of books I want to write.
Lemme give you an example. I've spent the last several months doing research for BROKEN HONOR, the third book in my HORNET series, which is about human trafficking in Eastern Europe. Some of the topics I've delved into this month alone include the Navy SEALs (again!), NCIS (not the TV show), arms and sex trafficking, the countries of Moldova, Ukraine, and an unrecognized breakaway republic called Transnistria that's still stuck in the Soviet era. Did you know that Moldova is the poorest country in Europe? Half the population has migrated abroad looking for work and most of the remaining residents are either elderly or very young. Alcoholism is rampant and many young people are desperate to find an out, which is why human trafficking is such a huge problem.
While that's all interesting information, I bet you're wondering how I can use it in my book without it sounding like a sociology lesson? Already I'm picturing a young girl stuck in that life, Vika. When she meets my American heroine, how is she going to react? Probably with bitterness, jealousy, and maybe some fear. And wouldn't that up the tension if Vika is my heroine's only chance at escape? What do you think Vika will say when my heroine asks why she won't help?
And there's chapter 5. All thanks to a half hour's worth of research.
I've never been in the military. I've never been to Colombia, Afghanistan, or Moldova. I've never personally experienced the effects of human trafficking, have never been taken hostage, and thankfully have never had PTSD or a traumatic brain injury. But thanks to research (and the miracle of YouTube, which I'm convinced is the internet's gift to writerkind), I now know what those countries look like, sound like. I know how human traffickers work and what happens to the girls forced into that life. I know about Afghan child brides, Colombian guerrillas.
So, long answer? I don't write what I know. I write what I want to know, and then go find a video about it on YouTube.
Former Marine sniper Seth Harlan is determined to prove that he can still do his job despite his ongoing battle with PTSD. When an old friend contacts HORNET to rescue a black ops soldier, Seth's stability is strained. He knows all too well what it's like to rot inside an enemy camp, praying for rescue and waiting for death. And he's not about to leave a man behind.
Photojournalist Phoebe Leighton just stumbled into the middle of an arms deal. Teaming up with a ragtag team of mercenaries is the last thing she wants to do–especially when she realizes Seth Harlan is assigned to the mission. He may ignite a passion in her she thought long dead, but Phoebe's hiding a secret that could destroy him.
With a bomb in the mix, HORNET's mission is suddenly about a lot more than an abandoned soldier. Racing against the clock, Seth, Phoebe, and the rest of the team struggle to stop a ruthless warlord bent on power, revenge…and death.
One commenter will win an e-copy of HONOR RECLAIMED
To comment on Tonya Burrows's blog please click here.