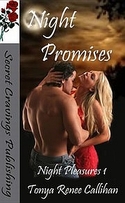 NIGHT PROMISES is available now
Kelly O'Keefe first met a vampire when she was twelve. Now the pair are best friends
and have opened Night Pleasures, an underground club that caters to vampires and
their needs. When Kelly's sister is murdered, she finds herself working with Connor,
a vampire she's been in love with for months. Unable to trust men, let alone a
vampire, can she let him help her solve her sister's murder?
Connor has been watching after Kelly for seven months with the help of his sire and
best friend Micah. Connor has kept himself at a distance even though he knows they
are life mates. He's afraid of losing control and turning Kelly against her will. When
he learns Kelly plans on investigating her sister's death, he steps in and allows
himself to get close to her.
But how close is too close?
About Tonya
Residing in Morehead, Kentucky, Tonya Renee Callihan is currently a 24-year-old college student seeking a
degree in Nursing. She loves helping others and putting a smile on your face. Tonya has been writing all of her
life. At the age of 13, on Christmas break, she snuck one of her mom's romances from a box brought over by
her grandma. The novel she read was 'Montana Sky' by Nora Roberts. Once she finished reading that book,
she knew someday she would to be a published romance author. She has been writing ever since.
Even though busy with college life, Tonya still makes time for her writing. She is very active in yahoo groups
as well as reviewing for The Long and Short of It, Whipped Cream Reviews, You Gotta Read, Siren Reviews,
Rites of Romance and Fresh Fiction. She also writes a bi-monthly column for Fresh Fiction, which focuses on
books and authors of Harlequin.
When she's not in school, reading, or writing you can find her cheering on UK college basketball or the
Pittsburgh Steelers. She loves spending time with her family and is very active in their lives. She also loves to
people watch where she draws inspiration from the people and things that surround her. She is also a fan of
Stephanie Bond, NYT Bestselling Romance Author, who is from around the same area as Tonya.
Website and
Facebook Night Promises Fan Page
My Author Contest
I have 14 people who currently like my author Facebook page. When I have 100 people who like my page I will have a drawing. The winner will win a free download of NIGHT PROMISES and a gift basket. Hurry this contest will last until January 31st, tell your friends. For every friend you recommend, they have to send me an email to tonyacallihan@hotmail.com stating that you were the one to tell them about this contest you will get 2 additional entries into the contest. For every social network you post this contest up on you will receive another entry into the contest. Send me the links so I can see the posts. Also follow my blog and twitter to get 2 more entries.
To comment on Author Name's blog please click here.