Hi Everyone 🙂 I'm so excited to be here today with a sneak peek of my June 7th release, LOVEGAME. It's been a long process to get this book from idea to reality, but now that release day is right around the corner, I can't believe how fast these last few months have gone.
The excerpt I'm posting today was actually inspired by what I know of the time before Heath Ledger's death. Ledger had a difficult time after playing the Joker, one of the most diabolical, damaged and sociopathic characters in film today. He struggled with nightmares and numerous other problems for months, traumatized by the character he'd immersed himself in, until he finally died of a drug overdose. In LOVEGAME, my character, Veronica Romero, has also just played a sociopathic monster for film and now that the movie is about to come out—and she's having to do the press and photo shoots for it, press and photo shoots that take her right back into the heart of the darkness she had to confront—she's terrified of losing herself to the woman she spent so many months portraying.
I hope you enjoy the excerpt and can't wait to hear what you think. And to celebrate LOVEGAME's imminent release, I thought I'd do a giveaway of PLAY ME! All you have to do to be entered to win is leave me a comment letting me know what you think of LOVEGAME. xoxo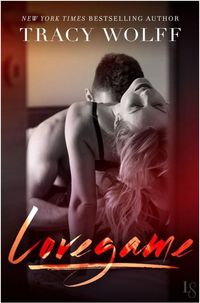 Hailed by J. Kenner as an author who "knows how to steam up the pages," Tracy Wolff delivers a darkly addictive novel of seduction and psychological obsession. The stakes are high in Lovegame, when a movie star with a shattered past meets a man who can either break her or make her whole.
True Crime novelist Ian Sharpe has spent his career writing about serial killers for very personal reasons. For his latest exposé, he is taking on the sadistic madman known as the Red Ribbon Strangler, and when his research leads him to Hollywood's most private and provocative actress, he will break every rule to uncover her truth.
The daughter of one of Hollywood's golden couples, chased by paparazzi and treated as a commodity her entire life, Veronica Romero wields her sex appeal like a weapon. She expects Ian to be as easy to control as every other man she's ever known. But from the beginning, he refuses to fall into line. Mysterious and cool, challenging and just a little bit dangerous, Ian somehow makes her feel safe—even as he digs into the deepest secrets of her life and pushes her to the breaking point.
As raw ecstasy gives way to agonized truths, their dark obsession exposes secrets that have been buried for far too long. Ian wants to tear down her walls and heal the sensual woman underneath. But if Veronica's learned anything, it's that the line between pleasure and pain is a narrow one—and when caught between them the only thing that matters is how you play the game.
"Lovegame is a true masterpiece, with thrilling suspense, crazy hot sex, and writing so truly beautiful that it stays with you long after you put the book down. It's my favorite read of the year by far."—Sawyer Bennett, New York Times bestselling author of Sugar Daddy.
"Tracy Wolff is at the top of my auto-buy list, and Lovegame is the perfect example why. From the very first page, Wolff sucked me in with a story that crackles with sensual energy and characters that are scarred, sexy and wonderfully compelling. Go one-click Tracy Wolff's Lovegame right now—you can thank me later." –J. Kenner, New York Times bestselling author of Release Me.
"I loved Lovegame! It's a hot, sexy thriller of a book, with so many twists and turns I never saw coming!"—M. O'Keefe, author of Everything I Left Unsaid
Reviewers Are Saying!:
"Tracy Wolff is one of those authors that needs to be on everyone's 'auto-click' shelf." –IscreamBooks
"Lovegame is a steamy, psychological thriller that will have you on the edge of your seat all the way through." –Bookangelbooktopia
"This is the second time so far in 2016 that I have been blown away by an unexpected release from one of my favorites. Tracy Wolff is one of many authors that I adore – I have read and reread her Ethan Frost series and I loved Accelerate, which came out last year. Lovegame is completely different from anything that I have read by Tracy Wolff, which was surprising and refreshing … Lovegame was a fresh read that surprised me in so many ways. I hope that you'll give it a chance because it's one of the best books of 2016." – Garden of Reden
"Lovegame had me breathless, sticking with me for days after I read it."—Sarah Robinson, author of the Kavanagh Legends series
Excerpt:
I take picture after picture, with a vintage champagne glass in my hand or my face buried in a huge bouquet of dahlias. Toward the end, Marc has the stylist and his assistant wrap me up in a long string of artificial belladonna since the real stuff can cause problems if it touches the skin. Then they heap my gloved hands with a mountain of the poisonous black berries and Marc has me hold my hands out to the camera in a deadly macabre offering.

Again and again Marc shoots me like that, taking pictures from every possible angle. On his knees in front of me, looking up. From a ladder above me, looking down. Beside me. Behind me. Across the room. Up close. Again and again he points and clicks. Again and again, I smile and pout and make every other expression he asks for. I even take his suggestion to tilt my head back with my mouth open wide and hold one of the berries between my thumb and index finger as I pretend to be about to drop it in. As I do, I close my eyes and pretend not to be totally icked out.

When I open them two minutes and twenty shots later, the first person I see is Ian. He's leaning back against one of the mirrored walls and for once his omnipresent notebook is nowhere to be seen. Instead he's staring straight at me, a half-snarl on his normally calm face and his eyes burning with a mixture of contempt and desire.

It's the first time I've seen anything but pleasant or puzzled interest from him and it has the tiny hairs on the back of my neck standing up. Has ice skating down my spine and a desert taking up residence in my mouth. Because, in that moment, as our eyes lock and his turn impossibly darker, impossibly blacker, I don't know who he sees. Can't tell who he wants.

Me or her?

Actress or murderer?

Sentient being or a character he helped create?

It's just more fuel to add to the fire of my earlier doubts and in that one tense and electric moment, it comes to me. What the cover shot should be.

What I need it to be.

Marc backs off a little, has his assistant come forward with a trash bag for me to throw away the last of the berries and the gloves I've been wearing. As she pauses to tie up the bag in front of me, I ask her for a couple wipes.

She quickly returns with a box of baby wipes and I smile my thanks even as Marc instructs me back against the mirror for what he calls "the last series of shots."

I do as he instructs, but as he's fiddling with the lighting, I turn toward the mirror and swipe the wipe over the right half of my face.

"What are you doing?" my makeup artist squawks as he comes racing across the room at me.

"Trust me, Dalton," I tell him as I continue to scrub.

"Stop doing that!" he orders as he grabs on to the end of the wipe and actually tries to wrestle it away from me.

"Just wait," I instruct, refusing to let go no matter how hard he tugs.

"But—"

"What are you up to, Veronica?" Marc asks. He sounds more intrigued than annoyed.

"I'll show you," I tell him, pushing gently at Dalton's hand until he finally lets go with a whimper.

And then, with the whole room—including Ian—watching me intently, I wipe the entire half side of my face clean of any and all makeup. I do it carefully, making sure that the line that runs down the center of my face is exact so that both sides are completely symmetrical.

When I'm done, I reach up and take off my right earring and hand it to Dalton who still looks slightly shell-shocked. Then I step back and stare at this new reflection of myself in the mirror.

Half me at my most natural, half her at her most armored, it's a devastating look. Made even more so by the elaborate fifties makeup Dalton has me in—all red lips and thick black liner and long, long lashes.

There is a difference, I tell myself fiercely as I study myself. I am not her. I will never be her, no matter what it felt like four months ago.

In the background I'm aware of Marc cursing softly, of him snapping picture after picture. I don't turn around, instead continuing to give him my back so that he gets both me and my reflection in each shot.

"Turn around," he breathes after he's taken at least three dozen pictures.

Reluctantly, I do as he requests, then follow his impatient gesture for me to move away from the mirror. I step forward and then the camera starts again, clicking away to get the shot from this angle as well.

At that moment, Ian moves and I make the mistake of glancing his way. Our gazes lock and heat slams through me at the look he's giving me, has my eyes widening and my lips parting on a gasp as I struggle to draw air into lungs that have abruptly forgotten how to work.

"Fuck," Marc breathes from where he's narrowing in on my face. "That's it. That's the money shot."

I drag my eyes away from Ian, but it's too late. For the first time in a very, very long time, I feel vulnerable. And I hate every second of it.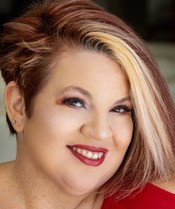 Sexy Men. Bold Women. Wicked Romance.
Tracy Wolff collects books, English degrees and lipsticks and has been known to forget where-and sometimes who-she is when immersed in a great novel. At six she wrote her first short story-something with a rainbow and a prince- and at seven she forayed into the wonderful world of girls lit with her first Judy Blume novel. By ten she'd read everything in the young adult and classics sections of her local bookstore, so in desperation her mom started her on romance novels. And from the first page of the first book, Tracy knew she'd found her life-long love. Now an English professor at her local community college, she writes romances that run the gamut from contemporary to paranormal to erotic suspense.
And for all of those who want the unedited version:
Tracy Wolff lives with four men, teaches writing to local college students and spends as much time as she can manage immersed in worlds of her own creation. Married to the alpha hero of her dreams for twelve years, she is the mother of three young sons who spend most of their time trying to make her as crazy as possible.