They are men…They are brothers…They are Legends
I'm so excited about my brand new historical western romance series that will kick off on October 4th. Men of Legend has the big feel of the old Bonanza TV show. Patriarch, Stoker Legend, is busy running the huge Lone Star Ranch while trying to keep tabs on his three sons – Sam, Houston and Luke. Sam Legend is a famed Texas Ranger and is featured in Book #1, TO LOVE A TEXAS RANGER. Houston Legend is a rancher and cowboy like his father. And Luke Weston Legend is an outlaw with a price on his head. Though Sam feels a duty to arrest him, he can't bring himself to do it. Putting his brother in jail will rip their family apart. But if he doesn't, he'll lose his job and might find his own butt in the calaboose.
This family comes from tough stock. They don't back down. Ever. They know exactly how to administer their own brand of Legend justice—and do.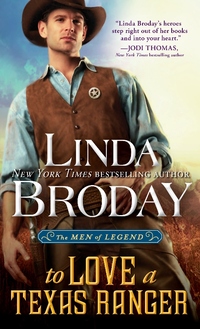 Gravely injured on the trail of a notorious criminal, Texas Ranger Sam Legend boards a train bound for his family ranch to recuperate…only to find himself locked in battle to save a desperate woman on the run. Determined to rescue the beautiful Sierra, Sam recruits an unlikely ally. But can he trust the mysterious gunslinger to fight at his side?
Sam is shocked to discover his new ally is not only an outlaw, but his half-brother. Torn between loyalty to his job and love of his family, Sam goes reeling straight into Sierra's arms. Yet just as the walls around his battered heart begin to crumble, Sierra is stolen away. Sam will risk anything to save her—his life, his badge, his very soul—knowing that some bonds are stronger than the law…and some legends were born to be told.
Watch for TO LOVE A TEXAS RANGER on October 4th. Preorder links are up at Amazon and B&N (but just in paperback…ebook version will appear soon.)
So saddle up, put your feet in the stirrups, and hang on. It's gonna be a wild ride!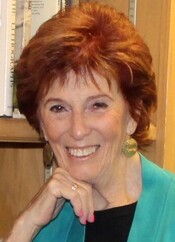 Romancing the West One Story at a Time
Linda Broday is a New York Times and USA Today bestselling author and makes her home in the Texas Panhandle on land the American Indian and Comancheros once roamed. She is a multi-published western historical romance author who lives and breathes cowboys and the American West way of life. Here in the panhandle it's very common to see cowboys, they've provided lots of inspiration. There's just something about a man in tight jeans, a Stetson and boots that gets her hot and bothered!
Linda grew up watching TV westerns back in their heyday and fell in love with the desperados, lawmen and strong men and women who portrayed the people who settled this wild land that offered so much opportunity for those who wanted to seek it. They taught her the values, the strength it took to survive and the tremendous will to keep going when things got tough. She loves writing stories about similar people who could've lived back then.
When Linda is not writing, She's scouring the internet looking for little tidbits to add depth to my stories. She has also been accused, quite unfairly she might add, of haunting museums and libraries. Linda's desire to keep history alive is what drives her and she can't imagine writing anything else.