Most of us would agree that Christmas can come too soon. We complain (I certainly do) about decorations in the stores and seasonal ads on TV before summer's even over, never mind before Halloween.
But still, a lot of us do our shopping ahead of time. I know people who buy decorations for next year the week after this year's Christmas, and who start shopping for gifts around the time they put away the New Years' Decorations. It's a wise woman (or man) who starts her baking in plenty of time. A traditional Christmas cake or old-fashioned English pudding, full of rum or brandy, or sometimes both, needs to be started months ahead to be perfect for the big day.
It's precisely to help out those early birds that the town of Rudolph, New York celebrates Christmas all year round.
Don't rush to your atlases or Google maps looking for Rudolph because I made it up. It's the town at the center of my new series, The Year Round Christmas mysteries from Berkley Prime Crime.
Rudolph wants to be known as America's Christmas Town and everything in Rudolph is about celebrating the holidays. All year round. They have a Santa Claus parade twice a year. The usual one the first Saturday in December, and then another for Christmas in July.
In Rudolph everyone gets into the spirit of the thing. Victoria's Bake Shoppe is famous for its gingerbread. There's Candy Cane Sweets, the North Pole Ice Cream Parlour, The Elves Lunchbox, Cranberries Coffee Bar, Touch of Holly Restaurant, The Yuletide Inn, the Carolers Motel. (Looking at this list it seems as though the residents and visitors to Rudolph like to eat a lot.)
The series protagonist is Merry Wilkinson, owner of Mrs. Claus's Treasures. Merry's dad, Noel, is Santa Claus. Yes, Merry knows that he isn't really Santa, but she does sometimes wonder. He has a way of knowing exactly what someone wants before even they do.
But presents, decorations, ornaments and even food isn't what the holidays are about. Or it shouldn't be. In in Rudolph they know that.
They know that Christmas is about friendship, family, and love. What we sometimes call Christmas magic.
"Ho, ho, ho," said the deep voice from the shop doorway.
"Look who's here," A woman said to the restless six-year-old tugging on her coat. "It's Santa!"
The kid, who'd moments before been whining and stomping his feet with such vigor I feared for the more delicate of my ornaments, stood stock still, wide-eyed and open mouthed.
"Have you been a good boy?" Santa asked him.
The child nodded, struck dumb.
"Santa's going to the park," the head toy-maker said. "For games."
"We'll be right there, Santa," the mother said.
My dad nodded to the music box resting in her hand. "Your great-grandmother will get a lot of pleasure out of that." With a wink and another wave to the child, he left.
The woman's eyes were as wide and delighted as her son's. "How did he know my great-grandmother's still alive? This will be her one hundred and seventh Christmas, and she looks forward to it as much as she did when she was a child."
"He's Santa," the toy maker said.
"Are you Santa's wife?" the child asked me.
"Yup," I said. Normally I might be offended if someone suggested I was old enough to be married to my own father. But I was in my Mrs. Claus getup and today everyone would believe what they wanted to believe. The air over Rudolph was chock full of that special Christmas magic.
A grinch is spoiling the holiday cheer and causing fear in the latest from the author of Rest Ye Murdered Gentlemen…
It's Christmastime three hundred sixty-five days a year in Rudolph, New York, and as Christmas Day approaches, shop owner Merry Wilkinson is enjoying a rare evening off at the Yuletide Inn when she runs into owners Grace and Jack Olsen. With Jack's health failing, Merry is relieved to hear that his son Gord will be taking over the day-to-day running of the Inn.
But then Gord reveals that his new plans have no room for Christmas at the Inn, and Merry and the other shopkeepers start to fret about the effect a bland franchise hotel could have on their livelihoods.
When Gord is found stabbed to death, there's an entire town of potential suspects—and it's up to Merry to find whoever brought homicide home for the holidays…
Mystery [Berkley Prime Crime, On Sale: November 1, 2016, Mass Market Paperback / e-Book, ISBN: 9780425280812 / eISBN: 9780698192850]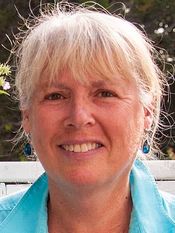 Vicki Delany began her writing career as a Sunday writer: a single mother of three high-spirited daughters with a full-time job as a computer programmer. Sunday afternoon was – and at that, only now and again – the only time she had to spend all by herself, with a single candle on her desk for a bit of atmosphere, a Bruce Springsteen tape in the tape deck, and a nice cup of tea at her elbow. When she felt like really letting loose, the tea might have turned into a glass of wine.
The years passed, as they tend to do, and the three daughters, somewhat hesitantly, flew the coop, leaving Vicki more time to devote to her writing. She was able to write three novels of suspense, set in Ontario, two of which, Scare the Light Away and Burden of Memory were published to critical acclaim by Poisoned Pen Press of Scottsdale, Arizona.
In 2007, Vicki took early retirement from her job as a systems analyst with a major bank and sold her house in Oakville, Ontario. At that time In the Shadow of the Glacier, the first book in a police procedural series set in the British Columbia Interior was published. After travelling around North America for a year with her dog, Shenzi, she bought a home in bucolic, rural Prince Edward County, Ontario, where she rarely wears a watch and can write whenever she feels like it.
Since settling in Prince Edward County, Vicki has continued with her writing career, publishing books in several different sub-genres as well as a book for adults with low literacy skills.