A Day in the Life of Sarah Brandt Malloy…
Malloy and I have been back from our honeymoon for several weeks now, and we're both very grateful that my nursemaid, Maeve, and Malloy's friend from the New York City Police Department, Gino Donatelli, started a detective agency while we were away. Without it, Malloy would've been bored to death, since he'd had to resign from the Police Department. Their first really interesting case after officially setting up an office turned out to be one they needed my help on, too. Thank heaven, because quite frankly, I was feeling a little bored myself.
A young woman who was teaching at the Normal School had been murdered. The Normal School is a college for women that trains them to become teachers, and it should be the safest place in the world. Abigail Northrup's parents had thought so when they agreed to let her work there, especially when she moved in with two of the other female professors. Malloy asked for my help because he thought I'd know more about college than he did because I was raised in a wealthy family. The truth is that the girls I'd grown up with hadn't even considered going to college. Rich girls went on European tours. College was for middleclass girls who wanted to be able to make their own way in the world without having to rely on finding a husband to support them. They are the New Women, and I was surprised to discover how much I had in common with them.
You may know that I trained as a nurse and a midwife after my sister died in childbirth. This was partly in rebellion against my parents, whom I blamed for my sister's death, but also because I wanted to do something meaningful with my life. Then I met a handsome young doctor, Tom Brandt, and became his wife. Tom's murder three years later shattered my perfect life, however, and I was grateful I had a valuable skill I could use to support myself, unlike so many widows who found themselves destitute. Now a whole generation of women were choosing to have a career instead of counting on finding a husband to support them.
Malloy and I learned a lot about these New Women and the world of academia. Abigail had forged some strong relationships at the college, but she had also made some dangerous enemies. Malloy and I needed all our training and a little help from Gino to uncover all of her secrets and bring her killer to justice.
MURDER IN MORNINGSIDE HEIGHTS is the 19th book in the Gaslight Mystery Series, published by Berkley Prime Crime, May 2016: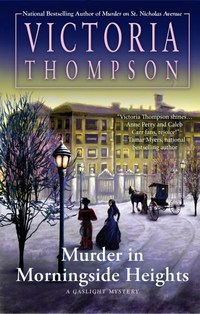 In the latest from the bestselling author of Murder on St. Nicholas Avenue, former police sergeant Frank Malloy and his wife adjust to life in New York high society as they investigate a death in the field of higher learning…
After spending his first few weeks as a private detective by investigating infidelities of the wealthy, Frank has a more serious case at hand.
Abigail Northrup of Tarrytown, New York, was her parents' pride and joy. After graduating from a prestigious women's college in Morningside Heights, she took a job there as an instructor. She also joined the ranks of the New Women, ladies planning for a life without a husband in which they make their own decisions and make a difference in the world. Unfortunately, her murder ended all that.
When the police declare the incident a random attack and refuse to investigate further, Abigail's parents request Frank's help. Of course, he'll need Sarah's assistance as she's more familiar with the world of academia, and it will be far easier for her to interview the lady professors. Yet difficulties arise as they learn that Miss Northrup may have been an exemplary student and teacher, but she lived in a world of secrets and lies…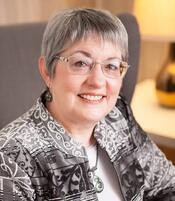 Edgar® and Agatha Nominated author Victoria Thompson writes the Gaslight Mystery Series, set in turn-of-the-century New York City and featuring midwife Sarah Brandt. Her latest, MURDER IN MORNINGSIDE HEIGHTS, is a May 2016 release from Berkley Prime Crime. She also contributed to the award winning writing textbook MANY GENRES/ONE CRAFT. Victoria teaches in the Seton Hill University master's program in writing popular fiction. She lives in Indiana with her husband and a very spoiled little dog.