I don't enjoying looking at rich people's art and old furniture, so I'm not a fan of most house museum tours. There's only one exception:
Fort Lauderdale's Bonnet House Museum & Gardens.
I can't wait for you to read THE ART OF MURDER, my May Dead-End Job mystery. THE ART OF MURDER opens at Bonnet House, where I worked as a volunteer greeter.
Bonnet House was the colorful home of artists Evelyn and Frederic Clay Bartlett. Evelyn took up collecting miniature orchids at age 101, and lived to be 109. Their house was filled with light, life and color.
Bonnet House was Frederic's idea of a Caribbean plantation house. It's built around a courtyard sheltered by feathery palms and bright with flowers. The house has whimsical touches: gilded baroque columns swirl around the drawing room doors, balconies are frosted with New Orleans wrought iron, and Evelyn's collection of brightly painted wooden animals, including giraffes and ostriches, are everywhere.
Evelyn loved animals, and Bonnet House still has swans and a troupe of adorable monkeys living on the grounds. The monkeys, the last of Evelyn's pets, escaped from a bar.
Frederic built Evelyn the charming Bamboo Bar and Shell Museum as a birthday present. Most men won't even fetch their wives a drink, but Evelyn had a custom-built bar. Evelyn drank exotic Rangpur lime cocktails, made from maple syrup, rum, and Rangpur limes she grew in the gardens.
Vibrant Bonnet House seemed the perfect place to start Helen's fifteenth adventure. Helen and Margery are touring the mansion-turned-museum when they see Annabel Lee Griffin, a young, talented artist, at a museum painting class. Later, they also see Annabel's deadly end. Helen is hired to investigate her death. Was Annabel killed by her jealous husband? Her best friend? A lover from her bohemian past? Helen has her own brush with death as she searches for this artful killer.
Next time you're in Fort Lauderdale, visit the Bonnet House museum at bonnethouse.org. It's even prettier than these . See how Frederic and Evelyn mastered the art of living.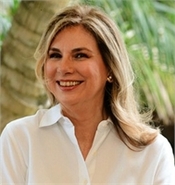 Elaine Viets is the author of 29 mysteries in three series, both hard-boiled and cozy: the Dead-End Job mysteries, the Josie Marcus Mystery Shopper mysteries, and the Francesca Vierling mysteries. She has won the Anthony, Agatha and Lefty Awards.
WEBSITE | ElaineVietsMysteryWriter on Facebook and @evmysterywriter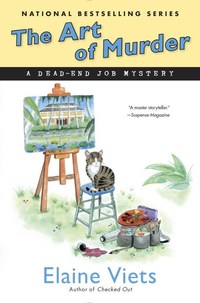 From the national bestselling author of Checked Out, Helen Hawthorne must pose as a painter at Fort Lauderdale's famous Bonnet House Musuem to catch an artful killer . . .
The art world is a happening place—but a brush with death shouldn't be in the picture. Unfortunately that's just what happens to Helen Hawthorne and her friend Margery. While touring gorgeous Bonnet House, a mansion-turned-museum, they observe a painting class and note an up-and-coming artist. When they later see her deadly end, Helen is hired to canvas the crime scene—undercover, of course.
Sketchy suspects lurk in the victim's bohemian past. Was the promising painter killed by her jealous husband? Her best friend? A rival using her artful wiles? With her husband Phil busy setting a trap for a gold thief, it's up to Helen to paint this killer into a corner . . .