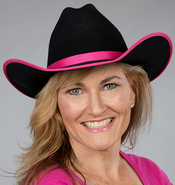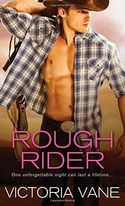 One of the biggest challenges I faced in making the leap from my genteel Georgian set historical romances to the rough and tumble world of rodeo was to find the right voices for my characters. My answer to that dilemma was to spend time with the real deal. I was fortunate to make two extended research trips to Montana and Wyoming for a hefty dose of genuine cowboy where I got my characters' voices straight from the proverbial horse's mouth. Although ROUGH RIDER is at times raw, gritty and a little coarse, it's also very realistic in the characters, situations, and dialogue peppered with western witticisms and dry cowboy humor.
Excerpt from ROUGH RIDER
Grady Garrison leaned over from his perch on the adjoining pen and spat a wad of dip. "Good thing pretty boy scored so high on the broncs cause he sure as shit won't make the cut on the bulls."
"That so?" Dirk paused in prepping his rope, his ice blue eyes meeting Grady's for only a second. "Funny, as I recall it just last week in Red Lodge I made the whistle while your ass hit the dirt." He went back to work, crushing the lump of rosin and wrapping his gloved hand around the bull rope.
Grady jumped down from the pen with narrowed, steely-colored eyes. "I'm still going into the short round with the high score." His shoulders were thrown back and his thumbs hooked in his belt loops—the ones that supported the huge Collegiate Champion Bull Rider buckle. Any stranger who didn't know them as longtime rodeo buddies would surely think fists were about to fly, but Janice suspected it was just pre-ride posturing. Cowboys as a rule were ridiculously competitive. Still, she bit her lip at the tension of rising testosterone.
"Maybe you're right, Grady, but a closed mouth gathers no boots."
"What're you sayin'? You think I'm all talk?"
Dirk shrugged. "Maybe you wanna put your money where that big fat mouth is?"
"All right pretty boy. How 'bout the lowest score on the next ride buys the drinks tonight? And none of that cheap shit either."
Dirk stood up straight, rolled his neck and shoulders, and then extended his hand. "You're on."
Grady accepted it with a laugh. Janice breathed a sigh of relief. The announcer gave the final scores on the barrel racing and then broadcasted the imminent start of the bull-riding.
Grady puffed up like a fighting cock as soon as audience attention riveted to their end of the arena. "Now the real rodeo begins."
"Plenty of people watch the other events too," Janice protested. "The broncs are my personal favorite." She darted a glance to Dirk. "Classier than the bull riding."
Grady scoffed. "You know as well as I do that the bulls are what eighty percent of these people come for. No one really gives a rip about all the warm up acts, though team ropin's probably the worst." He looked to Janice with an air of expectancy.
"Don't ask why, Janice," Dirk warned. "It's his worst joke—and the one he always uses when he's itching for a bar fight."
"Oh yeah?" Janice couldn't stifle her grin. "Why's that, Grady?"
Grady smirked. "Because team ropin's a lot like jacking off, Sweet Cheeks—kinda fun to do, but no one wants to watch it."
Cowboy Wisdom
1. Never approach a bull from the front, a horse from the rear, or a fool from any direction.
2. Don't squat with your spurs on.
3. Don't judge people by their relatives.
4. Talk slowly, think quickly.
5. Remember that silence is sometimes the best answer.
6. Timing has a lot to do with the outcome of a rain dance.
7. The easiest way to eat crow is while it's still warm- the colder it gets, the harder it is to swallow.
8. Don't worry about bitin' off more'n you can chew; your mouth is probably a whole lot bigger'n you think.
9. Good judgment comes from experience, and a lotta that comes from bad judgment.
10. When you give a personal lesson in meanness to a critter or to a person, don't be surprised if they learn their lesson.
11. When you're throwin' your weight around, be ready to have it thrown around by somebody else.
12. Always take a good look at what you're about to eat. It's not so important to know what it is, but it's sure crucial to know what it was.
13. The quickest way to double your money is to fold it over and put it back into your pocket.
14. Boot Hill is full of fellows who pulled their triggers without aiming.
15. A gun and three of a kind always beats three of a kind.
About ROUGH RIDER
Two wary hearts …
Janice Combes has two loves, bucking bulls and Dirk Knowlton. But Dirk only has eyes for a dazzling rodeo queen. How can Janice ever compete while mired ankle-deep in manure? Exchanging playful banter with Dirk is all Janice can expect-until the stormy night he knocks on her door dripping wet and needing a place to crash.
Different dreams…
Dirk Knowlton is living the cowboy dream. Life should be good-roping, branding, backing broncs, riding bulls, but there's a void he can't seem to fill. After getting hung up by a bull, he wonders if this is really the life he wants. Restless and rebellious, he bolts…but there's a certain cowgirl he can't forget.
When a battle-scarred Dirk returns to his Montana ranch he's determined to hang on at any cost. Janice has come back home to lick her own wounds. When old dreams turn to dust, can two wary hearts take another chance on love?
Fresh Fiction reviewer Rachel Williams calls it a "poignant saga and a lovely, redeeming romance." Read our full review here.
About Victoria Vane
Victoria Vane is an award-winning author of smart and sexy romance. Her works range from wild comedic romps to emotionally compelling erotic romance. Victoria's books have received more than twenty awards and nominations to include the 2014 RONE Award for Treacherous Temptations and Library Journal Best E-Book romance of 2012 for The Devil DeVere series. She lives the beautiful upstate of South Carolina with her husband, two sons, a little black dog, and an Arabian horse.
Website | Blog | Facebook | Amazon | Goodreads | YouTube | Pinterest