Many readers by now are familiar with my transition from historical romance to contemporary western romance a little over a year ago. In all of my books to date, I have endeavored to put a whole new twist on the cowboy archetype. Wade Knowlton, the hero of SLOW HAND was a small town Montana lawyer and part time rancher. Dirk Knowlton, Wade's brother who is a former pro bull rider and injured vet is the hero of ROUGH RIDER. Reid Everett, the hero of the third book, SHARP SHOOTIN' COWBOY is a former Marine scout sniper and Wyoming hunting guide. All of these stories are set in Wyoming and Montana.
My hero Ty Morgan in HELL ON HEELS and TWO TO WRANGLE is a departure from my more traditional cowboys. Ty is a flawed character. He's a divorced playboy who loves woman—in single serving sizes. He also has an alcohol problem that he's mostly overcome. He's got a smart mouth and talks a lot of smack about his ex-wife, but deep down takes responsibility for the failed marriage. He has countless "friends" but doesn't let anyone get too close, with the exception of Oklahoma billionaire, Tom Brandt, his father's business partner who took Ty under his wing after Ty's father's tragic death. After following too closely in his father's footsteps, Ty leaves the world of professional rodeo to manage Tom's Las Vegas hotel. The Hotel means everything to Ty. It's his family and his future but Ty knows its days are numbered.
Excerpt#1
"You want anything from the bar, Mr. Brandt?"
"Nothing thanks," Tom replied, looking her over with overt appreciation. He might be getting up in years but he still admired a good looking women as much as the next man.
"All right-y then," she replied with another flash of white teeth. "Be back in a jiff."
Both men watched her ass sway as she walked away. She noticed, caught Ty's eye, and winked. His prick stirred to life. Hell, it was only a wink. Was it that long since he'd been laid? Weeks probably, he realized dismally. But he'd been so damned busy lately. He decided then and there to add that to his agenda once this meeting was over. Hell, if things turned out as he feared, he'd have to flag it as a number one priority—right after getting shit-faced.
"I didn't call sooner because I wanted to meet with my banker, accountant, and lawyer before answering you," Tom replied at last, his perfectly impassive expression giving nothing away.
"And?" Ty prompted.
"I'm sorry to say they all counseled me against it, Ty. The ROI is piss-poor compared to what I'd make on the shale fields. You know how those bean counters are."
Ty's gaze darted to the bar where the waitress was flirting with a brawny blond bartender. He really needed that bourbon. Now.
"We both know the place is well past its heyday," Tom continued. "It hasn't made a profit in the past decade. I hate to say it Ty, but my financial advisors want me to pull out of the hotel altogether and put the money where it'll grow—into hydraulic drilling and exploration." Tom sat back with a thoughtful look. "Ironic isn't? My granddaddy made a fortune wild-catting, lost most of it in the depression, and now fracking the very same sites has made mine."
The waitress returned with his drink, but this time Ty answered her inviting smile with only a curt nod and a terse thanks. Pretty blondes, even ones with nice racks and pert asses, were now the last thing on his mind.
Tom's decision to pull out was a blow he'd half-expected, but still wasn't completely prepared for. But with no wife or family, and nothing but old scars, broken bones to his credit, the hotel and casino was all Ty had left. He took a long drink, savoring the bourbon bite while struggling to collect his scattered thoughts. After another fortifying swallow he set his glass on the table. He still believed he could save the place and wasn't about to give it up without a fight.
Little does Ty know that his fight will be with Tom's invest-banker daughter, Monica Brandt. Monica has arrived in Vegas to take care of her father, which also includes taking control of his assets. She is fiercely protective of Tom, the only person who's ever cared about her, and doesn't trust Ty. Their story is fast paced, loaded with conflict and sexy as sin!
Excerpt #2
"Alright, cowboy," Monica said. "You want it straight? I'll give it to you. You and I both know my father is a very wealthy man. He's also now completely incapacitated. I have to wonder what really happened at this meeting of yours? What caused his blood-pressure to skyrocket to the point of stroking out in the parking lot?"
He towered over her flushed-faced. "You think I had something to do with that?"
"I think the circumstances are highly suspicious. You'll have to forgive me if I don't accept everything you say at face value."
He took a breath, opened his mouth as if to speak, but then closed it again. He jammed his hat back on his head and made to leave, but then turned back with his hand on the door. "Look, Ms. Brandt. I gotta get something off my chest right here and now."
"And what's that?" Monica asked warily.
"I get that you trust me about as much as a rattlesnake dozing in your boot. And part of me appreciates your suspicions 'cause you don't know me from Adam, but what you need to understand is the man in that bed right there," he jerked his head toward Tom, "means every bit as much to me as he does to you—probably even more, given that I've known him twice as long. Hell, he practically raised me."
"I'm sorry if my style is too direct for you, cowboy, but I'm only acting in my father's best interest."
"I've got nothing to hide," he said. "But if this is the way you're gonna go about things, you don't know Tom at all. But given we both want what's best for Tom, you can consider me at your disposal." He tipped his hat and walked out.
She looked after him thinking disposal might be exactly the right word.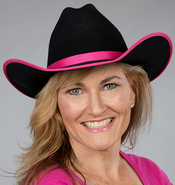 Victoria Vane is a #1 bestselling award-winning author of smart and sexy romance. Her works range from comedic romps to emotionally compelling erotic romance and have received over twenty awards and nominations including: a 2015 Red Carpet Finalist for Best Contemporary romance (Slow Hand), 2014 RONE Winner for Best Historical Post Medieval Romance (Treacherous Temptations), and Library Journal Best Ebook Romance of 2012 (The Devil DeVere series). Victoria also writes romantic historical fiction as Emery Lee. She currently resides in Palm Coast, Florida with her husband, two sons, a little black dog, and an Arabian horse.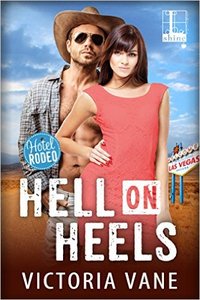 PLACE YOUR BET…
The Hotel Rodeo in Las Vegas has seen better days, but managing partner Ty Morgan has come up with a way to return it to its former glory. His plan looks promising until the unthinkable happens. Suddenly Ty is working for the boss's daughter. And Miss Monica Brandt, hot as she may be, doesn't share his vision
ROLL THE DICE…
She left a fabulous career and a frustrated fiancé in New York to move to Vegas and save her father's investment. But now Monica is locking horns with a sexy cowboy-turned-businessman. What does Ty think he can do that she can't? All Monica knows is that she doesn't dare trust him—or is it herself she doesn't trust…
AND WIN…
The battle lines are drawn. The stakes are high. And the attraction can't be denied—especially the more closely Ty and Monica have to work together. Some odds are just meant to be played, and with chemistry this electric, it may be time to grab life by the horns…
Praise for SLOW HAND
"Well-paced, scorching scenes and witty banter…"
—Publishers Weekly
"Slow Hand by Victoria Vane is delightful, funny, page-turning steamy sexy, and the romance between Wade and Nikki make you wish you could pull Victoria's characters straight off the page and into real life…"
—Unwrapping Romance
"For erotic passion and one-liners, the first book in Vane's new series will satisfy…Vane's latest gets a big yee-haw."
—RT Book Reviews