1–What's the name of your latest release?
For Letter or Worse, the second installment in my Stationery Shop series. Readers need not have read book 1, Last Pen Standing, to dive in! And fun fact: this is my 20th cozy mystery, releasing in 2020! So I'm extra pleased to be here on Fresh Fiction answering these 20 questions.
2–What is it about?
For Letter or Worse follows Delta Douglas, co-owner of stationery shop WANTED in Tundish, Montana. Delta is excited to host a 3D cardmaking workshop for the birthday of former model Lena Laroy, but when Lena is threatened during the party and a dead body turns up, Delta must engage her Paper Posse crafting friends and wildlife guide Jonas with his former K9 Spud to weed through the clues and catch the killer.
3–What word best describes your main character(s)?
Just one word?! Hmmm. . . Energetic!
4–What makes your story relatable?
Delta recently moved to Tundish and has to settle in her new town, learn the ropes of running her own business, make new friends and figure out if her relationship with Jonas is taking a romantic turn. Her struggles and dilemmas, her setbacks and victories as she builds her new life, are recognizable, making readers root for her.
5–Who are the people your main characters turn to when they need help?
Delta can always rely on the Paper Posse, a group of crafters who all work at crucial places in town (bakery, post office, gold mining museum) so they can be her ears and eyes and provide information she needs. They are also fun friends who always share sweet treats and crafting tips. Oh, and Delta has a special bond with her grandmother who partially raised her and gave her a check for her 30th birthday that enabled her to buy into WANTED.
6–What do you love about the setting of your book?
Tundish is a town with a goldrush past which comes back in a lot of buildings (the Mine Forever diner, gold mining museum and stylish Lodge hotel) plus WANTED is situated in the former sheriff's office and has kept authentic elements like the sheriff's desk and the old cells, now home to washi tape, notebooks, and pens.
7–Are you a plotter (follow an outline) or a pantster (write by the seat of your pants)?
I have the basic elements of the story outlined (personal developments, key elements of the mystery, etc) but I do allow myself freedom to follow where the story takes me, which sometimes means a scene happens later in the book or I change a location.
8–What is an ideal writing day for you?
Getting up early and doing my writing before other things demand attention.
9–Do you listen to music while you write, need total silence, or do you have the TV on?
I need total silence. I see the scenes unfold as I write them and I can't use any distractions then.
10–How do you approach research?
I love research! I especially like visuals to stimulate my imagination. Tundish was developed from looking at a lot of pictures of real-life towns in Montana's Bitterroot Valley and combining elements I liked into my fictional town.
11–What is your publishing journey story?
I got my first cozy mystery deal via a tweet! How cool is that? I saw a call for submissions from a division of HarperCollins asking for a first chapter and synopsis of a story starting with a proposal. I assumed they were thinking of romance, but I wrote a chapter starting with a 1920s aristocrat overhearing a marriage proposal and thinking it has something to do with a murder. My sleuth Lady Alkmene was born. I submitted and got a call shortly after that the editor loved my chapter and would like to see more. I sent 3 chapters and ideas for 2 more books and again shortly after I got another call with those words I was waiting for: we want to buy your book, in a 3-book deal. As I had often read that an unpublished author never ever sells on proposal, this was extra special! All I can say is: if you dream of being published, follow publishers on social media, pay attention to special calls, and who knows, maybe some day soon you'll have a call story just like mine.
12–Do you have critique partners/writing groups you want to give a shout-out to?
Can I give a shout-out to cover designers? Honestly, they are an often overlooked group whose input on a book's success is massive: that cover image has to attract the reader right off the bat. I love the look of my Stationery Shop series, all the details that go into the backgrounds, and of course, Spud, my canine star!
13–What're the most frustrating things about being an author?
Probably having more ideas than I can ever turn into books!
14–What's your favorite scent?
Freshly baked bread!
15–What movie will you watch no matter what if it's on TV?
The Sound of Music.
16–Do you like breakfast, lunch, or dinner best?
Breakfast!
17–What's one thing you wish you knew more about?
Astronomy. I love a look at the moon and stars and I find the universe endlessly fascinating. I sometimes work special events, such as a meteor shower, into my stories.
18–What's the silliest thing you've recently done?
Buy more notebooks while I already have a ton. But then, writers need notebooks, right?
19–What can readers expect from you next?
My current release is For Letter or Worse, coming in ebook, paperback and audio (with Recorded Books). Delta and her friends will also be back for another adventure in 2021.
20–How can readers reach you?
I'm quite active on Twitter where readers can find me under @VivWrites. A full list of all my books can easily be found on sites like Goodreads, Fantastic Fiction etc.
Stationery Shop Mystery #2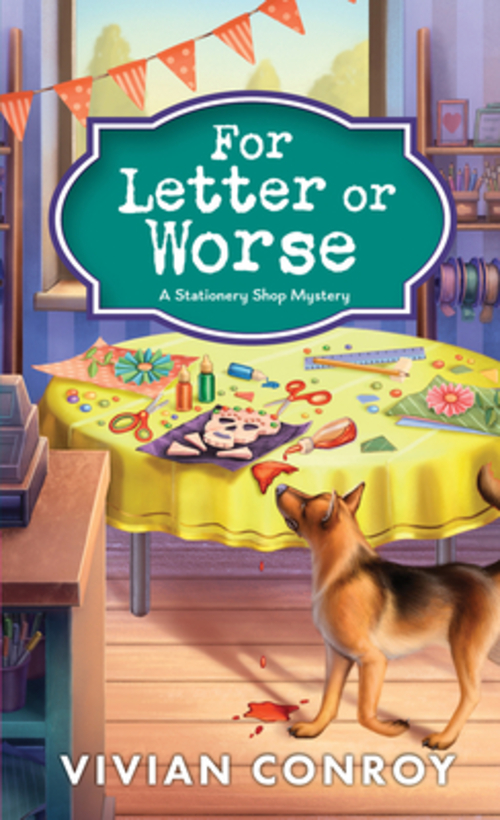 The second in the stationery shop mystery series!
The scissors are sharpened and the cardstock stacked for Delta Douglas' latest workshop: a 3D cardmaking event at socialite, Lena Laroy's, birthday extravaganza. As co-owner of Wanted, the local stationery shop, Delta is ready to wow her guests with her one of a kind crafts. But, at this party, paper isn't the only thing bent out of shape. When a threatening present is unwrapped and the guest of honor's sister-in-law is discovered dead by the trees, Delta realizes another killer is loose in her small town.
Before the cake is even cut, suspects appear from the folds, and Delta and her Paper Posse must analyze the evidence to track the culprit down. But, with Lena's list of enemies a mile long, Delta soon discovers this case has more dimensions than she bargained for.
Mystery Cozy [1106 Design, On Sale: September 29, 2020, Hardcover / e-Book, ISBN: 9781492684060 / eISBN: 9781492684077]
VIVIAN CONROY is the author of the Cornish Castle, Country Gift Shop, and Lady Alkmene mystery series. Besides writing, Vivian enjoys hiking, collecting stationery, and trying new desserts, especially if chocolate is involved.