1–What's the name of your latest release? 
Killer Kung Pao.
2–What is it about? 
Our beloved restaurant manager, Lana Lee, who just wants peace, quiet, and to get her hair re-dyed, is present during the suspicious death of sue-happy, Mahjong player, Mildred Mao. Unfortunately, there's a possibility that one of the twins from Yi's Tea and Bakery, June Yi, may be involved. Lana has no real desire to help clear June's name and struggles with the decision to implicate herself. But knowing it's the right thing to do in the end, she begins to dig into the particulars to find out who exactly killed the problematic Mahjong player and what secrets the potentially guilty parties are hiding from one another.
 3–What word best describes your main character(s)?  
Sassy
4–What makes your story relatable? 
I think it's the fact that Lana and the community of Asia Village are all just regular, everyday people. They're daughters and sons, mothers and fathers, kooky aunts and uncles, best friends and boyfriends.
5–Who are the people your main characters turn to when they need help? 
Her best friend and roommate, Megan Riley. And, of course, her boyfriend, Detective Adam Trudeau. (Though she usually leaves him as second option since he doesn't always approve of her shenanigans.)
6–What do you love about the setting of your book? 
It's home. I've always wanted to write a story that takes place in Cleveland. I love this city, and it is both my pleasure and honor to share it with my readers.
7–Are you a plotter (follow an outline) or a pantster (write by the seat of your pants)?
I am a total pantser, I never have any idea what is coming next. Though I never have an outline, I do have a general idea of where I want things to go. But, I let the characters tell me…sometimes we end up where I thought we would, and other times, it's the complete opposite.
8–What is an ideal writing day for you? 
The best days are the ones where I can get up and write first thing in the morning with a fresh pot of coffee. . . and maybe a donut or two.
9–Do you listen to music while you write, need total silence, or do you have the TV on?
Most of the time, I write in complete silence. I like to mumble to myself and sometimes run dialogue out loud so I can hear if it sounds natural.
10– How do you approach research? 
Very carefully! (haha) When writing mysteries, even cozies, you tend to be careful on what you type into your search bar lest the FBI show up at your house. I also keep a healthy stack of reference books on hand to help minimize those suspicious searches.
11–What is your publishing journey story? 
Well, I kind of took the scenic route. I've loved writing since I was very young, and during my teens, I began my first attempt at completing a novel. Hopes were squashed along the way as becoming an author was viewed as something unattainable and far-fetched. I can't tell you how many times I heard the phrase "pipe dream." After a few attempts in my late teens and early 20s to do something else, I finally went back to school with the idea that I would get an English degree and hone my writing skills along the way. That first novel continued to follow me and I'd work on it whenever time allowed.
Flash forward about 10 years after that, I had given up on my decision to get an English degree, and though I'd met a very influential teacher who taught me about writing mysteries in college, I was still gun shy. Looking back, I realize I was afraid to take myself seriously. One day I decided to quit worrying and that it was time to invest in myself. So I joined the local chapter of Sisters in Crime and met some very wonderful and supportive people. Then through a friend and very talented author, there was news that St. Martin's Press was looking to publish an Asian-themed story. When she asked if I was interested, I jumped on the opportunity to submit my work to the agent who was scouting. I thought to myself, this is it, this is your chance. That night I went home and pulled out the novels I had started, and put together a sampling for my now agent. And after that, everything fell into place. That's not to say it wasn't nerve-racking while I waited for the publisher to respond to my submission. I didn't know what they or readers would think of my stories, my characters, or the version I had to tell from a mixed-race Asian standpoint. But it was well-received and here we are, and it's still hard for me to believe. On occasion, I still pinch myself to make sure it's real!
12–Do you have critique partners/writing groups you want to give a shout-out to? 
The Northeast Ohio Chapter of Sisters in Crime. They have been pivotal to my development as an author, and the support has been more than I could have ever hoped for.
13–What're the most frustrating things about being an author? 
I'd have to say the highest on that list is finding a mistake in your book after it's been published. You comb through your manuscript several times before the final printing, and there's always that one thing that eludes you. 
14–What's your favorite scent?
I have quite a few, but if I had to pick just one, I'd say sandalwood. It reminds me of the time I've spent in Taiwan and always brings back great memories. Not only is it the dominant smell in most Buddhist temples, but it is used for a lot of personal alters in homes. You smell it almost everywhere you go. Any time I miss it there, I light a stick of incense.
15–What movie will you watch no matter what if it's on TV? 
Ooh, that is a tough one because I have a few on that list as well. But I think I would choose Big with Tom Hanks. I loved that movie as a kid and always secretly wished that would happen to me.
16–Do you like breakfast, lunch, or dinner best? 
Am I allowed to pick all three? I just really love food no matter what time of day it is! But, I do have to say that dinner is the most enjoyable and relaxing. Then if you have breakfast food for dinner? Even better.
17–What's one thing you wish you knew more about? 
That is a hard question because I feel there is so much to be learned. Currently, I wish I knew more about reading music. I've been teaching myself how to play the piano and learning all the notes and symbols has been a thing of work. It's definitely a foreign language to me.
18–What's the silliest thing you've recently done?
Sadly, with Cooties-19 in the air, I haven't gotten a chance to be that silly. The closest I've come is buying as many face masks as I can with different cartoon animal mouths. It's brought smiles to a few people while I'm out shopping, and it makes me happy to lighten the mood.
19–What can readers expect from you next? 
More adventures with Lana Lee and friends, that's for sure. Aside from that, it's anyone's guess. I do have a few things up my sleeve. . .
20–How can readers reach you?
They can always contact me through my website: www.vivienchien.com and on social media:
Instagram: @vivien_chien_author
Facebook: @vivienchienauthor
Twitter: @vivien_chien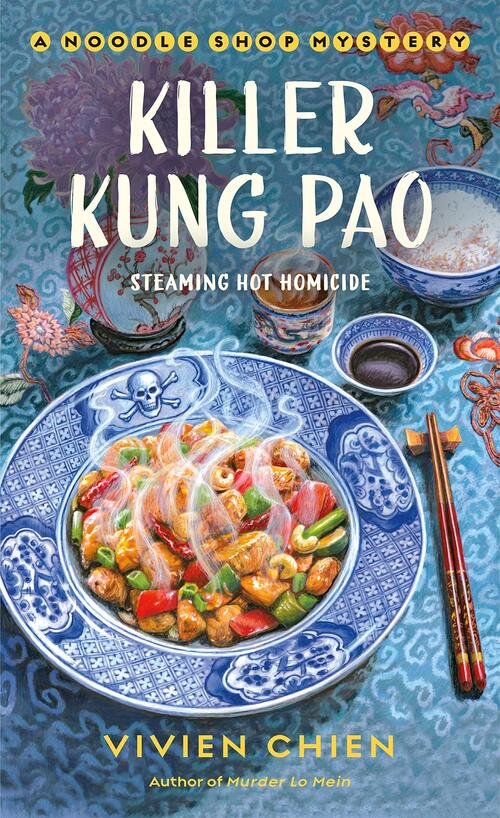 Vivien Chen's Lana Lee returns for Killer Kung Pao, another delectable cozy set in a Chinese restaurant in Cleveland, Ohio!
Is life at the Ho-Lee Noodle House becoming too hot to handle?
Lana Lee's plate is already plenty full. Running her family's Chinese restaurant in Cleveland's Asia Village is challenging on the best of days. But just when Lana thinks she might be able to catch her breath before the weekend–which she's eager to spend with her equally overworked boyfriend, Detective Adam Trudeau–Lana witnesses a car accident in the parking lot. And now she has no choice but to get involved.
June Yi, of Yi's Tea and Bakery, is a serious businesswoman well-known for her heartlessness. But June meets her match when she rear-ends the Cadillac belonging to Mah Jong lover Mildred "Millie" Mao. As each woman curses–and threatens–the other, it becomes clear to Lana that trouble lies ahead. Still, who could have imagined that Millie would end up dead at the beauty salon? The evidence suggests that she was electrocuted while having a foot bath, and all eyes are on June. Can Lana find a way to solve this case before another fatality occurs in Asia Village?
Mystery Culinary | Mystery Cozy [St. Martin's Paperbacks, On Sale: August 25, 2020, Mass Market Paperback / e-Book, ISBN: 9781250228307 / eISBN: 9781250228314]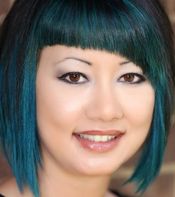 Vivien Chien first started writing simple stories about adventures with her classmates when she was in elementary school. As she grew up, her love of books and the written word increased, leading to the attempt of her first novel at age 16. After many struggled beginnings and several different genres, she found her passion in the mystery world.
When she's not writing, she can be found frolicking in the bookstore or searching for her next bowl of noodles. She has a soft spot for doughnuts, a healthy love for coffee, and an extreme need to participate in random acts of crafting.
She currently lives in Cleveland where she is hard at work on the next book in her Noodle Shop series and writes side-by-side with her toy fox terrier.