Howdy, Fresh Fiction fans!
In my latest release, the friends-to-lovers erotic romance COWBOY PLAYER, Clark MacKinnon is a cattleman who's working hard to make his family's ranch a success. His childhood best friend Melody Santos has moved back to town. She needs a little money, so Clark hires her to help with the business. Problem? She's all grown up and he can't stop thinking about her. Sparks fly between the BFFs and soon they face a conundrum: stay safely in the friend zone or give in to passion and risk losing each other forever.
Clark is the third MacKinnon brother from my Cowboy Cocktail series. He's appeared in previous books as a flirt and prankster, the one who delivers the inappropriate line and unknowingly hits on his brothers' girls. He is so much fun to write, not only because he's a sexy, dirty-talking goofball, but because underneath it all he is steady as a rock, and just the dependable kind of man Melody deserves.
Like all red-blooded American cowboys, Clark loves a good steak. I'd like to have him share his steak recipe (which coincidentally is the recipe I use at home). Take it away, Clark…
CLARK MACKINNON'S STEAK RECIPE FOR TWO
Listen up. I'm gonna tell y'all how to make steaks, so pay attention.
First off, go get yourself two rib-eye steaks, about 1 to 1½ inches thick. You need salt, a heavy-ass pan with a lid, and vegetable oil. That's it.
Salt the steaks on both sides. Put 'em in a plastic Ziploc bag and keep the bag on the counter at room temperature for two hours.
Go find something to do for two hours. I'd tell you what I'd do, but you can probably guess.
Okay, so now you're both hungry.
Heat the pan over high heat until it's as hot as me, which is to say, pretty damn hot. Add the oil, couple of tablespoons. Stand back and add the steaks. Lower the heat to medium high and cover the pan. Wait five to seven minutes.
At this point I recommend wine. Chicks dig wine.
Turn the steaks, cover again, and wait another five to seven minutes. If you have one of them fancy meat thermometers, 130 degrees is medium rare.
Take the steaks out of the pan and let them sit for ten minutes. Now would be a good time to set the table and remind your girl how pretty she is.
Eat your dinner. Keep flirting with your girl. Say, "Actually, I was wrong earlier. You're not pretty. You're beautiful." Look into her eyes when you say this.
By the way, steak is good for stamina. You're welcome.
GIVEAWAY
How do you like your steak? Leave a comment below. Three winners will receive a digital copy of COWBOY PLAYER from the book retailer of their choice.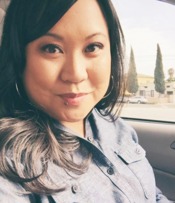 Mia Hopkins writes lush romances starring fun, sexy characters who love to get down and dirty. She's a sucker for working class heroes, brainy heroines and wisecracking best friends.
When she's not lost in a story, Mia spends her time cooking, gardening, traveling, volunteering and looking for her keys. In a past life, she was a classroom teacher and still has a pretty good "teacher voice" and "teacher stare." She lives in the heart of Los Angeles with her roguish husband and two waggish dogs.
Hopkins is a member of Los Angeles Romance Authors (LARA), East Valley Authors (EVA), and Romance Writers of America.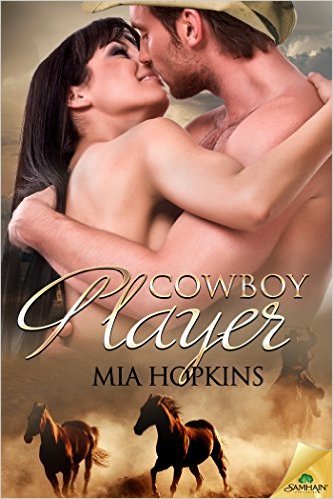 This cowboy and cowgirl sell the steak and the sizzle.
For eight years, Melody Santos played the game of love and lost—big time. Now she's back in her tiny hometown looking after her younger sister, making ends meet with an assortment of odd jobs. When her childhood best friend hires her to help him sell his family's grass-fed beef, the last thing she anticipates is falling in lust with the legendary, brown-eyed player.
To put his family's cattle ranch back in the black, Clark MacKinnon has his sights set on big contracts—gourmet chefs and restaurateurs. If that means long hours traveling from farmer's market to farmer's market, Clark doesn't mind. Particularly since his new assistant is his childhood crush, all grown up and sexy as hell.
One night in bed leaves them breathless and hungry for more. But when his love-'em-and-leave-'em reputation collides with her trust issues, Clark and Melody must face the truth about what they've become: not friends, not lovers, but players in a game that's impossible to win.
Warning: Contains filthy banter, raunchy sex, excessive Johnny Cash references, and hundreds of pounds of raw beef.
Romance Contemporary [Samhain Publishing, On Sale: June 28, 2016, e-Book, ISBN: 9781619235212 / eISBN: 9781619235212]