For Women's History Month, I felt it was only fitting to pay homage to the female authors of the past who continue to captivate mystery readers across generations. With their boundary-breaking literature, these women have influenced and motivated a multitude of incredible female authors who continue to expand upon their foremother's legacy. To celebrate their achievements, I asked a few women currently making history in the mystery genre about the female inspirations behind their writing. From a few eloquent words, to heartfelt memories, I hope you enjoy the history of mystery through the eyes of a few women I admire and respect.
"My father loved to read British mysteries, and from him I learned an early love of Agatha Christie (of course), but also of Ngaio Marsh, Patricia Wentworth, Margery Allingham, and Dorothy Sayers. They taught me a great respect for the classical mystery plot: for the way stories hang together (or don't) from the beginning, through a confusing middle, all the way to the inevitable end. They also taught me that plot absolutely develops from character, and not the other way around."
"When I first started writing, I came up with a character. She came to me easily and before long she was fully formed in my head. Then that character suddenly had a family. I knew they had to become the characters in a book, but what kind of book? The only thing that made sense to me was to put them into a mystery—because of Agatha Christie. When I get right down to it, Agatha Christie has been my inspiration in my writing career.

It all started when I was 9 years old. I distinctly remember going to the library with my mom so she could get CURTAIN, Agatha Christie's last book and Hercule Poirot's final case. My mom had read every single Agatha Christie mystery and she was determined to check out Curtain before anyone else got their hands on it. Of course, at that age, I didn't understand what all the fuss was about and why she liked all of Agatha's books so much. I mean, she even named two of our cats after two of Agatha's lesser known characters, Tommy and Tuppence!

But then, probably when I was in 8th or 9th grade, I read my first mystery by Agatha (yes, by then we were on a first name basis). Suddenly I got it; I was hooked. I think I read most of her 66 mysteries. A CAT AMONG THE PIGEONS has always been one of my favorites.

I loved her characters (Miss Marple, Poirot, and, yes, Tommy and Tuppence), the puzzles, the settings…really, I loved everything about the books. They weren't so much about the sleuths and their lives in relation to the mystery. The sleuths had lives, of course, but they didn't develop much as characters. Miss Marple was always the same spinster woman; we could count on her consistency. Christie's detectives were the constants, their deductive reasoning the thing that made them so fascinating. Agatha's books were all about the mystery. The genre has changed since then. My sleuths grow and develop and are ever-changing, as are most these days. They face their own obstacles and have conflicts. But underneath it all, the books also come down to the mystery, and that's due to the standard Agatha set. She's inspired me to craft the best mystery plots I can. She's such an inspiration that the little Pug in my latest series is named Agatha! I guess I'm just like my mom. Agatha, the pug, is my shout out to the Queen of Crime, the woman who has inspired me in so many ways. I'm not alone; she is considered the best-selling novelist of all time, and with good reason. Long live Agatha Christie."
"My first "adult mystery" was AMMIE COME HOME by Barbara Michaels. Technically, it's romantic suspense, but it was what got me hooked (and at the tender age of 12) on the mystery genre. I never got inter Ms. Murtz's Elizabeth Peters books, but I loved the paranormal thread that went through all her Barbara Michaels books. I still read a couple of them at least once a year (HOUSE OF MANY SHADOWS is my favorite.) I never got to meet Ms. Murtz in person (although I did attend a conference where she was a guest), but I did once write to her and was thrilled to get a personal reply, and I do own at least one autographed copy of one of her books. (THE DANCING FLOOR. Hmm…maybe that's my favorite book. Or maybe it's Stitches in Time … oh well, she wrote so many good books it's hard to choose. Barbara Michaels inspired me to include a paranormal thread in my first mystery series, The Jeff Resnick Mysteries."
"I grew up with Agatha Christie and Dorothy Sayers—both had intriguing puzzles that I loved. And especially Miss Marple. A female sleuth outsmarting the men…Brilliant."
"Margaret Mitchell pretty much blew my socks off with GONE WITH THE WIND. Reading her novel at age 13, I couldn't believe how evocative her words were and how easily she breathed life and emotion into her characters. Now, when I worry about balancing plots and storylines, I think of Mitchell and how gracefully she managed it all."
Sue Grafton, author of X
"Agatha Christie because of her prolific output and the clever strategies she employed in her plotting."

Wendy Lynn Watson (aka Annie Knox), author of PAWS FOR MURDER
"Katherine Dunn's GEEK LOVE absolutely inspired me as a person. The book is certainly not for everyone (a little twisted for some tastes), but the message—that we should embrace what makes us "strange" and not try to conform—resonates with readers both freakish and "norm." I've read the book easily a dozen times and given it as a gift to as many people. I'm even about to get a tattoo in homage to the book and what it means to me and the way I choose to live my life. If you like Chuck Palahniuk, you'll love GEEK LOVE – just remember that Dunn was doing it first, and she was a girl!"

The question, though, was about how she inspired me as a writer. That's trickier. While I don't write in her vein at all, her writing did inspire me to take risks. If she can write a heroine who is a hunchback, albino dwarf whose conflict is that she is not odd enough, well, then, I can write just about any character I want. Dunn was bold in her writing, both in substance and in style, and I feel like she has given me permission to push genre boundaries a bit. I'm not pushing boundaries, but I'm pushing. She also focused on how family can exist in the oddest situations, and that's a theme I write about a lot. Family is made (not born), and it doesn't always look or act the way Hollywood would have you expect. I think Dunn really drove that home for me."
"Which female authors influenced me?! Goodness, there are too many to count. Ursula LeGuin, Andre Norton, Anne McCaffery, Agatha Christie, Dorothy Sayers, Josephine Tey, all the Brontes, Daphane DuMaurier, Angela Carter, Jane Austen, Georgette Heyer…the list goes on. Their work taught me to love stories and storytelling. They showed me a world way beyond the suburb I grew up in and kept me company while I was figuring myself out. They showed me how a good story was built, and the fact of them said I could be a writer too.
Obviously, Agatha Christie is high on the list, but Kinsey Millhone was first adult sleuth that I absolutely identified with—thank you Sue Grafton! Kinsey is sharp, independent and the Kinsey Millhone mysteries delve into some of the dark elements of our society. Janet Evanovich gave me the silly humor I enjoy and I love Stephanie Plum's adventures through her messed up life. I couldn't help but add Carolyn Keene to the list. The pseudonym was used by a group of authors who introduced me at a very young age to the world of mysteries. Even though Nancy's adventures don't belong to just one author, credit should be given to Mildred Wirt Benson who wrote over twenty of the Nancy Drew novels. She guided many a young girl into their teens, giving them the courage to explore all the possibilities that lay ahead of them.
Thank you to all authors who took time out of their schedules for this post. Their generosity is just an added bonus for readers who can't wait to pick up their next mystery. We haven't nearly covered all the women who've influenced the mystery genre, and we'd love to hear who has influenced you.
Until next time, get cozy and read on!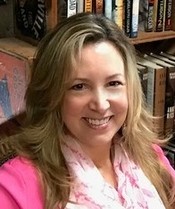 Kym Roberts is a retired detective sergeant who looks for passion, mystery and suspense in every book she reads and writes. She can be found on the web kymroberts.com, on Facebook at Kym Roberts (author) and on Twitter @kymroberts911. Look for her cozy mystery release, Fatal Fiction, A Book Barn Mystery available for a limited time for just 99¢. A Reference to Murder and Perilous Poetry available for on Pre-order now!
Save