Dear Reader,
Red Carpet Redemption is the third book in The Stewart Heirs series. My inspiration came from watching the Jennifer Lopez movie The Backup Plan. What if the heroine used a sperm donor to get pregnant and falls in love with him years later?
That notion gets turned on its ear when the donor turns out be A-list actor and America's Sexiest Man Alive Dane Stewart. The lovable hunk has no idea he's a father or that his son Jayden is in need of a bone marrow transplant. Navigating fatherhood and falling for his son's mother, Iris Turner, was never part of the plan, but their first meeting has Dane seeing stars. I hope you enjoy this feel-good love story.
Dane's story was to be the last book, but the series felt unfinished. Expect the fourth and final book in 2020. Visit my website for more details, www.yahrahstjohn.com, or write me: yahrah@yahrahstjohn.com.
Best Wishes,
Yahrah St. John
***
Iris was on cloud nine.
Earlier today, Dr. Lee had called and informed her there was a match for Jayden. For months, she'd thought it was a pipe dream. She'd gone on television and begged people to register to donate, but she'd never actually thought anything would come of it.
"Are you sure?" she'd asked him, and she'd given her an unequivocal, resounding yes. But nothing could have prepared her for her next words when she'd asked who the match was. It was none other than Dane Stew­art, the man who haunted her dreams day and night.
Since their meeting, Iris had found herself searching out his movies and watching them, either on television or Netflix. She'd become obsessed with seeing him on screen, with his sexy good looks and killer abs. Maybe it was to remind herself how strictly off-limits a man like Dane was. And she'd done a good job. She'd con­vinced herself she'd imagined the connection between them in the cafeteria because Dane had better options than a harried single mother.
Iris had just put Jayden to bed, and was finally ready to retire for the evening. But as she went into her bed­room, she decided there was one more thing she needed to do. Reaching for her purse, she pulled out the busi­ness card Dane had given her. Iris had never thought she'd have the opportunity to use it, but she felt com­pelled to thank him. Dr. Lee had told her donating was much easier these days and that they could do a peripheral blood stem cell donation, but it was still a procedure that might have some recovery time. Dane was a working actor, so it meant a lot that he was will­ing to make the personal sacrifice for Jayden's benefit.
Without thinking, she grabbed her iPhone and di­aled his digits. He's not going to pick up, she told her­self, he's not going to pick up. But he did.
"Hello," a deep masculine voice said from the other end of the phone.
"Dane?"
"Yeah?"
"Hi, um, it's…it's Iris Turner. Jayden's mother," she began. "I hope it's okay I called. You gave me your cell at the hospital—"
"Iris," he interrupted her, "relax. It's fine. You're not bothering me. I was hoping you'd call."
"Really?"
"I assume you heard the good news. I'm a match for Jayden."
"Yes." She breathed a sigh of relief. He wasn't upset she'd phoned. "Dane, I'm so thankful you're willing to donate."
"Of course I'll donate. Jayden has his whole life ahead of him. I want the best for him."
"You do?"
"Yes. I'll clear my schedule whenever I'm needed."
"Thank you. Will you let me know when the pro­cedure is? I'd like to come if that's all right with you."
"Absolutely. It's going to be okay, Iris. Jayden will pull through this. We'll see to that," Dane said.
"You make it sound like we're in this together."
"We are. I now have a vested interest in Jayden's recovery."
"Is that all?" The moment the words were out of her mouth, Iris wanted to take them back, but she couldn't. They lingered, floating on the air.
There was silence for several beats, and Iris was wondering if she'd overstepped when Dane said, "No, it's not all, Iris. I've thought of you often since our meeting."
"You have?" Nervous excitement raced through her veins. Had her initial intuition been right? Dane was interested in her?
Dane chuckled. "Don't sound so surprised. You're a beautiful woman, Iris. I'm sure you know that."
"It's been a while. We single moms don't get very many compliments, especially not from America's Sex­iest Man Alive."
"Aw, don't believe the hype, Iris. I'm a man like everyone else."
"Yeah, but you always have a beautiful woman on your arm."
"Those are hookups," Dane admitted. "I don't date. Not really. Because I don't know if they're after my money or if they really want me, you know?"
"That's terrible, Dane. How do you live with it?"
"Not very well. I'm the actor everyone wants in their movie, but sometimes the whole machine of my repu­tation and brand swallows up the real me. Yet when I talk to you, all the chatter melts away and I feel like myself."
"I'm glad, but what about your family? Aren't they there for you?"
"No, not really. They have their lives and I have mine, but I do check in with them from time to time."
"I don't know what I would do without my family," Iris replied. "They keep me grounded."
"Then you're lucky indeed," Dane said. "Hold on a minute, Iris. What's that?" Iris heard voices and real­ized he was talking to someone in the room with him, but couldn't make out the conversation. When he re­turned, he said, "I have to go, Iris, but I'm glad I have your number now. I'll save it in my phone. I'll be see­ing you soon."
"All right. And Dane?"
"Yes?"
"Thank you. You're a lifesaver."
Excerpted from RED CARPET REDEMPTION by Yahrah St. John, (c) 2019, mmp, Harlequin Desire
The Stewart Heirs #3
He's Hollywood's hottest heartthrob…
and her son's secret father.
A PR stunt backfires when it reveals actor Dane Stewart's a dad. As a sperm donor, he's never met single mom Iris Turner, but they're now connected through their child. And the press is about to pounce. Having Iris act as his girlfriend is pure damage control…except their chemistry is hotter than any love scene. But is a future together just a Cinderella fantasy?
Romance Contemporary [Harlequin Desire, On Sale: December 1, 2019, Mass Market Paperback / e-Book, ISBN: 9781488046971 / eISBN: 9781488046971]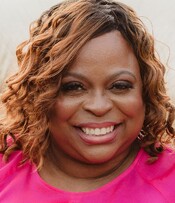 Yahrah St. John is the International author of twenty-nine books. When she's not at home crafting one of her sexy romances with compelling heroes and feisty heroines with a dash of family drama, St. John can be found in the kitchen cooking one of her gourmet meals discovered on the Food Network for her husband. Or this thrill-seeking junky can be found traveling the globe seeking out her next adventure.
A graduate of Hyde Park Career Academy, she earned a Bachelor of Arts degree in English from Northwestern University. St. John is a member of Romance Writers of America, but is an avid reader of all genres. St. John lives in sunny Orlando, the City Beautiful.