I must be dreaming; otherwise Mary Kennedy wouldn't be sitting in the Cozy Corner answering all my questions. Yet a pinch of my arms proves I'm not in lala land, but rather sitting at my computer absolutely thrilled to meet my long time Facebook buddy, bestselling author of A PREMONITION OF MURDER, Mary Kennedy.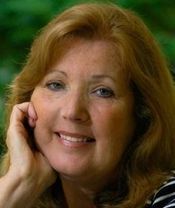 Mary Kennedy is the national best-selling author of two mystery series for Penguin-Random House, The Dream Club Mysteries and the Talk Radio Mysteries. She has written over forty novels, including a young-adult fiction series called The Hollywood Nights. Dr. Kennedy is a psychologist in private practice on the East Coast where she lives with her husband and six neurotic cats. She has tried unsuccessfully to psychoanalyze both husband and cats but remains optimistic.
Kym: Hi, Mary! Welcome to the Cozy Corner!
Mary: Thanks, I'm thrilled to be here and am a fan of your books! Plus I envy your background. As a detective, you will have some terrific stories to tell.
Kym: Thank you! Mary, can you tell us a little bit about your Dream Club Mysteries?
Mary: Yes, it's all about a group of women who meet in Savannah once a week to share their dreams, try to analyze them and eat some wonderful desserts! At least that's how it started. But everything changed when there was a series of murders in Savannah and it seems that the dream club members are finding clues in their dreams to solving the crimes.
Kym: The series is based on something you're very familiar with, dreams. What made you want to focus on the time people spend with their heads on their pillows—or maybe their desks?
Mary: In my day job (clinical psychologist) I'm surrounded by people who have fascinating dreams and want to tell me about them. They offer an intriguing look into their personalities. The important thing about a dream is the emotional reaction it provokes in the dreamer. The "plot" of the dream is less important because dreams are often symbolic, one thing stands for another, etc. So as a psychologist, I always go after the emotional content. It's also interesting to know how the dream ends. If it was an anxiety dream, did the dreamer manage to overcome the obstacles and reach safety? Or did he wake in a panic, still wrapped up in the dream? This gives me valuable information about my client's state of mind. You learn a lot about what's going on in a person's subconscious by listening to her dreams.
Kym: Tell us about your heroines Ali and Taylor. What made you choose two women (sisters) instead of one heroine?
Mary: I thought the interplay between the two might be interesting from a plot point of view. Yin and yang, that sort of thing. They each bring something unique to the story and I try to develop their characters in each book. I used the same technique with Dr. Maggie Walsh and her roommate Lark in The Talk Radio Mysteries. It's fun to have two characters with opposite ideas and personalities.
Kym: In your series, Ali and Taylor along with the rest of the dream club, solve homicides by interpreting dreams. Some readers love the possibility of the concept being transferred into real life; while others are skeptical. Do you believe dreams could be used to help police solve crimes?
Mary: I wish I knew the answer to that! I know there are cases in which psychics supposedly helped the police solve crimes, but I think these cases are mostly anecdotal. Taylor (the very pragmatic sister with the MBA) was initially very skeptical about whether clues in dreams could really be relevant to crime-solving, but as the series progresses, she is becoming a convert. Ali, of course, believes fervently in the power of dreams to shed light on events in our waking lives. And she is convinced that clues in dreams really do help solve murders.
Kym: Could the dreams you use in your series have any possible ties to the realm you disappear to at night?
Mary: I wish I could say I had interesting dreams, but I'm afraid they're quite mundane. I'm always fascinated by my clients' dreams, though, and many of my readers write me about their dreams.
Kym: Will there be a fourth book in the series?
Mary: Yes, I hope it will be out by late spring.
Kym: Your short, but very interesting release, A PSYCHOLOGIST'S GUIDE TO DREAM INTERPRETATION, ties into The Dream Club Mysteries. Did you write it for readers who were interested in learning more about their dreams?
Mary: So many readers asked me more details that I thought it might be worthwhile to put up a small booklet about them. It's an e-booklet, if there is such a thing. It's only 99 cents and all the proceeds go to a wonderful animal shelter in Lyons, New York.
Kym: You also have a Talk Radio Mystery series? Can you tell us about Maggie Walsh?
Mary: Maggie Walsh is a former Manhattan psychologist who moves to sunny Florida to become a radio talk show host at WYME-RADIO. (Think Frasier). She's surrounded by a wacky crew at the radio station, and she's shocked when her very first guest—an annoying Guru—is murdered. I used to work in radio, so I loved writing about that environment. DEAD AIR, the first in the series, is available right now as part of a Sleuthing Women Ten First-in Series Mysteries boxed set, for only 99 cents. If you like a little humor and a fun cast of eccentric characters with your mystery, (including Maggie's fifty-something stage-struck mother) I think you'd enjoy it.
Kym: Are Maggie and Frasier's personalities similar as well, or does Maggie have a bit of Dr. Kennedy in her?
Mary: I'm not nearly as witty or interesting! I made sure I created the radio setting as accurately as I could, though. It's a fun, exciting place to work and I enjoyed every minute of my job at a Nashville radio station.
Kym: Although not in the cozy mystery genre, The Hollywood Nights Series is something special. Can you tell us how you branched out with these novels?
Mary: I started out writing middle grade and young adult fiction for Scholastic and wrote over thirty-five books for them. I wanted to combine my interest in young adult fiction with my love of Hollywood and the film industry. Most of all, I wanted to create for teens that are hip, edgy but squeaky clean. MOVIE STAR takes place on a film set in a small New England town, the sequel CONFESSIONS takes place in Hollywood and GOLDEN GIRL is set in Miami, which is known as "Hollywood East" because it's popular with film producers. I won an award and grant from the National Endowment of the Arts for "artistic excellence in literary fiction" for MOVIE STAR.
Kym: Wow! I had no idea you had that many books through Scholastic, that's awesome! You've also released two cookbooks with your blog group, The Cozy Chicks, what made you and your fellow authors tackle not one but two projects like this?
Mary: Many of us include recipes in our books and we thought it would be a fun project. The response has been amazing!
Kym: With such a diverse library of releases, can you tell us what you're working on now?
Mary: The first in my new Crazy Love series just came out. It's a series for "young teens," not as sophisticated as Hollywood nights. The first release is LOVE SIGNS and it's available right now. It's a sweet, innocent, humorous series for girls from around ages 11-13.
Kym: Our readers would love to reach out to you on social media. Where can they can find you?
Mary: www.marykennedy.net, Amazon Page, Facebook, Twitter: @marykennedybook, Goodreads, and BookBub
Kym: Thank you for filling our day with sweet dreams at the Cozy Corner!
Mary: Thank you so much for having me! Happy reading and sweet dreams to all your readers, love this blog!
Giveaway Alert: A signed copy of DREAM a LITTLE SCREAM, book 2 in the Dream Club Mysteries and the electronic version of LOVE SIGNS, book 1 in the Crazy Love series for tweens and young teens is available to one commenter on the Mary's interview! Good luck!
Until Next time, get cozy and read on!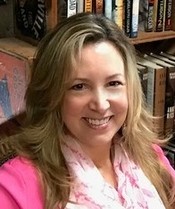 Kym Roberts is a retired detective sergeant who looks for passion, mystery and suspense in every book she reads and writes. She can be found on the web at kymroberts.com, on Facebook at Kym Roberts (author) and on Twitter @kymroberts911. Look for her upcoming releases, Red Lace, A Hard Men of the Rockies Novella and Fatal Fiction, A Book Barn Mystery available for pre-order now.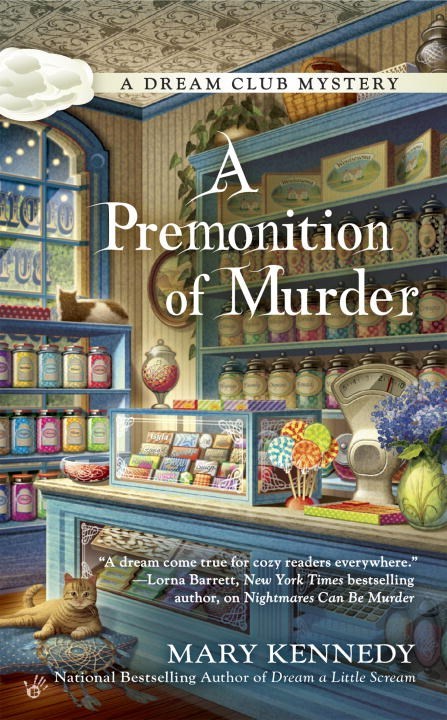 An elderly Southern heiress's nightmare becomes a real case of murder in the latest Dream Club Mystery from the national bestselling author of Dream a Little Scream.
When Abigail Marchand, Savannah's famously reclusive heiress, invites the Dream Club ladies to lunch at her Beaux Reeves mansion, Taylor and Ali hope for an invitation to join the distinguished Magnolia Society. But Abigail has a more pressing concern: a recent dream that seems to foretell her death.
Taylor reassures Abigail that there are many ways to interpret a dream, but at the next meeting of the Dream Club, their discussion is cut short by a call from Detective Sam Stiles. She's at Abigail's mansion, where the elderly woman appears to have been pushed to her death down a flight of stairs. Now Taylor, Ali, and the Dream Club need to catch a killer before someone else is laid to rest.
Mystery Cozy [Berkley Prime Crime, On Sale: June 7, 2016, Mass Market Paperback / e-Book, ISBN: 9780425268070 / eISBN: 9781101624135]