All of this week, we're showcasing a different Forever holiday romance author! Visit the blog every day for author interviews, cheery giveaways, and more festive fun.  Up first, Annie Rains!
**
What's the name of your latest release?
My new release is called SEASON OF JOY. I think it's the perfect title for this book because it's a holiday story and Joy is the name of my heroine.
What do you love about writing holiday/Christmas romance? 
There's a touch of magic in a Christmas romance. It's the season of hope, which is really at the root of all my books. I also love adding in all the festivities of the season like picking out a Christmas tree and decorating it, buying gifts, festivals, flotillas, and of course the food! There's so much to love about a holiday book. Who can resist?
Are your hero and heroine full of Christmas cheer or do the holidays bring out the worst in them? 
Well, my hero is the owner of the local Christmas tree farm. He's typically full of Christmas cheer, but this year he's struggling because half of his tree farm burned down in the spring. My heroine, Joy, is also struggling. She went through a devastating experience last Christmas and this year she would prefer to skip the holidays altogether. These two discover that they can help each other. Even though they don't start out with a whole lot of Christmas cheer, they bring it out in the other.
What's one of your favorite holiday traditions?
I think decorating the Christmas tree is my favorite tradition. I have a huge container of ornaments and almost all of them are special. My kids made a lot of them through the years. We love to hang the ornaments together. They get to hang the ones that they've made, finding a special place for it on the tree. It's wonderful to decorate our tree and make it beautiful together. Then we get to enjoy it for the rest of the holidays.
Which Christmas movie do you watch on repeat throughout this festive time of year? 
I love The Christmas Story. You know, the one where the little boy wants a Red Rider B-B gun and the mall Santa says he'll shoot his eye out. That movie is so funny to me. I've been watching it since I was a kid. It encompasses the magic of the holidays to a child and it's a lot of fun. I have great memories of watching it with my family growing up and now with my own kids.
The best Christmas song is… 
I'll Be Home for Christmas. I adore that song. In addition to hope, home is a big theme in all my books so this song really strikes a chord with me during the holidays.
Do you prefer to be home for the holidays, or do you like to travel?
Home! There's no place like home for the holidays. I love to visit with friends and family. I also love to enjoy all the decorations we've put out.
What can readers expect from you next?
Up next is my new Somerset Lake series. It's set in a small lakeside town. Somerset Lake is smaller than Sweetwater Springs so the everyone-knows-everyone vibe is even stronger. The town is like one big happy and, at times, dysfunctional family. There's the quirky side characters that add a healthy dose of charm, like the older lady who runs a gossip blog about goings-on in the town. There are also fun places to visit in town like the local bookstore and chocolate shop. I really can't wait for readers to come visit Somerset Lake, and return again and again for each new book!
—
COMMENT TO WIN: What do you love about reading holiday/Christmas romance novels? Tell us in the comments and you'll be entered to win a copy of SEASON OF JOY! US only. GOOD LUCK!
—
Sweetwater Springs Book 6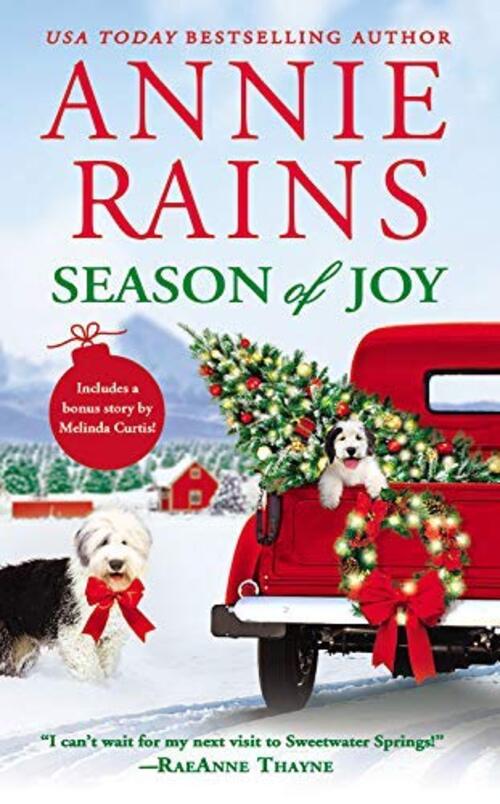 Fall in love with this heartfelt holiday romance between a down-on-his-luck Christmas tree farmer and a woman with plans to bring the merriment back to their town.

Tis the season for love
For single father Granger Fields, Christmas is his busiest — and most profitable — time of the year. But when a fire devastates the Merry Mountain Tree Farm, he fears the season won't be holly orjolly unless he can convince free spirit Joy Benson to care for his two rambunctious daughters. Yet while Granger wants to focus on saving his business, Joy seems determined to shake up his family's Christmas with her festive ideas and merry making.
Joy is counting down the days until she can open her own art gallery. Babysitting Abby and Willow will help her reach her goal, and when inspiration strikes, Joy convinces Granger that her craft classes can bring even more holiday cheer to the farm. As crowds return to the farm and Joy's creative side flourishes, life with Granger and his girls begins to feel like home. But with Christmas coming nearer, can Joy convince Granger to open his heart again? Or will their newfound happiness be as fleeting as the newly fallen snow?
Fiction Family Life | Romance | Contemporary [Forever, On Sale: October 13, 2020, Mass Market Paperback / e-Book, ISBN: 9781538700921 / eISBN: 9781538700914]
USA Today Bestselling Author, Annie Rains, is a contemporary romance author who writes small town love stories set in fictional towns on the coast of North Carolina. Raised in one of America's largest military communities, Annie often features heroes who fight for their countries, while also fighting for a place to call home and a good woman to love.
When Annie isn't writing, she's spending time with her husband and 3 children, or reading a book by one of her favorite authors.
—
PS – You can see Annie Rains in conversation with Reese Ryan and Fresh Fiction's very own  Editorial Manager, Danielle Dresser, on Wednesday, December 9 at 7pm CT on the Love's Sweet Arrow YouTube Page, chatting about small-town romance! Visit Love Sweet Arrow's EventBrite page for more information!