The festive fun continues with the next featured author in the FOREVER CHRISTMAS celebration: Lizzie Shane! Be sure to leave a comment on each of these posts for a chance to win a copy of these wonderfully wintry Holiday Reads! 
**
What's the name of your latest release?  
What do you love about writing holiday/Christmas romance? 
I love that there always seems to be a little extra magic in the air around the holidays, like anything is possible, especially love. And it's a time when community and friends and family all come together, which I love in a romance. 
Are your hero and heroine full of Christmas cheer or the holidays bring out the worst in them? 
Ally is the kind of person who wants to soak up every ounce of Christmas cheer through the season, but Ben is definitely overwhelmed by all the holiday pressure. He's gotten a reputation as the town Scrooge, but he's just a big softie underneath all that stress.
What's one of your favorite holiday traditions?
I love wrapping presents with my family while watching Christmas movies. I think I love that more than receiving gifts. There's something so satisfying about making something unique and beautiful for someone. But I also really love baking holiday goodies with my family and trimming the tree together. Really, anything we can do together.
Which Christmas movie do you watch on repeat throughout this festive time of year? 
This is an impossible question. There are so many! I always watch A Muppet Christmas Carol, and Scrooged, and Arthur Christmas. And Elf! But I also love The Family Stone and Love, Actually. And if Miracle on 34th Street comes on TV, I have to watch it.  Always.
The best Christmas song is… 
Again – so many! I absolutely love "I'll Be Home for Christmas" which features in the book. 🙂
Do you prefer to be home for the holidays, or do you like to travel?
I love to be home for the holidays, but luckily there are multiple places that are "home" to me. I love Alaskan Christmases and Hawaiian Christmases and Ohio Christmases – as long as I can be with family.
What can readers expect from you next?
I'm so excited that the Pine Hollow series will be continuing in May with Once Upon a Puppy! An opposites-attract, fake-relationship, friends-to-lovers romance…featuring a giant Irish wolfhound who doesn't know he isn't a lap dog.
—
COMMENT TO WIN: Do you have a favorite Christmas movie? Let us know which movie you watch multiple times every holiday season and you'll be entered to win a copy of THE TWELVE DOGS OF CHRISTMAS by Lizzie Shane! US only–GOOD LUCK! 
—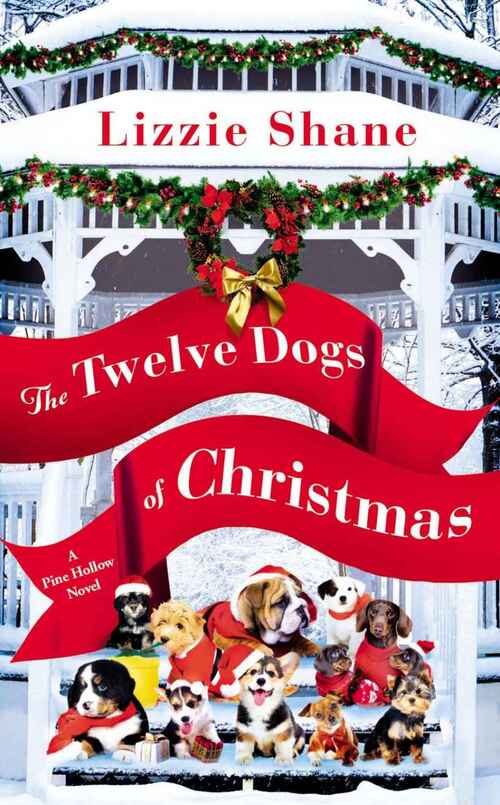 A delightful holiday romance about a small-town single dad and an animal rescue owner as they try to find forever homes for a dozen lovable pups before Christmas.

Pine Hollow has everything Ally Gilmore could wish for in a holiday break: gently falling snow in a charming small town and time with her family. Then she learns some Grinch has pulled the funding for her family's rescue shelter, and now she has only four weeks to find new homes for a dozen dogs! But when she confronts her Scroogey councilman nemesis, Ally finds he's far more reasonable — and handsome — than she ever expected.
As the guardian of his dog-obsessed ten-year-old niece, Ben West doesn't have time to build a cuddly reputation. But he does feel guilty about the shelter closing. So he proposes a truce with Ally, agreeing to help her adopt out the pups. As the two spend more time together, the town's gossip is spreading faster than Santa's sleigh on Christmas Eve. And soon Ben is hoping he can convince Ally that Pine Hollow is her home for the holidays. . . and the whole year through.
Romance | Holiday | Fiction [Forever, On Sale: September 29, 2020, Mass Market Paperback / e-Book, ISBN: 9781538735879 / eISBN: 9781538735886]
Contemporary romance author Lizzie Shane was born in Alaska and still calls the frozen north home, though she can frequently be found indulging her travel addiction. Thankfully, her laptop travels with her and she has written her way through all fifty states and over fifty countries.
Lizzie has been honored to win the Golden Heart Award and HOLT Medallion, and has been named a finalist three times for Romance Writers of America's prestigious RITA Award®, but her main claim to fame is that she lost on Jeopardy!
For more about Lizzie and her books, please visit http://www.lizzieshane.com. Happy reading!