One of my favorite authors is sitting down in the Cozy Corner this week. Darcie Wilde's tales of regency England enthrall readers with layers of romantic intrigue both heartwarming and heartbreaking. Her May release, A PURELY PRIVATE MATTER, takes us on a journey that weaves Rosalind Thorne's past with her future, while she unravels the secrets behind the mysterious death of a famous actor. A literal heartthrob, Fletcher Cavendish has made his way to fame while laughing at the haute ton who adore him. When he turns up dead, London is in mourning and demanding justice be served, but the man in charge of the investigation isn't so much interested in justice, as protecting one of the main suspects in the case.
The Rosalind Thorne Mysteries—inspired by the novels of Jane Austen—continue as the audacious Rosalind strives to aid those in need while navigating the halls of high society…
Rosalind Thorne has slowly but assuredly gained a reputation as "a useful woman"—by helping respectable women out of some less-than-respectable predicaments.
Her latest endeavor is a tragedy waiting to happen. Desperate Margaretta Seymore is with child—and her husband is receiving poisoned pen letters that imply that her condition is the result of an affair with the notorious actor Fletcher Cavendish. Margaretta asks Rosalind to find out who is behind the scurrilous letters. But before she can make any progress, Cavendish is found dead, stabbed through the heart.
Suddenly, Rosalind is plunged into the middle of one of the most sensational murder trials London has ever seen, and her client's husband is the prime suspect. With the help of the charming Bow Street runner Adam Harkness, she must drop the curtain on this fatal drama before any more lives are ruined.
Mystery Historical [Berkley Prime Crime, On Sale: May 2, 2017, Paperback / e-Book, ISBN: 9780425282380 / eISBN: 9780698404298]
Mistakes and misdeeds abound by all of the characters, making Rosalind question her own choices, and how they will affect her path in life. A PURELY PRIVATE MATTER doesn't take readers into the typical house parties or balls. The story occurs in the every day life of the non-peerage society of London. From libraries, to legal dramas inside the House of Commons, to the headquarters of the Bow Street runners, I loved the glimpse inside the reality of 1800's England. Ms. Wilde's tale of deception and greed is in an insightful peak into the flaws of the country's early legal system and its crime fighting techniques.
Watch out for this female Sherlock Holmes seeking the truth with the heart of Jane Austin on her sleeve.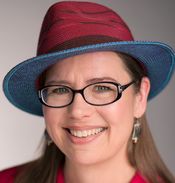 A longtime resident of the Great Lakes State, Darcie Wilde writes her sizzling-hot romances in Ann Arbor, Michigan. When not actually writing, she lives out her own happily-ever-afters with her husband of fifteen years, one rapidly growing son, one cat, and one writer's group of infinite patience.
Kym: Hi Darcie! Welcome back to the Cozy Corner!
Darcie: Thank you! Delighted to be here.
Kym: You've just released your second Rosalind Thorne Mystery, A PURELY PRIVATE MATTER—a title I adore. Can you tell us if the title came before the book, or the title?
Darcie: The original title was "A Criminal Conversation," because that was the legal principle that much of the plot centered around, but it was felt that that might be a little confusing, so I changed it to A PURELY PRIVATE MATTER, which was how marital disputes were regarded in the 19th century. Come to that, it was the attitude toward a lot of what we'd consider "crime" before the advent of the professional police force.
Kym: In our interview last April, you said you loved 'silver fork novels,' a genre that became popular around 1825, not only for the stories, but the ideas they gave you. Was A PURELY PRIVATE MATTER one of those ideas?
Darcie: Only in general this time. I gleaned some of the ideas about gambling and women from Catherine Gore's "Pin Money." But I knew I wanted to do something around the idea of "criminal conversation," which was the charge brought when a woman was thought to have committed adultery and the husband wanted to start a divorce. Or so I thought. It turned out to be more complicated, and in a number of cases, way more smarmy. Oh, 19th Century, you never cease to surprise and delight!
Kym: I love the opening of the story when Rosalind sneaks into a Gentleman's Club, not only uninvited, but without a male escort. Have you ever snuck in where you weren't invited?
Darcie: No. Of course not. What on EARTH would make you ask such a question? Honestly.
Kym: LOL, will stick with your right to the 5th Amendment.;) You've said you based this story on the real case from 19th century poet, Caroline Norton and the charges of "criminal conversation." Can you explain that charge to our readers?
Darcie: Before I'd started writing A PURELY PRIVATE MATTER, I'd thought "criminal conversation" was just a euphemism for adultery, but that turns out to be not quite accurate. So, here goes. Back in the day, when a woman and man got married, they became, from a legal perspective, one body. His, of course. Therefore, legally, if somebody had intercourse with the wife, and the husband didn't approve, it became, legally, assault. Of him. Cuz she was part of his body. Got it? To add more fun, the wife's lover was regarded as depriving the husband of his wife's services, not just sexually, but by monopolizing the time she should have been doing things like taking care of the husband's home and children. And, of course, he was wearing her out, so there was property damage to be considered. So, criminal conversation was a civil infraction designed to allow the husband to recoup monetary damages from the lover for damage to the husband's property. No, I am not making this up. Did the wife want to have the affair? Didn't enter into it. She was not party to the suit. Criminal conversation was a charge brought by the husband against the purported (male) lover/assailant. She couldn't even appear in court to speak on her own behalf. And, on top of that, husbands were known to sue famous, rich, or prominent men for criminal conversation just in the hopes that they'd pay out to make the suit go away rather than be dragged through court.
Kym: Spooky times for women! Your novels are often layered with a main mystery plot and then a mystery near and dear to main character's heart. In this case, Rosalind's missing sister. What's the hardest part about your layering?
Darcie: Timing. With a layered story, there are multiple storylines that have to rise and fall in a way that keeps them in sync with each other and the needs of the overall story and plot.
Kym: With her disguises, Rosalind reminds me of a fearless female Sherlock Holmes with her nose to the grindstone in search of the truth. Do you see any comparison between the characters?
Darcie: Actually, when people ask what the book's about, I say "It's what you'd get if Jane Austen and Sir Arthur Conan Doyle wrote a mystery together." I am an old school Sherlockian, as well as a Janeite, so of course I love to trot out the comparison (not that I think I'm in the same class as either author!). I knew from the beginning Rosalind would be a sleuth who worked from visible evidence, and made her deductions based on her experience, with people and with society as well as with traditional clues. Also, I admit, I did consciously decide that her profession of "a useful woman," would look like an early (and female) consulting detective. Fortunately, the history of the time reinforced the possibility of such a person. Before the Metropolitan Police, the only "detectives" were people hired to investigate, sometimes that meant one of the Bow Street "runners," but frequently it meant a thief-taker or other private person offering a particular service, usually returning stolen property.
Kym: In today's society, people have been known to thrive from scandal. Any plans to carry that phenomenon back to Regency England?
Darcie: No need to carry it back, it was there. The papers were filled with it. The novels and magazines were filled with it. The drawing rooms were certainly filled of it. You only have to look at Lord Byron and Mad, Bad, Mary Lamb to see how scandal was then, as now, the constant talk of the town. And of course there was the ongoing scandal of the Prince Regent and his wife, not to mention every last one of his brothers who between them fathered at least 50 children out of wedlock (not making that up either). And criminal conversation trials were always reported in the news. Sometimes one side or the other would even publish a separate pamphlet to try to make their case with the reading public. Caroline Norton, whose life was the inspiration for some of what happens in the book, even wrote an open letter to Queen Victoria, making the case for changing the marriage laws to grant women more rights.
Kym: Wow, Caroline was ahead of her time! In mystery series, reviewers can be fairly vocal about their desire for a love triangle to be resolved. (I happen to love the Duke and the bow street runner triangle) Do you feel pressure to push Rosalind's journey and choose one interest for her?
Darcie: No pressure. Everybody's been really willing to let the story unfold. I knew from the beginning Rosalind was going to have a choice to make, and I was pretty sure I knew which way she was going…but characters evolve on their own sometimes, and even the author can be surprised at the way things go.
Kym: What a tease! I love your description of the crime report Hue & Cry and bow street runner Tauton's lining his jacket pockets with fishhooks to catch pickpockets in the act. Can you tell us about your research into this crime fighting technique?
Darcie: Samuel Hercules Tauton was a real person, and yes that was his real name. He had a long and illustrious career at Bow Street, and was particularly famous for his memory for faces. I used three main sources for my descriptions of Bow Street and the officers: The First English Detectives by J.M. Beattie, which is an excellent overview of the history of Bow Street; A Certain Share of Low Cunning, by David Cox, which deals a lot with Bow Street activities outside London, and Chronicles of Bow Street Police-Office by Percy Heatherington Fitzgerald (available on Google Play Books)zsa, which is interesting because it was published in 1888, which was, obviously, a lot closer to the actual events. I forget which book detailed the story of the fish-hooks as a way to catch pickpockets, literally red-handed, but I knew the second I read it, it was going into my book.
Kym: Thank you for sharing your research references! What do you have coming up next?
Darcie: I am taking a short break from traditional mysteries to work on a piece of contemporary suspense. I'm very excited to be exploring this new territory. It's a darker place, looking at what happens within a family when things have gone very, very wrong.
Kym: Looking forward to it! Can you tell our readers where to find you on social media?
Darcie: My website is www.darciewildeauthor.com. I'm on Facebook as well, just search for Darcie Wilde author and you'll get there. On Twitter I'm Darcie_Wilde.
Kym: Thank you so much for returning to the Cozy Corner!
Darcie: Thanks so much for inviting me back. This has been great!
Look for my new release, A Reference to Murder, a Book Barn Mystery and for my Taste of Texas contest on Fresh Fiction! A goodie bag full of Texas delights you don't want to miss. Comment below then stop by and enter today!
Until next time, get cozy and read on!
Kym Roberts is a retired detective sergeant who looks for passion, mystery and suspense in every book she reads and writes. She can be found on the web at kymroberts.com, on Facebook at @KymRoberts911author and on Twitter @kymroberts911.
Fatal Fiction, the first Book Barn Mystery is on sale now for 99¢!