NIGHTSHADE FOR WARNING is the second in the Enchanted Garden Mystery series featuring aromatherapist and perfumer Elliana Allbright. After divorcing her philandering husband, she opened her dream business, Scents & Nonsense, in her hometown of Poppyville, California. Her almost supernatural sense of smell combined with her ability to intuitively know what fragrances will help her friends and customers overcome difficulty or simply bring them pleasure has made her business take off like a rocket.
The Enchanted Garden behind her shop is chock-full of rambling plants, bird houses and windchimes, winding paths, tumbling terrace beds, and myriad herbs and flowers from which she distills the concentrated scents that are the hallmark of her unique perfumes. For this, she uses the ancient copper alembic her gamma left her along with an illustrated garden journal Ellie has come to realize contains more than a little magic.
The garden is open to her customers and friends to sit, sip tea, and nibble on the cookies that her best friend, Astrid Moneypenny, bakes up every morning. Miniature garden tableaus, gnome doors and fairy gardens are tucked into crevices and nooks all over the space. Dash the corgi and Nabokov the Russian Blue shop cat provide Ellie company and keep an eye on things, while Ellie herself lives in a super-efficient tiny house at the back of the property.
In NIGHTSHADE FOR WARNING, Ellie is missing Ritter Nelson, her new beau who is on a research project in the Alaskan tundra. He's only been gone for a few weeks, but there are months to go. It's a welcome distraction when journalist Blake Sontag wants to feature her tiny house in a national magazine. She's proud of her small-scale home, and Ellie's business group, the Greenstockings, see it as a terrific opportunity to spread the word about their adorable tourist town with its Old West flavor and access to outdoor activities.
Then her little brother, Colby, turns up with his Westfalia van and a new girlfriend, Larken. Ellie adores her brother, and takes to Larken – a wildcrafter and herbalist after her own heart – right away.
Things are looking up until Sontag is poisoned, and the police focus on the last person to see him alive – Colby's girlfriend, Larken. It doesn't help that she had extensive herbal knowledge and the poison that killed the journalist was plant-based.
Detective Max Lang has held even more of a grudge against Ellie ever since she proved herself innocent of the murder he tried to pin on her months before, so it's not easy when Ellie agrees to help Larken. But she plunges in with the help of Astrid and the other members of the Greenstockings to uncover the murder victim's past in Poppyville, a mysterious land grant, an old family secret – and plenty of motives for murder. In the process, she learns a bit more about her magical abilities, and a new admirer challenges her determination to stay true to Ritter despite his long absence and sometimes confusing communications.
The book includes recipes for Astrid's Lavender Shortbread Cookies and the Peppermint Foot Polish that Maria Canto loves so much.
Next up? POTIONS AND PASTRIES, the seventh in the Magical Bakery Mystery series that I write as Bailey Cates, will release in November, 2017, and I'm currently working on the third Enchanted Garden Mystery, tentatively titled Marigolds for Malice.
For more information about all my books (and pen names), please visit www.baileycates.com.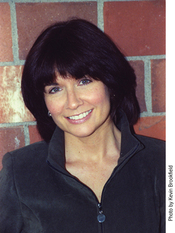 Bailey Cattrell believes magic is all around us if we only look for it. After earning degrees in philosophy and English, she held a variety of positions ranging from driver's license examiner to soap maker. She traveled the world as a localization program manager, but now sticks close to home, where she writes, cooks, and tends to a dozen garden beds. Bailey resides in Colorado with her guy and two felines: Cheesecat the Orange and Minerva the asthmatic wonder kitty.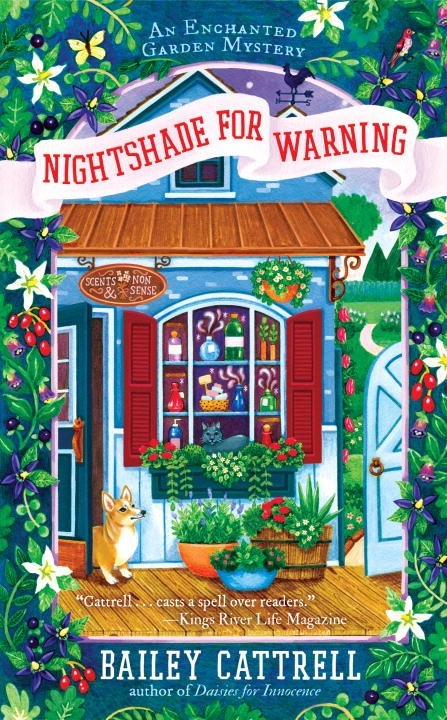 The second Enchanted Garden Mystery from Bailey Cattrell—author of the New York Times bestselling Magical Bakery Mysteries as Bailey Cates.
Elliana Allbright's custom-made perfume shop and the Enchanted Garden behind it are garnering all sorts of attention, but a dead body could bury her in bad publicity. . . .
Ellie's business and personal life have been flourishing in her hometown of Poppyville, California, since she opened Scents & Nonsense. She uses her very special skills to craft perfumes that almost magically ease heartache, inspire change, and bring joy—and her customers love to relax in the beautiful garden behind her shop with her corgi, Dash, and her cat, Nabokov. She even lives right next to the garden, in a compact "tiny house"—and she's excited to hear that a journalist is going to write a feature about her home and garden for a national magazine.
But then the journalist is found dead, and suspicion falls on the last person to see him—who just happens to be Ellie's brother's girlfriend. So before everything goes to seed, Ellie must rely on her powers—observational and otherwise—to pick out the real killer from an ever-expanding bouquet of culprits. . . .
Mystery Cozy [Berkley Prime Crime, On Sale: May 2, 2017, Mass Market Paperback / e-Book, ISBN: 9780451476890 / eISBN: 9780698407190]