The ceremony passed in a blur. Reverend Macdonough spoke of fidelity and sacrifice. When he mentioned a wife's obedience to her husband, Gavin shot her a significant, if teasing, look. She was tempted to tread on his shoe, but she doubted the reverend would find the humor in it.

Finally, a small gold ring was presented and blessed, and the priest nodded to Gavin. All at once, her friend became solemn with the gravity of the moment.

"And now the ring and the exchange of vows," said Reverend Macdonough.

Gavin picked up her hand and placed the ring on her fourth finger. He must have felt her tremble, because he brushed his thumb over the edge of her palm, soothing her.

Slowly, repeating the phrases after Reverend Macdonough, Ina said, "In the presence of God and before these witnesses, I, Ina Duncan, give myself to you, Gavin Barrett, to be your wife, and take you now to be my husband. I promise to love you, to be faithful and loyal to you, for as long as we live."

Her throat was dry by the end of the vow, and she felt a little light-headed, as though someone had sucked all the air out of the soaring cathedral.

In a clear, strong voice, Gavin repeated his own vows.

It was done. Before a minister and witnesses and God, they were wed. Now they would have to figure out how to navigate this marriage together.

Nothing will change. He was still her friend. The only difference was that they'd be living under the same roof, and he'd have to contend with the preponderance of marble dust that would inevitably drift out of her studio and into their new home.

She stole a look at Gavin, who wore a rueful smile as though to say he didn't know what to make of the whole situation either. Still, when they joined hands and hurried down the aisle to the applause of their guests, she couldn't help but be a little hopeful for what the future held.

Out on the short flight of steps of the cathedral, Gavin tugged her to a stop.

"Well," he said, looking about as their guests flowed around them, forming a semicircle of well-wishers, "what do we do now?"

A hand fell on Gavin's shoulder. "You kiss your bonny bride," said Moray.

Kiss Gavin. Here? In front of all of these people, with perfect strangers wandering up and down High Street watching them?

Intellectually, she'd known that at some point on their wedding day, they'd probably be goaded into sharing a kiss, but it had seemed safer not to think about it. Friends didn't kiss. Especially not married ones.

"Reverend Macdonough can't object here on the steps," said Ina's aunt.

"Aunt Jacqueline," Ina said, a little taken aback.

Gavin shook his head. "There's the wedding breakfast—"

"Go on," Christine teased, a wicked glint in her eye.

Oh Lord, this was swiftly becoming a much larger thing than it needed to be. It was, after all, just a kiss. What harm could there be in that?

She glanced around before daring to meet Gavin's gaze. "I don't know if they're going to let us get away without a kiss," she ventured.

A half smile tipped Gavin's mouth when Moray shouted out, "What are you waiting for, Barrett?"

She was about to hush the newspaperman when Gavin's lips were on hers. Surprised, she wrapped her hands around the back of his neck, pulling him down to her. The kiss was soft but fierce, and warmth flooded her chest like a drop of dye in water.

He pulled back slightly, but then, almost as though he couldn't help himself, fitted his lips to hers again. Her mouth opened with a slight gasp, and he gently caught up her lower lip between his teeth.

This. I want this.

Discover the first installment in the new delightfully charming Scottish romance series where the matchmaker of Edinburgh uses her uncanny abilities to create the perfect matches—even if the couples are doubtful they'll ever find love.
An accomplished sculptor with secret ambitions, Ina Duncan has managed to avoid marriage for years until an accidental encounter at a party leaves her near ruin and in need of a husband. Fast. Determined to find a willing husband for Ina, Edinburgh's most powerful matchmaker, Moira Sullivan, quickly realizes that the solution to Ina's problem might be right in front of her.
Ina's best friend, Gavin Barrett, has a secret no one knows: he's loved her for years. As the second son of a baronet, however, he knows he has little chance with his brilliant, beautiful friend. All that changes when Moira convinces Ina to propose a marriage of convenience to Gavin to save her from ruin. Ina only wants two things from him in return: a vow she can continue to sculpt and a promise they'll remain in Edinburgh.
After a rocky start, happiness—and maybe passion—seems on the horizon for the newlyweds until a twist of fate bestows the title of Sir Barrett on Gavin and forces him to assume responsibilities he's never wanted. Forced to mold herself into the perfect baronet's wife, Ina must choose between her dreams and the man she's learning to love.
Romance Historical [Pocket Star, On Sale: October 9, 2017, e-Book, ISBN: 9781501172908 / eISBN: 9781501172908]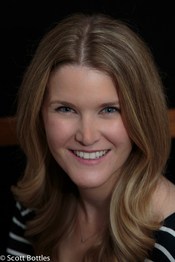 Julia Kelly is the bestselling author of sexy historical romances about smart women and the men who love them. She also writes fast-paced contemporary sports romance as Julia Blake. She picked up her first romance novel and the bad habit of reading well past her bedtime when she was thirteen. Years later, she decided to try writing books of her own and never looked back.
An Emmy-nominated TV producer and recovering journalist, Julia has called Los Angeles, Iowa, New York, and England home. She never met a pair of stilettos she didn't love and still stays up too late reading.