Welcome to Fresh Fiction, Adriana! Please tell us about yourself and your latest novel, AMERICAN LOVE STORY.
I am an Afro-Dominicana author writing contemporary romance. I like to say that I write romance full of people who look and sound like my people. American Love Story is the third installment in the Dreamers series and it's a story about love, racial justice, activism, privilege and navigating a world that sometimes feels like it wants to pull us all apart. Patrice Denis is an ivy-league professor and a Black Lives Matter activist and Easton Archer is a prosecutor who is everything he wants in a lover, but represents some of the things that he's actively fighting against.
Patrice Denis is an interesting character – he works tirelessly both in his job as a professor and in his work as an activist, but this intense work ethic denies him a personal life. What does Patrice's need for perfection in all aspects of his life, aside from personal relationships, show readers about his personality?
With this series I wanted to render the immigrant experience, as I understand it. As a black man and an immigrant Patrice is a man that has a lot to prove. And in the times we're living in and the narrative around the value of immigrants in this country, I felt like Patrice's intensity and drive was warranted. Like his mother, he knew that give who he is, people would make assumptions and he was determined to always prove them wrong.
Easton Archer, Patrice's love interest, is seemingly Patrice's opposite – he's easy-going and isn't afraid to show his feelings. But, while he comes from a privileged background, Easton does have a difficult upbringing. How does Easton's privilege inform the man he has become? What obstacles does it create as his relationship with Patrice deepens?
In the Dreamers series I wanted to build a world that was centered in the black and brown experience. The roots of Nesto, Camilo, Juan Pablo and Patrice are the underpinning of what happens in the stories and how those things are managed. That includes the white characters I wrote. I wanted to write a man who understood (painfully so at times) his privilege, and how that impacted how he saw the world.
I wanted to show empathy, from both Patrice and Easton. For Easton to see how hard it was for Patrice to stay silent when injustices where happening. For Patrice to see that just because Easton's pain wasn't like his own, it didn't mean that it wasn't real or important.
Racial injustice is front and center in this novel – the police are targeting men of color at traffic stops. Easton, a district attorney, is told to stand down on this, but Patrice, a Haitian black man who knows these injustices all too well, is ready to fight this in any way possible. Why was it important to you to include this aspect to the story?
My mandate as a writer is to write the world I live in. I'm an Afro-Latina, immigrant, social worker. . . Every part of my life is touched by systems of oppression. And yet, I have a life that's joyful and I have purpose and richness in my life. I want to speak to the realities of life of people of color AND not have to break my characters in their journey to happiness.
The power dynamic changes between these characters. . . Patrice often feels like he has to educate Easton on just about everything and his expectations are very high for Easton to learn from assumptions and mistakes. On the other hand, Easton comes from a wealthy background and is even Patrice's landlord at one point. What did these interactions add to their love story?
I think more than anything I wanted to show the challenges in interracial relationships and also the way that two people who are seemingly different in every way can at the core be so similar. Easton and Patrice have very different gazes, their positions in the world are so different. But at the end of the day, they're righteous, loyal, driven, love their family, are helpers. . . I wanted them to grapple with the differences so that when they arrived at the commonalities they could see them with gratitude.
AMERICAN LOVE STORY is a second-chance romance – Patrice and Easton had a fling the previous summer. Do you have a favorite romance trope when you read for fun?
I like almost every trope, as long as it's fresh and from an angle that I haven't read before.
Fall is finally upon us! Do you have any fun fall traditions or exciting plans this year?
I live on the East Coast, New York City to be exact, and I love to see the leaves change. Just this week I had to drive up to the Berkshires and it was so gorgeous. I stopped in to visit Edith Wharton's (she's one of my all-time favorite authors) estate in Lenox, Massachusetts and it was just so pretty up there.
What can readers expect from you next?
The last installment of the Dreamers series will be out in March! American Sweethearts is Juan Pablo's story and it's the only M/F romance in the series.
Rapid Fire Random Questions
Dragons or unicorns: Dragons
Five people you'd invite to your book club (dead, alive, fictional, etc.!): Toni Morrison (although I'd probably be too in awe to say much), Roxane Gay, Jonathan Van Ness (I'm reading his memoir now and want to be his bestie), Janelle Monae, Alexandria Ocasio-Cortez.
Some of your auto-buy authors: KJ Charles, Kennedy Ryan, Elizabeth Acevedo, Cat Sebastian, Holley Trent, and Beverly Jenkins.
Favorite flower: Peonies and Orchids
Earliest celebrity crush: I was pretty obsessed with Janet Jackson
Random interesting fact you like to tell people: I moved continents three times in one year. . . and kept my sanity mostly intact! LOL
Hobbies you have (aside from reading and writing): I love Broadway musicals and spend a lot of time looking for discount tickets and entering lotteries!
Dream vacation: Today. . . I would be very happy to be on my way to Italy for a wine and food-filled week in Florence, Parma, and Modena.
Sweet or salty snacks: Sweet AND Salty
You have a totally free afternoon – no deadlines, no obligations, no Twitter notifications! What do you do?: A book and glass of rose!
Dreamers #3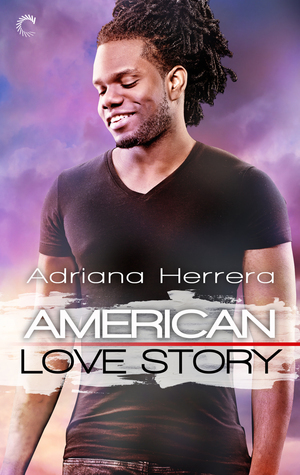 No one should have to choose between love and justice.
Haitian-born professor and activist Patrice Denis is not here for anything that will veer him off the path he's worked so hard for. One particularly dangerous distraction: Easton Archer, the assistant district attorney who last summer gave Patrice some of the most intense nights of his life, and still makes him all but forget they're from two completely different worlds.
All-around golden boy Easton forged his own path to success, choosing public service over the comforts of his family's wealth. With local law enforcement unfairly targeting young men of color, and his career–and conscience–on the line, now is hardly the time to be thirsting after Patrice again. Even if their nights together have turned into so much more.
For the first time, Patrice is tempted to open up and embrace the happiness he's always denied himself. But as tensions between the community and the sheriff's office grow by the day, Easton's personal and professional lives collide. And when the issue at hand hits closer to home than either could imagine, they'll have to work to forge a path forward. . . together.
One-click with confidence. This title is part of the Carina Press Romance Promise: all the romance you're looking for with an HEA/HFN. It's a promise!
Romance Contemporary | Romance LGBTQ [Carina Press, On Sale: October 7, 2019, e-Book, ISBN: 9781488053931 / eISBN: 9781488053931]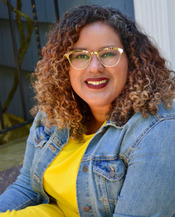 Adriana was born and raised in the Caribbean, but for the last 15 years has let her job (and her spouse) take her all over the world. She loves writing stories about people who look and sound like her people, getting unapologetic happy endings.
When she's not dreaming up love stories, planning logistically complex vacations with her family or hunting for discount Broadway tickets, she's a social worker in New York City, working with survivors of domestic and sexual violence.
***
Fresh Fiction Editorial Manager Danielle Dresser is an avid reader, lackluster-yet-mighty crafter, and accomplished TV binge-watcher. Once upon a time, she was a publisher publicist and continues to cultivate her love of books and reading by chatting with the best authors in the business. She lives in Chicagoland with her very own romance hero husband, darling daughter, and two tempestuous cats. Follow her on Twitter and Instagram, @dj_dresser.