"Where do you get your ideas from?"
It's one of the more common reader questions I receive. The truth is, it varies. The spark of an idea usually begins with something small (and sometimes completely unrelated).
The idea for the Lucie Rizzo Mystery series started with my much-loved dog, Buddy. He's a Wheaten Terrier who is affectionately known in my house as Buddy-the-Wheaten-Terrorist. He was six months old when my husband bestowed the terrorist title on him. At the time, Buddy was in full-blown puppy mania and was A.) driving us insane with his energy  B.) eating our furniture C.) eating our clothing (while we were wearing it). Those of you who have had a puppy know the feeling. After a particularly long day of dealing with my lovable pup, it occurred to me that I should write a book about a woman who went insane (or dropped dead from exhaustion) due to her dog.
At first, I laughed the idea off. Something kept nagging at me though. I knew readers loved books with dogs in them and I was so strung out from Buddy, I needed to find a way to channel the endless aggravation into something funny.
I did what I always do when I need wacky inspiration. I called my friend Cindy. Cindy is an avid reader who works for an investment bank. Her life is never dull. We set up a dinner date where I told her I wanted to write a book with dogs. A mystery. About a dog walker. And the dog walker would be the daughter of a mob boss.
"Make her an out-of-work investment banker," Cindy said.
I thought about that. It could work. My mob princess would start a dog walking service to make ends meet while she searched for a banking job.
We had the start of something. Then I needed dogs. I knew Buddy's exploits would provide plenty of material, but Cindy's dogs? They'd be a bonus. Josie and Fannie were a couple of Shih-Tzus who were short on stature but long on attitude. Another friend of ours had nicknamed them the Ninja Bitches because they scared his Doberman one night. The Doberman took one look at "the girls" and refused to get out of the car. Plus, the Ninja Bitches lived like queens. Between the clothes (yes, I said clothes) and the steak dinners, I wanted to come back in my next life as one of Cindy and Kevin's dogs.
The ideas I'd plotted with Cindy turned into DOG COLLAR CRIME, book one in the Lucie Rizzo series.
The Ninja Bitches have become a fan-favorite in the series and Lucie has learned to utilize their cuteness during her investigations. Over the years, I've sat with Cindy at many tables, tossing around plot ideas, coming up with ways to work dogs into the story lines.
While traveling this past winter, I had just started a scene in DOG COLLAR CHAOS that included the Ninja Bitches. In the middle of the scene, I took a break so I could catch a flight. On the drive home from the airport that night I got a text from Cindy. Josie was gone. At sixteen, she'd had a massive stroke and moved on to doggie heaven. Of the two, Josie had been the healthier one so her passing (even at sixteen!) was a shock. I was devastated for Cindy and Kevin. And, if I'm being honest, I was devastated for myself as well. I loved writing scenes that included the girls. They weren't mine, but they made me smile every time I put them on the page. I knew I had to finish that scene I'd started. Even with Josie gone, she'd been such a great dog that she deserved the tribute.
Finishing that scene felt…right. Like it was meant to be. I continued working on the book and checking in with Cindy about Fannie. After sixteen years, Fannie had lost her littermate and my heart broke for her.
I started noodling another scene that included the Ninja Bitches, but wasn't sure how to handle it. While pondering that scene, Cindy told me Fannie's time had come. Within three months of each other, the Ninja Bitches had both passed.
I cried, but part of me knew the girls were right where they needed to be. Together.
Guess what? That scene I was pondering wouldn't let go of me. I had to write it. I called Cindy and asked if I could continue to use the girls in my books. She told me to do it, that she and Kevin would love it.
I always knew fiction made people happy. That the escape gave readers an outlet, a chance to disappear into an imaginary place for a time. What I hadn't realized was that continuing to write Josie and Fannie into Lucie's adventures was not only a way to honor them for being terrific pets to my dear friends, but a way for me to hang on to them as well. After all, the Lucie Rizzo series started with the Ninja Bitches. J
Lucie Rizzo–Mafia princess-turned-dog accessory entrepreneur—is riding high after scoring a partnership with Buzzy Sneider, America's leading craft and interior decorating mogul. A collaboration that is sure to move Lucie's fledgling business into the next tax bracket.
When Buzzy turns up dead and Lucie's BFF and business partner, Roseanne, is accused of the murder, Lucie will stop at nothing to prove Ro's innocence. Even if it means keeping secrets from her new squeeze, sexy detective Tim O'Brien, who's determined to keep Lucie from running one of her screwball investigations.
With Ro behind bars and Tim hot under the collar over Lucie's meddling, Lucie is forced to accept her father's help to clear Ro's name and save their business. But will doing so put a killer hot on her heels?
Mystery [SilverHart, On Sale: June 6, 2017, e-Book, ISBN: 2940157324674 / eISBN: 1230001530681]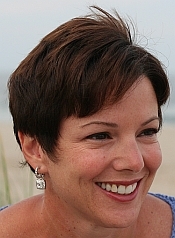 Adrienne Giordano is a Jersey girl at heart, but now lives in the Midwest with her workaholic husband, sports obsessed son and Buddy the Wheaten Terrorist (Terrier). She is a co–founder of Romance University blog and Lady Jane's Salon–Naperville, a reading series dedicated to romantic fiction.