Miranda Owen: When you have two successful and entertaining cozy mystery series, what made you decide to write romance? Do you read romance? If so, who are some of your favorite romance authors and books?
Jenn McKinlay: The cozy mystery market seemed to be saturated and I had written five different mystery series over the past eight years, so I felt like I had gone as far as I could go in that genre, so I asked my editor what she thought I could write in addition to the mysteries. Immediately, she said, "Romantic comedy." Well, okay, then. So I decided to give it a go.
I do read romance and mystery and sci-fic/fantasy and YA – basically, I am a genre fiction fangirl. I love it all! Favorite romance writers and their books (at the moment) are Christina Lauren's DARK WILD NIGHT, Tessa Dare's A WEEK TO BE WICKED, Susan Elizabeth Phillips's NATURAL BORN CHARMER, and Kristan Higgins's WAITING ON YOU.
Miranda Owen: Do you know how many books will be in this Bluff Point series? Do you plan on writing another romance series after this one?
Jenn McKinlay: At this point, I know there will be three. I do have a proposal for three more for that series and I've written the first book in a new romantic comedy series called the Blumer Sisters with a proposal for two more. We'll see what happens but I am eager to dive into the new books as soon as I get the go ahead!
Miranda Owen: I love the zippy dialogue and tight friendships in your Cupcake Bakery
series, and feel like you've carried those things over in ABOUT A DOG. How important
is it to you to have some humor and close friendships in your stories?
Jenn McKinlay: Thank you! I think that's what makes my stories mine. I am a people person and no matter where I end up, a writer's conference, new job, even a tour of jury duty, I usually end up with a new BFF at the end of it. I'm that rare writer-extrovert combo, who must be seen to be believed sort of like a Yeti or a unicorn. Ha! Seriously, when writing comedy, I think having an ensemble makes the jokes flow and builds a feeling of camaraderie, creating a community to which the reader becomes a critical part.
Miranda Owen: I find a wide variety of romance hero appealing, but my absolute favorite type of hero is like Gavin in ABOUT A DOG – a mix of sweet and sexy. What was your inspiration for Gavin? Do you like reading about characters like him as well?
Jenn McKinlay: Interestingly, I didn't set out to make Gavin as lovable as he is, but he's a veterinarian dealing with a rambunctious puppy while trying to win over the love of his life, so it just fit. As a reader, what I respond to most in a hero is the knowledge that the heroine is the only woman for him. He can be a tough guy with a rocky past and rough edges, or be the sweetest man alive with the patience of a saint, either way, I want to know that in the whole wide world there is one woman for him and it's the heroine. To me, there is nothing more romantic.
Miranda Owen: Was it challenging writing a romance from the perspective of both the female and male main characters?
Jenn McKinlay: I loved it! My mysteries are either in third person with one viewpoint or first person, so the story unfolds in a limited perspective. Being able to switch from female to male was such a joy because the flirtation happening between them is like a hot potato that they lob back and forth. So much fun! The third book in the series, EVERY DOG HAS HIS DAY, is actually mostly in the male perspective because Zach, who is in the earlier books, just has too much personality to contain. He hijacked the book, no question.
Miranda Owen: What are you currently working on?
Jenn McKinlay: Having written almost forty books, I am actually taking my first break in eight years. I made a vow to myself when I turned in my last manuscript, that I wouldn't write for at least a month while I catch up to all of the things I have neglected, namely my TBR pile that is threatening to bury me alive. After that, we'll see if the publisher wants more Bluff Point books or if I'm off to try my hand at something else like YA or fantasy. It's all very exciting!
Thanks so much for having me visit, Fresh Fiction!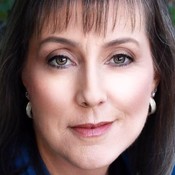 Jenn McKinlay took her first decoupage class when she was twelve years
old. Since then, cutting and pasting have become a way of life. With two small
children at home, she finds decoupage a fun craft as well as a very handy tool,
especially when used to cover up doodles made in permanent marker on otherwise lovely furniture. And yes, they know her by name at her local Michael's Craft Store. She is the author of three previous novels under the name Jennifer McKinlay and lives in Scottsdale, Arizona with her musician husband Chris, their two sons, two cats, one dog and one fish.