As an author and a reader I love the fierce flavor of non-traditional characters and non-traditional settings. What really makes my day is finding a book with both! Who wouldn't want to be an archeologist like Indiana Jones or a super spy like James Bond? What about a showgirl? A genius math professor? Or, an ex-car thief? When I'm writing a book, I like writing non traditional characters (male or female) who are ready to take on the world starting with their careers. Even when I write a character with a job you've seen before like a cop (as a romantic suspense author I've written more than a few law enforcement characters) I like to write undercover agents or police officers with dark pasts (and I'm always taking suggestions as to jobs people want to see!).
In the case of the WILD CARD, that means writing a former priest turned cop who's still struggling with the issues of his previous career and a showgirl who… heart of gold aside… has no regrets about her chosen profession. Loud and flashy fit Gina Malloy to a T while broody Finn is perfect as the conflicted detective. Separately their characters are full of depth and tang. Together, they're an explosive mix (especially when you throw a quartet of bad guys into the mix). This is my third book in the Leaving Las Vegas series and I think Gina and Finn really capture the Las Vegas flavor I've been going for.
Speaking of Las Vegas flavor, I just got back from a visit to Sin City where I walked about a million miles a day. We tromped up to the Fremont Street Experience (where I saw a giant metal Praying Mantis… it was awesome) and over to the Pinball Hall of Fame. I love using settings to set the scene in books (and now I have to write another Las Vegas book just for Fremont street) and to me the opening scene of the WILD CARD has just that kind of scene stealing setting with the click-clack of heels on pavement and the sore feet of an older (but not old!) showgirl.
That's the flavor I'm trying to capture in my books and it's what I'm always looking for as a reader. What about you? Is there an unusual character or setting that you'll always remember? One you'd like to see? Answer in the comments!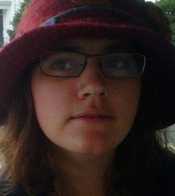 Aleah Barley is a writer of high-octane, humorous, contemporary romance novels. A resident of the Motor City she walks to Eastern Market every Saturday and goes to Chicago more than she should. Her goals include world domination, five star reviews, and owning her own castle (this is Detroit! Make it two castles!) Barring that, she'd like some chocolate. Dark. With nuts.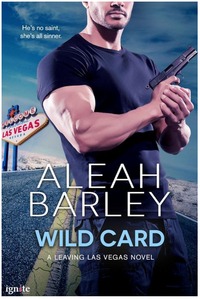 He's no saint and she's all sinner
Las Vegas showgirl Gina Malloy isn't looking for trouble when she walks in on a shady backroom deal, but when the bullets start flying, she grabs the bag full of stolen loot and hits the road out of town. Of course, she didn't count on the bad guys tailing her, or the sexy detective who comes to her rescue.
Detective Gabriel Finn is no one's knight in shining armor. A former priest, he just wants to drag the witness's butt back to town. Instead, he gets a tough as nails woman who's all grit and heart. When a pair of thugs take a shot at her, he decides the best way to keep her safe is to stay out of Las Vegas and launch his own investigation.
Take one long-legged showgirl, a former priest turned detective, and a couple of mafia thugs. Mix carefully. The results should be explosive.