In my new novel HOME ON APPLE BLOSSOM ROAD my character Justine Wright has decided to play matchmaker. This is not an easy thing to do considering the fact that the matchmaking has to do with a treasure hunt … a treasure hunt she's put in her will. Justine, the patriarch of the Wright family, makes her presence known even after she's gone. It's a sweet presence (if I do say so myself), and I enjoyed unfolding her life in a series of letters. I do believe that a life well lived ripples out, not only when that person is here with us, but, if she's spoken into the lives of others, after she's gone as well.
As I wrote this book I couldn't help wondering if there isn't a lot of Justine in me. Not that I'm such a noble creature, but, like Justine, I love my family and friends and want them to all live happy, fulfilled lives, and I'm not above a little interfering to make sure that happens. I've been known to encourage (not manipulate – honest!) friendships between teenagers, to march out onto the Little League ball field and try to get my son to pay attention to his first base duties instead of swatting at a nearby bee. (Oh, yes, we have that moment recorded embarrassingly for posterity. Me out there giving my boy a talking to while in the background you can hear the powers that be calling, "No parents allowed on the field.") And we won't even talk about my encounter with my daughter's volleyball coach when I felt she was not being treated fairly. Okay, so I was a bit of an athletic stage mom. At least I didn't interfere in other areas of my children's lives.
Ha! I still remember doing some matchmaking on my son's behalf, trying to set him up with the perfect girl. That did not go well and he was not happy with me even though I was helping with the purest of motives. I'm glad to report that he has since found a perfect woman all on his own without any help from me. Can you imagine?
Of course, I didn't stop with my children. I happily tried to match up anyone and everyone – friends, relatives, and acquaintances. No one was safe. But honestly, I was just trying to help. I simply wanted everyone to be as happy as I was. One particular match-up went very badly and after that my husband said, "No more." I had to agree with him. I don't think I'm cut out for matchmaking. I'll leave that to eHarmony and Match.com. In real life, anyway.
But in a book … well, that's a different story. A woman can match people up to her heart's content and it always turns out well, even when you have your concerns along the way. Which I did with my characters Mia and Colin, who had been childhood sweethearts.
I was the queen of crushes when I was young, so for me to narrow it down to one sweetheart would be impossible, especially in light of the fact that most times my love was unrequited. I have enjoyed hearing from readers who have reconnected with their first loves though. It does my heart good to hear those stories because I do believe that love is the greatest treasure of all.
And how about you? Have you found true treasure? I hope so!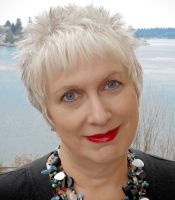 Read Sheila for a Good Time
Sheila Roberts lives in a small waterfront city in the Pacific Northwest. She's happily married and has three children. She's been writing since 1989, but she did lots of things before settling in to her writing career, including owning a singing telegram company and playing in a band. Her band days are over, but she still enjoys writing songs. Sheila's books are best sellers and often appear as Reader's Digest Condensed Books and book club selections. Her novels ON STRIKE FOR CHRISTMAS and THE NINE LIVES OF CHRISTMAS were featured as Lifetime and Hallmark movies and she has her fingers crossed as she has more film interest in some of her newer books.
When she's not speaking to women's groups or at conferences or hanging out with her girlfriends she can be found writing about those things near and dear to a woman's heart: family, friends, and chocolate.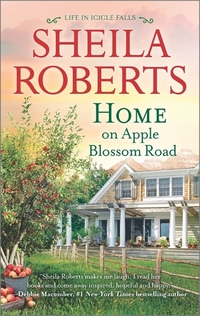 Home is where the love is
Colin Wright and Mia Blair grew up in Icicle Falls, but they left years ago—and not on good terms. Now Colin's grandmother, Justine, has died, and they've come home to honor this woman they both loved. That's when they get some unexpected news. They're about to inherit something. Jointly. They just have no idea what. It turns out that Justine's designed a treasure hunt for them, like the ones they enjoyed when they were kids and best friends.
But they're not kids anymore, and they sure aren't best friends. As for that young love they once shared? Well it's complicated.
On the trail of Justine's treasure, they follow a series of clues that take them down memory lane—ending up at the orchard on Apple Blossom Road. What will they find there? And what did Justine know that they didn't?