I am not a romance writer. I always say that, despite the fact that
I've written two books in the paranormal KEEPERS series, with romance goddess Heather Graham and Harley Jane Kozak, and –
I've written a popular writing workbook on how to write romantic comedy and love stories: WRITING LOVE (Screenwriting Tricks for Authors, II), and –
I met my own romantic partner, the Scottish noir author Craig Robertson, at the Left Coast Crime mystery convention in Colorado Springs, and one whirlwind romantic month later was living in Scotland with him. How's that for romance?
I also have to admit, I've hung around the romance communities quite a lot, at RWA Nationals and Romantic Times, and often teach workshops for chapters of the Romance Writers of America.
So even though my current, Thriller Award-nominated, bestselling Huntress Moon series is very dark crime/suspense, I am well aware that one of the strongest draws of the series, if not the strongest, is the erotic/romantic tension between my haunted FBI agent, Matthew Roarke, and the brutal but compelling serial killer he's pursuing, the Huntress. Many of my readers "ship" the characters, hoping for a hookup even though given the circumstances, it would probably mean the death of one or the other or both.
But there's something extra delicious about romantic longing in the midst of danger and darkness, isn't there? I've always been a big fan of simmering, often unresolved erotic tension between tortured detectives — Val McDermid's Tony Hill and Carol Jordan, and Craig Robertson's Tony Winter and Rachel Narey, and of course Scully and Mulder being favorite examples.
Characters in the blockbuster horror TV series The Walking Dead, to which I am hopelessly addicted! — not only hook up, get married, and have children (or at least are pouring the Bisquick intending to make pancakes…) – TWD characters are probably shipped by fans more than any other movie or TV show ever.
Roarke and the Huntress/Cara are a little different than the other pairings I've name above, because Roarke, as a lawman, and Cara, as a killer are supposedly on opposite sides of the moral battle against evil. But are they really? (Anything more than that would be a spoiler for the mystery, so you'll have to read and decide for yourself).
Personally, I look at them as two halves of the same person. Or really, of the same soul. It's a very romantic notion, the Platonic idea that each human being is half of one complete soul that has been split apart, and we spend our lives searching for our other half. If you believe that, you can well imagine how almost violently those two halves might struggle to find and join with each other, despite all odds, obstacles, and sense. So I think of Roarke and Cara as two halves of the same soul that are magnetized to each other; they can't help themselves, even though actually uniting could destroy them both.
And the other part of Roarke's and Cara's natures is that they are fighters, and they're fighting the same battle, by very different rules. Together they are a powerful crime fighting team, and I find that very sexy and compelling.
So I may not be a romance writer, but — romantic? I can cop to that!
Alexandra Sokoloff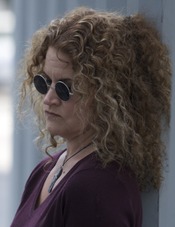 Alexandra Sokoloff is the Thriller Award-winning and Bram Stoker, Anthony, and Black Quill Award-nominated author of the supernatural thrillers The Harrowing, The Price, The Unseen, Book of Shadows, The Shifters, and The Space Between; The Keepers paranormal series, and the Thriller Award-nominated, Amazon bestselling Huntress/FBI Thrillers series (Huntress Moon, Blood Moon, Cold Moon), which has been optioned for television. She has also written three non-fiction workbooks: Stealing Hollywood, Screenwriting Tricks for Authors, and Writing Love, based on her internationally acclaimed workshops and blog (www.ScreenwritingTricks.com), and has served on the Board of Directors of the WGA, West (the screenwriters union) and the board of the Mystery Writers of America.
Alex is a California native and a graduate of U.C. Berkeley, where she majored in theater and minored in everything Berkeley has a reputation for. She lives in Los Angeles and in Scotland, with Scottish crime author Craig Robertson.
SALE ALERT:
The first three books in the HUNTRESS MOON series, and my supernatural thriller BOOK OF SHADOWS are all on sale on Amazon UK this month for just 99p each.
HUNTRESS MOON, BLOOD MOON, COLD MOON and
BOOK OF SHADOWS