Chapter 4
Picking someone up at the airport in New York City was the biggest of favors, and Michelle hoped the big jerk appreciated it. But not even the nighttime traffic leading into LaGuardia Airport or BTS blasting positive-energy K-pop from her car's speakers could distract from her jitters about seeing Gabe again. 
What would he be like? Would it be weird to be around him again, or just like old times? She wasn't sure which she preferred. It might hurt more if they slipped right back into their old dynamic, but she also harbored the hope that they could pick up where they'd left off. Although, the last time she'd seen him, they'd had their tongues in each other's mouth. Were they going to pretend that hadn't happened? What was the etiquette for reuniting with a former best friend you'd almost banged?
The music was interrupted as her Fiat's Bluetooth called out, "Call from Ava."
Gripping the wheel tight, Michelle debated whether or not to answer. Her stomach was a bundle of twisted-up knots, her teeth clenched tight. Ava would know something was going on, and Michelle didn't want to explain what she was doing, especially since she wasn't totally sure herself.
She declined the call and BTS resumed.
"Get your shit together," Michelle told herself. "We're thirty-one, not eighteen. We can be adults about this."
Right. They were adults now, which meant Gabe was absolutely not going to freak out when he found out the plan had changed, and that instead of staying in Michelle's apartment in Hell's Kitchen, they'd be staying at her parents' house in the Bronx.
Damn, who was she kidding? He was totally going to freak out. If she told him, he'd refuse to get in her car. He might even turn right around and hop on a plane back to Los Angeles. Her whole plan hinged on keeping him close, so that's what she'd do.
And hope he didn't notice where she was driving.
It was wrong to trick him, but what else could she do? Despite repeated claims that her bathroom renovation would definitely be completed by now, her apartment still had no toilet.
As the line of cars and taxis pulled to a standstill, Michelle flipped her mirror down and looked herself right in the eye.
"Do not let him see you sweat. He doesn't deserve it."
Better to make him sweat. Michelle unclipped her hair from its messy bun and let it tumble down over her shoulders and back. Then she grabbed a tube of lipstick out of her purse and freshened up her lips. The deep red was striking against her summer tan, and with her signature dramatic eye makeup, it created what Ava called her "witch look."
By the time Michelle had finger-combed her dark locks and pouted at her reflection a few times, traffic had started moving again and she was feeling a little more confident.
Sure, she was an emotional mess inside, but at least she felt pretty.
The music stopped again.
"Text from Gabe," her car said, and Michelle tensed as his words were repeated in a robotic voice. "Almost there."
"This doesn't have to be a big deal," she told herself, speaking out loud as she navigated her way around a stopped rideshare SUV. "He's here to work. It doesn't have to be weird."
She tapped on the wheel along with the music, trying to ignore the sick feeling in her gut.
If only she could talk to Ava and Jasmine about it instead of giving herself a pep talk alone in her car. Her best cousins, her Primas of Power, were her biggest support system. But for some reason, when it came to sex and relationships, Michelle just couldn't open up to them.
It wasn't fair. She gave them shit about not telling her when they were having romantic troubles. Yet, when it came to herself, she clammed up.
She could guess how they'd react, though. They'd tell her to stay away from him. She'd been a fucking wreck after he'd left for California. Her primas had stuck to her side the whole summer before college—the summer she'd planned to spend with Gabe.
The summer that might have gone differently after they'd kissed.
Not this time. She wouldn't let him affect her like he had.
This was for closure, and to assuage her curiosity. That was it. She'd pick him up, drive them home, and tomorrow they'd work on his project. She'd stay cool and she'd get the answers she deserved.
And maybe an apology too. It was the least the pendejo could do.
Even with her plan in mind, Michelle's nerves sizzled as she approached the pickup area. A car in front of her pulled away from the curb and then . . . there he was.
Her heart thumped like it had taken a hit. He was . . . gorgeous. And here. Gabe was here!
Six feet of hard-muscled Latino Superman, with the deepest dimples you ever saw and the softest lips she'd ever kissed.
Michelle's mouth literally watered at the sight of him. It was stupid. She'd looked up his gym's Instagram account to get a sense of the brand, and it of course featured photos of Gabe, along with his business partner, Fabian. Gazing at Gabe's sweet smile had broken her heart all over again, but she'd told herself it was better to be prepared. He'd been a hottie at eighteen, but back then, he was still just the boy next door, her best guy friend who'd somehow grown up to be cute.
But seeing him in person again, after all this time . . .
Yowza.
From A LOT LIKE ADIOS by Alexis Daria Copyright © 2021 by Alexis Daria. Reprinted by permission of Avon Books, an imprint of HarperCollins Publishers.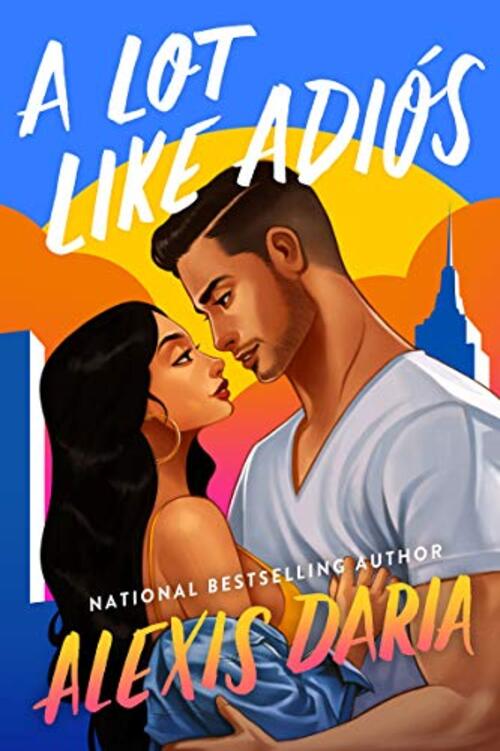 Hi Mich. It's Gabe.
After burning out in her corporate marketing career, Michelle Amato has built a thriving freelance business as a graphic designer. So what if her love life is nonexistent? She's perfectly fine being the black sheep of her marriage-obsessed Puerto Rican-Italian family. Besides, the only guy who ever made her want happily-ever-after disappeared thirteen years ago.
It's been a long time.
Gabriel Aguilar left the Bronx at eighteen to escape his parents' demanding expectations, but it also meant saying goodbye to Michelle, his best friend and longtime crush. Now, he's the successful co-owner of LA's hottest celebrity gym, with an investor who insists on opening a New York City location. It's the last place Gabe wants to go, but when Michelle is unexpectedly brought on board to spearhead the new marketing campaign, everything Gabe's been running from catches up with him.
I've missed you.
Michelle is torn between holding Gabe at arm's length or picking up right where they left off—in her bed. As they work on the campaign, old feelings resurface, and their reunion takes a sexy turn. Facing mounting pressure from their families—who think they're dating—and growing uncertainty about their futures, can they resolve their past mistakes, or is it only a matter of time before Gabe says adiós again?
Romance Contemporary | Romance [Avon, On Sale: September 14, 2021, Paperback / e-Book, ISBN: 9780062959966 / eISBN: 9780062959973]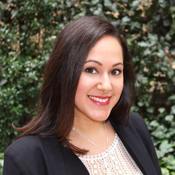 Alexis Daria is the author of the Dance Off series, starting with TAKE THE LEAD (SMP Swerve) and DANCE WITH ME. A romance writer, artist, and native New Yorker, Alexis has a BFA in Computer Arts, but her most fulfilling job was as a group facilitator for a women's empowerment community, where she coached other women in following their creative dreams.