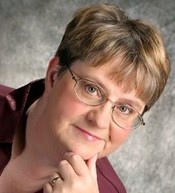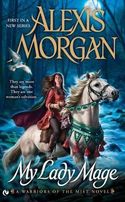 Years ago, when I first started writing, my very first completed manuscript was a fantasy romance, a story about a band of heroes charged with ending an evil that had traveled from their world to ours.  After several rewrites, it ended up being set in the American West, but with aliens.  Yes, aliens.  That book never sold and is safely tucked away somewhere in my office, but even after all these years I still remember how much fun I had creating the world they lived in.
Ever since then, I've dreamed of writing another fantasy someday, and I'm happy to say at long last, that day is here.  The first book in my Warriors of the Mist trilogy, MY LADY MAGE, will be out this week from Signet Eclipse. I've had such a great time creating my warriors and the world they live in.
Captain Gideon and his men serve as the avatars for their gods, and when they are not needed, they sleep beneath the River of the Damned. Each time they are called to do battle, they strive to restore their honor and ultimately to find peace in death.
To get to know them, to understand the differences between the five warriors, I tried several approaches, all of which helped at least a little bring them into focus.  I began by picking names that meant some variation of warrior. Once I settled on the names, I picked out pictures of handsome men who fit the mental image I had of Gideon and the other warriors. But in truth, just knowing how they look didn't tell me much about them as individuals. Even when I went on to choose the style of clothing each wore, I realized it was still all surface image with no depth.
In the end, I learned far more by figuring out what kind of horse would choose each warrior. You see, the heroine, Lady Merewen, has a gift for breeding extraordinary horses, which have a mind of their own. Can you imagine these five battle-tested warriors having to stand in a semi-circle while the horses decided who is a worthy companion?  I had a great time not only writing that scene, but picking out pictures of each horse. Knowing Kestrel, the lead stallion, would choose Gideon was fairly easy. After all, both the horse and the man are leaders and responsible for those in their care.
The scholarly knight, Duncan, is also the most courtly of the men. He was picked by a lovely mare with an elegant bearing. Murdoch, the biggest of the men and a fierce warrior, was chosen by a mare who rivals Kestrel for size. The youngest warrior was picked by a spirited young horse for obvious reasons.
But it's Kane, the dark warrior, who proved to be the biggest challenge. In the past, war horses have often refused to carry him because of the mage mark on his cheek that represents the dark magic in his bloodlines. On the other hand, a horse calm enough to carry him was of little use in battle. In the end, a horse named Rogue that chose  Kane. The horse bears his own scars from his past, and the two forge a friendship that can't be broken. Just like Kane himself, Rogue isn't handsome, but he is powerful, loyal, and fierce.
So in knowing the horses, I also knew the warriors.  That was just part of the process I went through creating the Warriors of the Mist, but it was integral to the story. I had a wonderful time delving into the world of the Warriors of the Mist, especially seeing through the eyes of my heroes' four-legged companions.
Let us know what you think and you could win a copy of MY LADY MAGE
To comment on Alexis Morgan's blog please click here.