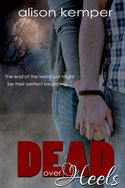 October is here! It's time for scary movies, spooky books, and creepy TV shows. And with the recent success of AMC's The Walking Dead and SyFy's new series, Z Nation, more and more people are giving a zombie entertainment a try.
For the newcomer, the world of the undead can be confusing. Are they fast? Are they slow? Are they all after one thing: braaaaains?
Here's a quick guide to some of the more common zombie types you might encounter this October.
Classic Zombies
Classic zombies are brain dead, semi-lethargic cannibals. These corpse creatures populate George A. Romero's 1968 film Night of the Living Dead, and today's mega-popular series, The Walking Dead. Remember: classic zombies are especially dangerous in large hordes.
Fast Zombies
Over the last decade, zombies stopped shambling and started running. And to be honest, zombies are a heck of a lot scarier when they can haul tail. If you're ready to check out some terrifyingly fast zombies, try 28 Days Later or World War Z (the movie, not the book—the zombies in Max Brooks' awesome novel are of the classic variety).
Romantic Zombies
We knew it would happen. We had a rash of devastatingly sexy vampires (Hello, Edward and Damon). It was only a matter of time before we met a hot, sensitive boy zombie, who falls for a human girl. Enter R from Warm Bodies. Sweet movie, clever book.
Funny Zombies
My favorite kind! I mean, let's face it, all that "aarrggh" and stumbling around just naturally leads to funny situations. If you like a side of humor with your horror, try Shaun of the Dead, Zombieland or some fun books, like TEN LITTLE ZOMBIES: A LOVE STORY or the kids' series THE ZOMBIE CHASERS.
Of course there are many other kinds of zombies: Nazi zombies (DEAD SNOW), Redneck zombies (DEAD OVER HEELS) (my new book!), Intelligent zombies (ZOMBIE, OHIO and DAY-BY-DAY ARMAGEDDON) or even Hybrid zombie-vampires (THE STRAIN or I AM LEGEND).
No matter your scare level, there's a zombie for, um, every taste. Give them a try this Halloween!
Do you enjoy watching/reading about the undead? What's your favorite book or movie? Leave me a comment below!