AMALIE: Hey, Angie, should we tell the Fresh Fiction readers a little about this last book in the Tartans and Titans series? Our kilty little secret….heh.
ANGIE: Yes, definitely! WHAT A SCOT WANTS is a hilarious, steamy enemies-to-lovers romance about a stoic Highlander laird who has been burned by love before and an independent heiress who is determined to remain a spinster and run her shelter house.
AMALIE: Yes, and when their parents force them into a marriage of convenience, it's a race against time to see who can make the other cry off first. There's humor, wagers, antics, constant one-upping, and buckets of sizzling romantic tension. Seriously, buy it and love it (Jedi mind trick).
*Hugs each other and does the co-author happy dance!
ANGIE: Amalie, I know a lot about you but for those who aren't as lucky as I am, can you describe yourself in five words or less?
AMALIE: Only five words? That's like torture. I would have to say I'm creative, fun-loving, humorous, passionate, free-spirited. What about you, Angie?
ANGIE: I do love to challenge you from time to time! I'm relaxed, creative, inquisitive, cheerful, and active. Amalie, when you walk into a room, what do you imagine is your own personal theme song? Because I totally don't think it's the Darth Vader theme song at all. LOL.
AMALIE: Dude, hands down, Journey's DON'T STOP BELIEVIN'…seriously, it's my personal anthem. Also, BOHEMIAN RHAPSODY by Queen when I'm feeling saucy and want to scream-sing. Everyone should try scream-singing. It's liberating. Maybe not for your neighbors.
ANGIE: Right now, I'm all about the Into the Spiderverse soundtrack and I love WHAT'S UP DANGER. I'm not dangerous at all, but it makes me FEEL dangerous! So, I always come to you asking what I should read next, so what are some books that you enjoyed recently?
AMALIE: Hmm, the last historical romance book I read was BRAZEN AND THE BEAST by Sarah MacLean. It was awesome with a plus-sized heroine and really delved into self-worth and identity. She's an auto-buy for me. I also read WAR by Laura Thalassa (sequel to Pestilence) and I was obsessed.
ANGIE: I loved PESTILENCE by Laura Thalassa and am so excited to dig into WAR! Right now I'm reading KEEPER by Kim Chance and really enjoying this witchy YA story. We're reading and writing all the time it seems, but what do you like to do when you aren't reading or writing?
AMALIE: I'm an obsessive/compulsive reader. Sometimes, on a reading binge of a particular genre, I can read a book a night for weeks at a time. I'm a very visual person, and movies are my guilty pleasure. I just binge-watched The Boys on Amazon Prime and it was awesome! It's about superheroes gone bad and totally twisted. You?
ANGIE: I make sure writing happens almost every day (except for during the summer, when all routines are out the window!), and I'm usually working on more than one project at a time. But on my off-hours, I'm a school volunteer, a chauffeur for my daughters and their friends, a freelance editor, and a long-distance runner. Doing my first marathon this September!
AMALIE: Ok, last words of wisdom, Angie, do you have any advice for aspiring writers?
ANGIE: Don't be afraid to write what you love, and have confidence in your ideas. For any new writer, read as many books as you can get your hands on–the more you read (especially books that have been successful in the genre), the more you'll understand the elements required to pen an equally successful novel of your own. Reading outside of the romance genre will broaden your scope, too. The most important piece of advice though is just to keep writing, keep trying, and keep reading.
AMALIE: Mine is never give up, never surrender. And don't ever let anyone tell you that you're not good enough. You are. DO IT.
That's all we have for now. . . thanks for hanging out with us!
***
Tartans and Titans #3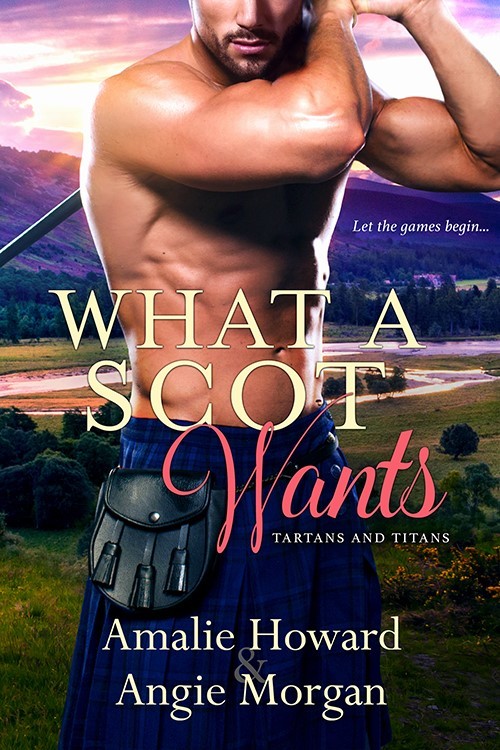 Highlander Ronan Maclaren must marry, but he's in no particular hurry. He's perfectly happy as the laird of his clan, running the Maclaren Whisky Distillery, and besides, he just hasn't found the right woman.
Lady Imogen Kinley has cleverly avoided wedlock for years. Men, she has learned from painful experience, are not to be trusted. Determined to remain independent, she takes an indecent amount of pleasure in making herself as unattractive to potential suitors as possible.
When desperate measures are taken by their parents and a betrothal contract is signed, it's loathing at first sight. They each vow to make the other cry off—by any means necessary. But what starts out as a battle of wits…quickly dissolves into a battle of wills.
Romance Historical [Entangled: Amara, On Sale: August 26, 2019, e-Book, ISBN: 9781640638853 / eISBN: 9781640638853]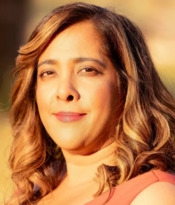 AMALIE HOWARD grew up on a small Caribbean island where she spent most of her childhood with her nose buried in a book or running around barefoot, shimmying up mango trees and dreaming of adventure. Twenty-five countries, surfing with sharks, and several tattoos later, she has traded in bungee jumping in China for writing the adventures she imagines instead. She isn't entirely convinced which takes more guts. She is the award-winning author of several young adult novels critically acclaimed by Kirkus, Publishers Weekly, VOYA, and Booklist, including Waterfell, The Almost Girl, and Alpha Goddess, a Spring 2014 Kid's INDIE NEXT title. Her debut novel, Bloodspell, was a #1 Amazon bestseller, and the sequel, Bloodcraft, was a national IPPY silver medalist. She is also the co-author of the adult historical romance series, The Lords of Essex. As an author of color and a proud supporter of diversity in fiction, her articles on multicultural fiction have appeared in The Portland Book Review and on the popular Diversity in YA blog. She currently resides in Colorado with her husband and three children.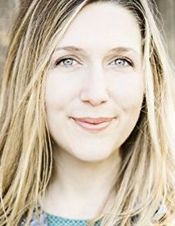 Angie is the author of several critically acclaimed young adult and middle grade books written under two other names (Page Morgan and Angie Frazier), and is now thrilled to be leaping into the world of adult romance. My Rogue, My Ruin is the first of three books in her new Lords of Essex series, co-written with good friend and fellow author, Amalie Howard. Angie lives in New Hampshire with her husband, their three daughters, and a menagerie of pets.