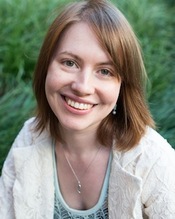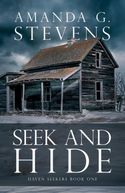 Story has been my deepest love since before I could read. And I was serious about it. I watched Mary Poppins at five years old and thought the idea of a carousel horse joining a real horse on a racetrack was insulting. I expressed similar disdain when books violated reality. A mouse born to human parents? A swan learning to read and write and play the trumpet? Ridiculous.
I wrote my first story in first grade and never stopped writing. My stories never messed with reality, never took "what if?" too far. Then, in high school, I discovered Star Trek: Voyager. A new frontier opened in my imagination. I started seeking out fantasy and science fiction. A few years later, my first full-length novel idea bloomed—the idea that would grow into SEEK AND HIDE.
In the storyworld of SEEK AND HIDE, the government has seized control of the church. Bibles have been retranslated. Churches agree to teach only from the retranslated Bible or are closed. The dystopian world is represented well by the bleak sky and dilapidated farmhouse on the cover; here, freedom and truth are decaying like this house. My main character, Marcus Brenner, is a new Christian who will do anything to protect his Christian friends from imprisonment.
I've been asked what drew me to write speculative fiction, but I'm an accidental spec writer. The characters Marcus and Lee showed up in my head before anything else did, distinct people without a plot. They were both adamant about fighting in a war or resistance, like the Underground Railroad, World War II France … except they were modern characters with modern perspectives. My only option seemed to be creating my own world. I had no idea at the time how often I would ask not only "what if?" but also "what would this look like on an individual human level?" and "what would it look like on a cultural level?" and finally, unavoidably, "what would I do?" Pretty sure Marcus is braver and more stubborn than I am.
And now it's possible I will always write speculative fiction. The other stories in my head have speculative elements, too (how did that happen?). These days, I love spec as long as it's character-driven. I love how this genre's storyworlds offer such extreme playgrounds for humanity—our nobility and evil, our reason and emotion. I'm still catching up on the speculative classics I ignored so long. And I have to laugh at the adamant kindergartner who informed her mother that Mary Poppins "could never happen.
How about you? Have you ever grown to love a different kind of story? What changed you? And if you have any spec recommendations, please share!
Comment below to be entered to win your own copy of SEEK AND HIDE!
***
A debut novelist, Amanda G. Stevens holds a Bachelor of Science degree in English and has taught literature and composition to home-school students. She lives in Michigan and loves books, film, music, and white cheddar popcorn. Visit her at her website.
To comment on Amanda G. Stevens's blog please click here.