You know one thing I like about writing cozy mysteries?  They're series, centering around the life of the protagonist.  Which means they need a large cast of friends, family, and business associates, all with the potential to get developed as the series progresses.  Of course, some of these people will be developed into murder suspects – and victims.  But the people closest to your protagonist are generally safe bets for readers to get attached to.
Cozies also allow for elements of romance, as new people come into the character's life as a result of the murder investigation.  Which gives a whole other layer of tension to the plot.
I've taken advantage of all of that in GRAND OPENINGS CAN BE MURDER, the first book in my Bean to Bar Mysteries.  My protagonist, Felicity Koerber, moved home to Texas after her husband died.  She's made some new friends, and her old friends – especially her best friend Autumn and her Aunt Naomi – have rallied around her, to help her through this time of grief.  And Naomi is a bit of a matchmaker, determined to get Felicity dating again, so there's bound to be some cute guys dropping into her world, too.
With everything going on this year with the pandemic, I've been feeling isolate.  Sure, I've done Zoom with some of my friends and with my family, but it's just not the same.  One of the last things I did with my close friend group was a wine and cheese and party.
They and some of our other friends showed up the next week to do the book trailer for Fake Chocolate, the third book in my Chocoverse trilogy.  If I'd realized it was going to be the last time we could hang out, I'd certainly have stayed longer after we wrapped filming.
And with the kibosh on all things travel, I'm really missing my friends who live in Vegas and California.  This year we missed our chance to go to the beach with all our favorite goofballs.
So there's a huge amount of nostalgia in writing a book set on an island.  And Felicity being able to hug her friends, or Instagram about recent travel makes me ache to do the same.
Here's a mood board of some of the people in Felicity's life.  I couldn't fit all of her friends on here but this should give you an idea.  These are stock photos, but they're not far off the mark.  (Progressing horizontally from top left.  Center photo represents Felicity herself.)
Logan Hanlon – He's an ex-bodyguard with a mysterious past who shows up at Felicity's grand opening party. They have an instant spark, despite the fact that he's soooo not Felicity's usual type.
Miles Cole – He's a good friend of Felicity's nephew, and sometimes helps Felicity's aunt with odd jobs. (Naomi's a house-flipper, so there's often something that can use an extra set of hands.)
Autumn Ellis – She's been Felicity's best friend since middle school, and they've kept in touch even while Felicity was living in Seattle. A former writer, she was maid of honor when Felicity got married.
Naomi Thibodeau – Felicity's aunt. Felicity is living with her, now that she's back in Galveston. Naomi's husband Greg works offshore, so she's happy to have the company.
Tam Binh Saveur – She's a blogger Felicity meets in Book 1, who will become a lasting friend. Her Mixed Plate blog allows her to travel the world with her husband Stewart and their three kids.
Emma Turner – She works for Felicity at Greetings and Felicitations. The shop has a book section, so the fact that Emma used to work at a books store helps a lot.
Carmen Avino – She also works for Felicity at the chocolate shop. She's a trained pastry chef, so while Felicity hired her as a barista, Carmen sometimes makes chocolate baked goods in the shop kitchen.
Arlo Romero – He was Felicity's high-school boyfriend, and the relationship ended messily. Now he's the cop in charge of solving the murder at Felicity's shop – and he thinks she's a suspect.
Sadly, one of the people on this list is the murder victim.  The rest of them will help shape the plot, and help Felicity arc into who she needs to be.
I had so much fun writing GRAND OPENINGS CAN BE MURDER.  I hope you enjoy it too.
—
COMMENT TO WIN: Leave a comment to tell us your favorite thing to do with your friends on Amber's blog post to be entered to win a copy of her book, GRAND OPENINGS CAN BE MURDER! US and Canada only. Good Luck! 
—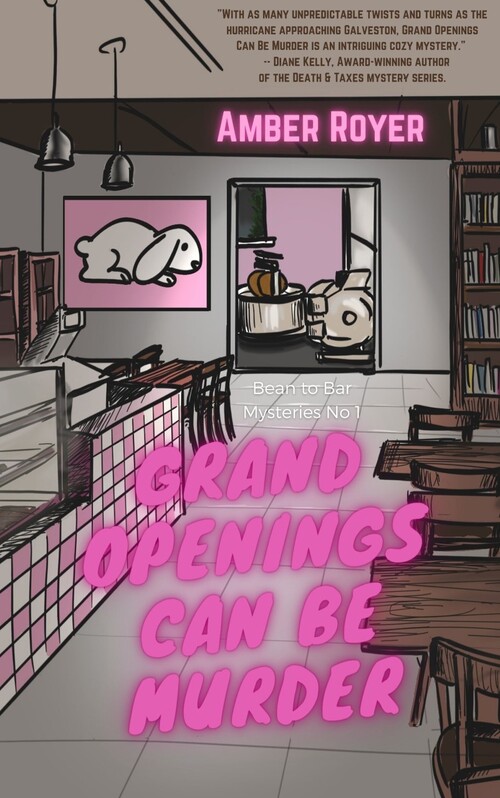 Felicity Koerber has had a rough year. She's moving back to Galveston Island and opening a bean to bar chocolate factory, fulfilling a dream she and her late husband, Kevin, had shared. Craft chocolate means a chance to travel the world, meeting with farmers and bringing back beans she can turn into little blocks of happiness, right close to home and family.
She thinks trouble has walked into her carefully re-built world when puddle-jump pilot Logan Hanlon shows up at her grand opening to order custom chocolates. Then one of her employees drops dead at the party, and Felicity's one-who-got-away ex-boyfriend – who's now a cop – thinks Felicity is a suspect. As the murder victim's life becomes more and more of a mystery, Felicity realizes that if she's going to clear her name in time to save her business, she might need Logan's help. Though she's not sure if she's ready to let anyone into her life – even if it is to protect her from being the killer's next victim.
For Felicity, Galveston is all about history, and a love-hate relationship with the ocean, which keeps threatening to deliver another hurricane – right into the middle of her investigation. Can she figure it out before all the clues get washed away?
FIRST IN A NEW SERIES.
Mystery Woman Sleuth | Mystery Cozy [Author Self-Published, On Sale: February 2, 2021, Paperback / e-Book, ISBN: 9781952854088 / eISBN: 9781952854095]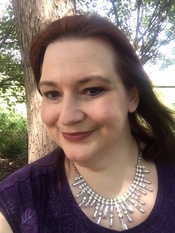 Amber Royer writes comic space opera set in the Chocoverse, where chocolate is the only thing Earth has that a hungry galaxy wants to get its hands, paws and tentacles on. She also teaches enrichment and continuing education creative writing classes for teens and adults. She spent five years as a youth librarian, where she organized teen writers' groups and teen writing contests. In addition to two cookbooks co-authored with her husband, Amber has published a number of articles on gardening, crafting and cooking for print and on-line publications. She's an avid reader, cook and language geek – and a fan of cheesy old science fiction films.