People change.  It's one of the oldest adages in the book.  And yet, there's a deeper truth: people RESIST change, even change they ought to embrace (because often change equals opportunity).
For example, we moved in December 2020, because the company my husband works for relocated to a different part of North Texas.  I did not want to move, and the re-location was close enough that – in theory – we could have stayed where we were, and Jake would have just had a longer commute.  Much longer, but still doable, especially since he was partly working from home.  So much had already changed during the pandemic.  I had started teaching my continuing education writing classes from home.  I'd even had to have a virtual book launch party.
But by wholesale saying no more change, I was missing out on an opportunity.  Jake and I were living in a one-bedroom apartment, which had worked until suddenly we were both working from home – with different work styles.  I have to have noise on in the background.  Jake needs quiet to focus.  We needed a change – just to function.  Once we committed to the move, we found a place that not only gave us separate spaces for working but more counter space in the kitchen (Have you met me?  I need a whole counter just for coffee-making equipment).  The neighborhood feels like a better fit for us, especially all the parks (several with disc golf courses) and gardens, since we love nature and are trying to be more active.  There's a fun and quirky historic town square we're just beginning to explore (still masked and social distancing, even though we're both vaccinated).  And the coffee scene here is vibrant – with a number of small businesses doing fun things with their coffee drinks (affogato with locally roasted coffee and locally churned ice cream anyone?)
So yes, the results of change can be good.  It's just the uncertainty leading up to that that always makes me hesitate.
Fictional characters change too.  And they can be just as reluctant about it.  The point of fiction is often to FORCE characters to recognize the lacks in their lives.  To FORCE them to confront the lies they have been telling themselves.  To FORCE them to live up to their potential.
Everything about traditional story structure is designed to take a protagonist on a journey that forces her to grow.  She gets an invitation to adventure – i.e. a journey that will involve moving out of her safe spot – and inside the adventure is the seed to unlocking personal change (her internal character arc).
This reluctance to face change is probably the biggest trait I share with Felicity, my protagonist for the Bean to Bar Mysteries.  Before the series starts, she's lost her husband, and in a state of grief moved home from Seattle back to South East Texas, to start a chocolate shop on Galveston Island.  She gave up a thriving physical therapy practice to do it, so on the surface, she seems like a character embracing change.  But Felicity is doing things she feels she has to do, to honor the memory of her late husband, or to make other people happy.  She hasn't figured out how to move forward for herself, or to live life for what will make HER happy.
She does make some strides forward in the first book, but I have to keep pushing her – by means of the plot.  So near the beginning of 70% Dark Intentions (Bean to Bar Mysteries No. 2), Felicity finds out her best friend just got engaged.  She doesn't exactly embrace this happy news.  She tells herself it is because things are happening too quickly, that her friend is acting over-impulsively – the opposite of how Felicity acts.  But she finds herself agreeing to be matron of honor – and this proves to be the catalyst that keeps her moving forward.
Of course, the murders she's drawn into solving force her to re-examine what she thinks she's capable of too, as well as her views about life.
But it's interesting, isn't it?  Sometimes a protagonist isn't the one instigating change, but instead must deal with the change thrust upon them by secondary characters (who aren't the antagonist). This makes writing dynamic secondary characters so important.  I've brought back Logan, Arlo, Autumn, and Aunt Naomi from the first book, and allowed Felicity to learn new things about them, to help her move forward.  Trust me, though.  It's good for her.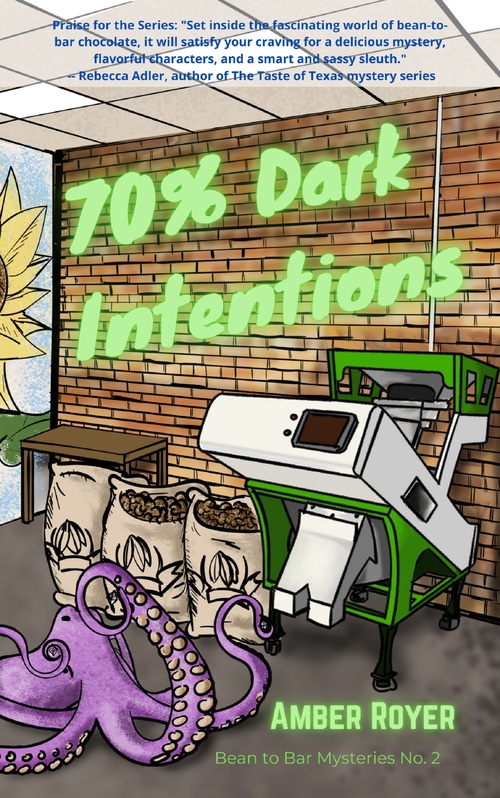 Felicity Koerber's bean to bar chocolate shop on Galveston's historic Strand is bringing in plenty of customers – in part due to the notoriety of the recent murder of one of her assistants, which she managed to solve. Things seem to be taking a turn for the better. Her new assistant, Mateo, even gets along with Carmen, the shop's barista turned pastry chef. Felicity thinks she's learning to cope with change – right up until one of her friends gets engaged. Everyone's expecting her to ask Logan, her former bodyguard, to be her plus one. But even the thought of asking out someone else still makes her feel disloyal to her late husband's memory — so maybe she hasn't moved on from her husband's death as much as she thought.
Felicity isn't planning to contact Logan any time soon. Only, Felicity finds ANOTHER body right outside her shop – making it two murders at Greetings and Felicitations in as many months. That night, Mateo disappears, leaving Felicity to take care of his pet octopus. The police believe that Mateo committed the murder, but Felicity is convinced that, despite the mounting evidence, something more is going on, and Mateo may actually be in trouble.
When Logan assumes that he's going to help Felicity investigate, she realizes she's going to have to spend time with him – whether she's ready to really talk to him or not. Can Felicity find out what happened to Mateo, unmask a killer, and throw an engagement party all at the same time?
Mystery Cozy | Mystery Woman Sleuth [Author Self-Published, On Sale: July 20, 2021, Paperback / e-Book, ISBN: 9781952854101 / eISBN: 9781952854118]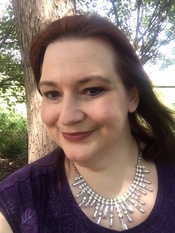 Amber Royer writes comic space opera set in the Chocoverse, where chocolate is the only thing Earth has that a hungry galaxy wants to get its hands, paws and tentacles on. She also teaches enrichment and continuing education creative writing classes for teens and adults. She spent five years as a youth librarian, where she organized teen writers' groups and teen writing contests. In addition to two cookbooks co-authored with her husband, Amber has published a number of articles on gardening, crafting and cooking for print and on-line publications. She's an avid reader, cook and language geek – and a fan of cheesy old science fiction films.