It's almost impossible for the modern young woman to understand the lifestyle or the mindset of Polite Society's Regency miss. And no wonder. She had a maid to help put on her unmentionables, comb her hair, and make her a cup of tea. She would never walk out the door without gloves covering her hands, a bonnet on top of her head, and a companion or chaperone by her side to protect her unblemished reputation from slanderous gossip.
When going out for a stroll or to shop, most ladies had a dainty reticule swinging from their wrist, though said purse would have little more than a handkerchief, a hairpin, and threaded needle in it to make any hasty repairs. No essentials such as money, keys, or lip gloss. The pampered miss of yesteryear never made her own bed, laundered a piece of clothing, or stepped a foot inside a kitchen for any reason.
My belief is that the typical woman of today would think being ridiculously pampered is getting a manicure, a pedicure, and a massage all in the same day. It's safe to say most of us have washed a dish or two in our lifetime. Even the ladies we would think of today as highly pampered–celebrities, royalty, and heiresses wash their own hair, but not the Regency miss. She had a maid to take care of that for her, too.
In the time period I write about, ladies wore fine linen chemises, wispy and delicate dresses, silk stockings, beaded gowns, and jewels in their hair. They were revered by most gentlemen, but didn't have the conveniences we take for granted. Zippers to secure our clothing, the freedom to walk alone in a park or to a friend's house, or the right to be educated. Well, some ladies were given a measure of education, but it certainly wasn't mandatory. For most, schooling was given in the home by a learned, forward-thinking father or tutor, and it was far more important the miss learn to speak French than to speak up for herself.
So, as an author who writes historical fiction, I must compel today's reader to identify with a woman who didn't tie her own bow. It's no easy task.
I start by giving my heroine a worthy goal. Something she is desperate to obtain at all costs or determined to get rid of no matter the consequences. I make her strong of mind, body, and spirit. She gets a healthy dose of curiosity, a pinch or two of intrigue, and a wee bit of caution. In every circumstance, she must be compassionate and resilient against all the troubles and obstacles that come her way, even if they are of her own making. And in the end, she must to be victorious.
Because I write historical romance, I always pamper my heroine a little more by giving her a handsome, fearless hero who believes in her, helps her, and desires her more than anything in life. He's willing to fight for her to prove it. Which I think would make any miss feel pampered, then or now.
First Comes Love #2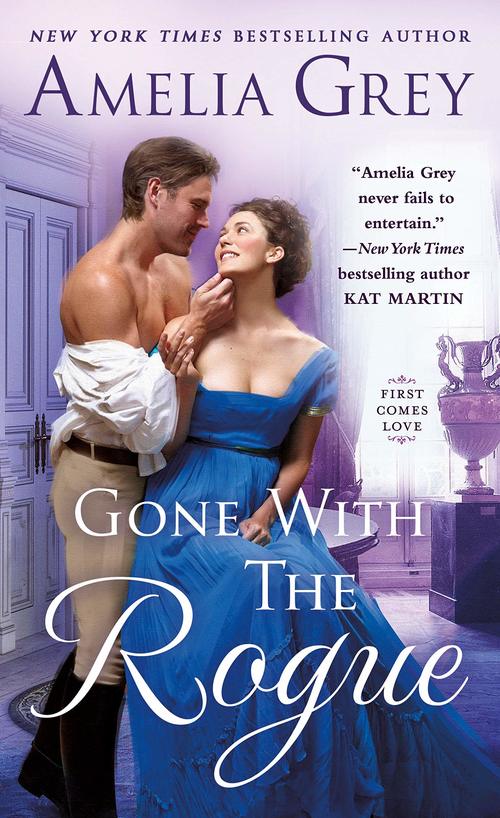 A powerful handsome rogue finally meets his match in Gone With the Rogue, the second book in the First Comes Love series from bestseller Amelia Grey.
She had an acceptable marriage of convenience. Now widowed, can this determined and beautiful mother find true and forever love?
The sinking of the Salty Dove took her husband's life–but it didn't drown Julia Fairbright's courage to endure. She creates a proper life for herself and her young son. But now, the ton's most notorious rogue is back in London, and how he makes Julia feel is anything but proper. She can't deny the desires he awakens in her, even though she knows that the handsome devil will surely break her heart.
Garrett Stockton owns a successful shipping company and is rumored to have a woman on every continent and half-a-dozen in England. The truth, however, is that Garrett has but one mistress: the wide open sea. That is, until he meets Julia, whose spirit of independence matches his own. What begins as a flirtatious battle of wits turns far more passionate than either of them could have imagined. Suddenly, Garrett's only desire is to sail into the sunset with Julia as his wife and young Chatwyn his son. But she won't take his hand–how can he convince her that his love is real and his heart is hers?
Romance Historical [St. Martin's Press, On Sale: April 28, 2020, Mass Market Paperback / e-Book, ISBN: 9781250218780 / eISBN: 9781250218780]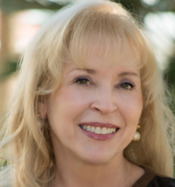 Amelia Grey (aka Gloria Dale Skinner) grew up in a small town in the Florida Panhandle. She has been happily married to her high school sweetheart for over twenty-five years. She has lived in Alabama, Connecticut, New Hampshire and now lives in Florida. Amelia has won the coveted Romantic Times award for Love and Laughter, the prestigious Maggie award for best historical and Affaire de Coeur's best American historical award. She has been a finalist for the Golden Heart and the Holt Medallion awards which are given by Romance Writers of America and numerous other awards. Her books have been sold to many countries in Europe, Russia and China. Amelia likes flowers, candlelight, sweet smiles, gentle laughter and sunshine.