by Fresh Fiction Reviewer Jessica Grogan
Welcome to Fresh Fiction! Please tell us about yourself and your new book!
Hi and thanks so much for having me on the Fresh Fiction blog!
A little about me–I'm an Aussie author who's happily married to her very own romantic hero. My hubby and I have recently become empty-nesters; our two daughters are currently studying at university, so I have lots of writing time. Yay! Aside from penning historical romance novels, I love to cook. And given the current situation around the world, I've been doing a lot of baking, particularly bread making. I find the whole process quite therapeutic and comforting.
My new book, How to Catch an Errant Earl, is the second title in my Disreputable Debutantes series with Berkley Romance. It follows the fortunes of my practical bluestocking Scots heroine with a tarnished reputation, Miss Arabella Jardine, and unrepentant rakehell, Gabriel Holmes-Fitzgerald, the Earl of Langdale. At the beginning of the story, the reader discovers that Arabella has been forced to accompany her family on a Grand Tour of the Continent when she'd much rather be in London making plans to raise money for an orphanage. Gabriel is also abroad. Not only is he attempting to avoid a scandal involving a married woman, he's on a mission to find his long-lost mother; his title is under threat and he needs her help. In Switzerland, Arabella and Gabriel cross paths in the dungeon of the famed Château de Chillon on the shores of Lake Geneva… and of course the romantic sparks begin to fly.
What's your favorite romance trope?
Forced proximity of any kind. Fake engagement and marriage of convenience tropes especially. I love the sexual tension that results when a reluctant couple are thrust together by fate or circumstance. Watching them resist then succumb to love as the romance develops is my kind of catnip.
What's your favorite type of hero and heroine to write? Rakes? Wallflowers?
I adore rakes of any kind–whether he's dark and broody and all bad-moody, or the devil-may-care playboy type, I don't mind. I just love watching a reluctant-to-commit bad boy totally falling for the heroine. As for heroines, I really like bluestockings. (I like to think that I'm a little bit of a bluestocking at heart.)
What has been the biggest challenge in writing the Disreputable Debutantes series?
Because the series focuses on four young women–best friends who were all expelled from a young ladies' academy at the start of Book One, How to Catch a Wicked Viscount–and their respective love matches–four noblemen who all served in Wellington's army and fought at Waterloo–keeping track of all the characters' backstories and including cameos of them in each subsequent book in the series, has been the biggest challenge. This is the first time I've written such a connected series and it sure is keeping me on my toes! That being said, I've written each story in such a way that all can easily be read as stand-alone titles.
Are you a procrastinator? If so, what kind of distractions do you find when you try to write?
Oh, I'm totally a procrastinator. Unless, of course, I'm on a deadline, and then it's butt-in-seat-and-get-those-words-down time. I find that I can get easily distracted by social media–chatting with friends, other authors, and readers on Facebook particularly, can really eat into my writing time if I'm not careful!
Who is your favorite character from HOW TO CATCH AN ERRANT EARL and why?
This is such a hard question! I loved bringing Gabriel to life–he's so different from any other hero I've written before. In my mind, he has a very charismatic, bad boy 'rock star' energy about him and he can be quite reckless–he even has a tattoo. But because I have to choose, I'll pick Arabella. Again, she's quite different from any other heroine I've written in the past. She's quite serious and practical, and if society would have permitted it, she would have studied to become a doctor. I identify with her a little as before I became a speech pathologist, I had aspirations of studying medicine too.
How much more fun is it to write about a scandalous heroine?
Soooo much fun. I do admire heroines who aren't afraid to stir things up. In How to Catch a Wicked Viscount, the first book in the series, many readers really seem to warm to my heroine Sophie Brightwell. Even though she starts out as shy  and bookish, she really comes out of her shell when she decides to actively pursue the reluctant-to-fall-in-love hero, Lord Malverne. I love it that she's not afraid to break the rules and on occasion, she goes beyond what is considered 'decorous' behavior for a young woman of that time i.e. the Regency era.
What can readers expect from you next?
The third book in my series, How to Catch a Sinful Marquess, is out on August 25. It focuses on the romance between heiress Olivia de Vere, another one of the disreputable debutantes, and a battle-scarred Highlander, Hamish MacQueen, Lord Sleat. I had a lot of fun playing with the 'beauty and the beast' trope and forced proximity in this one.
Rapid Fire Random Questions
Favorite candy: Allen's Strawberries and Cream. Or raspberry-flavored snakes or jelly babies.
Favorite way to be kind to yourself: Reading a great book while taking a long bubble bath. Or spending a few hours at the hairdresser getting my hair done.
Best compliment you recently gave to someone: This question is actually a bit tricky at the moment! Because we've been in lockdown where I live, the only person I've seen for the past six weeks is my husband. He's so wonderful and supportive, and as we always have such fun together, there's no one else I'd rather be stuck in isolation with. As for the best compliment I've given him recently, I sincerely thanked him for the lovely quaran-tini he made for me while I was writing this (it's basically a breakfast martini, lol). And then after dinner, he did the washing up. So I thanked him again for being so awesome. (He really is.)
Favorite flower: Rose
Random interesting fact you like to tell people: Even though I've written quite a few books, I'm a terrible typist!
Best vacation you've ever taken: My first trip to the UK in 2010. Our whole family spent five weeks touring England and Scotland, and we also had a quick dash to Paris.
Earliest celebrity crush: Davy Jones from the Monkees! It was the early seventies and I think I was three, lol.
Cake or pie: Cake. Especially chocolate.
Last book you read that you really LOVED: Bringing Down the Duke by Evie Dunmore. I couldn't put it down and I had a major book hangover afterwards.
You have a totally free afternoon – no deadlines, no obligations, no Twitter notifications! What do you do?: Binge watch a TV series or read a book from my towering to-be-read pile. Historical romance and grip-lit or domestic suspense/murder mysteries are my go-to genres.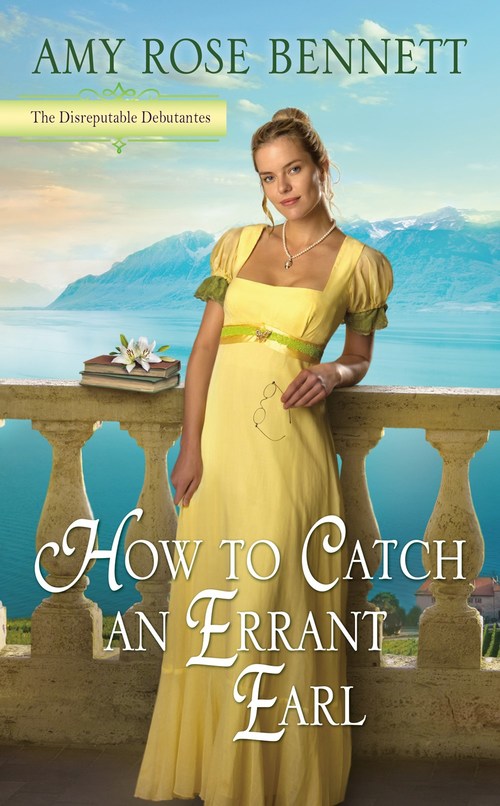 A debutante with a scandalous past is whisked away from London only to create new headlines on the Continent.
After being expelled from a young ladies' academy, it seems Miss Arabella Jardine will never find a well-connected husband. Not that she minds. A bluestocking at heart, she'd rather bury her nose in a medical text than wed. When Arabella is forced to accompany her family on a Grand Tour in Switzerland, she unexpectedly encounters the irresistible rakehell-in-exile, Gabriel, the Earl of Langdale. Arabella soon realizes the only thing worse than getting married to a charismatic but unrepentant rake would be to fall in love with him.
Dubbed the Errant Earl by the ton, Gabriel Holmes-Fitzgerald is no stranger to scandal. However, when Gabriel is caught in flagrante with the utterly delectable Arabella Jardine, he's obliged to offer for her hand. He'll endeavor to do the right thing even though he's not a prize catch. He'll certainly never let Arabella get close enough to discover the demons of his dark past. Indeed, there is one particular demon out to destroy Gabriel by exposing a long-buried family secret.
Soon Gabriel and Arabella find they are not just battling overwhelming desire, but in a fight to save their future together.
Romance Historical [Berkley, On Sale: April 28, 2020, Mass Market Paperback / e-Book, ISBN: 9781984803948 / eISBN: 9781984803955]

A true rake is reformed by his bluestocking wife.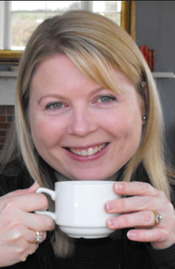 Amy Rose Bennett is an Australian author who has a passion for penning emotion-packed historical romances. Of course, her strong-willed heroines and rakish heroes always find their happily ever after.
A former speech pathologist, Amy is happily married to her very own romantic hero and has two lovely, very accomplished adult daughters. When she's not creating stories, Amy loves to cook up a storm in the kitchen, lose herself in a good book or a witty rom-com, and when she can afford it, travel to all the places she writes about.