They reached the bakery booth and Levi paid for two funnel cakes. He quickly maneuvered to the edge of the market, away from the bulk of the crowd.
"I'm starving," he admitted as he handed her a plate.
"I am too." She took a big bite. They had left in such a hurry, they hadn't thought to eat a quick lunch, and she certainly hadn't had time to pack one. The flower booth had been so busy that taking a break hadn't been an option.
The sinfully delicious concoction of deep-fried dough and sweet powdered sugar seemed to melt in her mouth. She hummed in delight. "Rachael was right. These are appendlitch."
Levi said nothing for a moment. His eyes seemed to be glued to her mouth. She belatedly realized she must've made a spectacle with all that powdered sugar.
"I'm a mess, aren't I?" She quickly swiped at her face. When his lips quirked, she realized she'd used the hand that had been holding the powdery funnel cake.
"Here," Levi said. "Let me help." He gently brushed one cheek, then the other. He hesitated a moment before saying, "You have some…here." His finger gently brushed the corner of her lip. Emma didn't mean to inhale sharply at his touch, but she did. "I didn't get it all," Levi admitted, his eyes still on her.
Using her pointer finger, Emma self-consciously rubbed at the sugar. She was keenly aware of the way Levi's gaze followed the movement.
"Is it gone?"
He nodded, his voice sounding gruffer than usual as he said, "Jah, it is."
His gaze lingered, resting on her lips. She brushed at them again, wondering why he was still staring. And staring…like that? Was that longing in his gaze? It couldn't be. Could it? Her heart unexpectedly leaped.
"Are you sure?" she murmured.
He nodded.
"Then what are you still looking at?" she demanded a bit breathlessly.
He lifted his eyes to hers. "You," he said with a carefree shrug. "You're just so pretty."
He said it so easily, so simply, as if it were just fact. Nothing more, nothing less. Emma was so startled she couldn't muster a response, not even a simple thank-you. She was too busy wondering at the way a delicious warmth filled her over the compliment.
Levi took a bite of his funnel cake and Emma realized that he managed to keep his face powder free.
"Would you like to look around a bit?" he asked. "Rachael said not to hurry."
"I…um…s-sure," she stammered.
They finished their desserts, then joined the crowd. Emma was very aware of the way Levi's hand repeatedly bumped into hers, his fingers brushing against hers ever so slightly. He would never be so bold as to hold her hand in public, but she kind of wondered if he wanted to. Somehow their day of selling flowers seemed like so much more than that.
As they moved from one booth to another, she realized she was barely paying attention to the items. She could think of nothing but Levi.
How was it that with one heated look and a simple compliment, Levi had managed to send her thoughts spinning delightfully out of control?
Copyright © 2021 by Amity Hope. All rights reserved, including the right to reproduce, distribute, or transmit in any form or by any means. For information regarding subsidiary rights, please contact the Publisher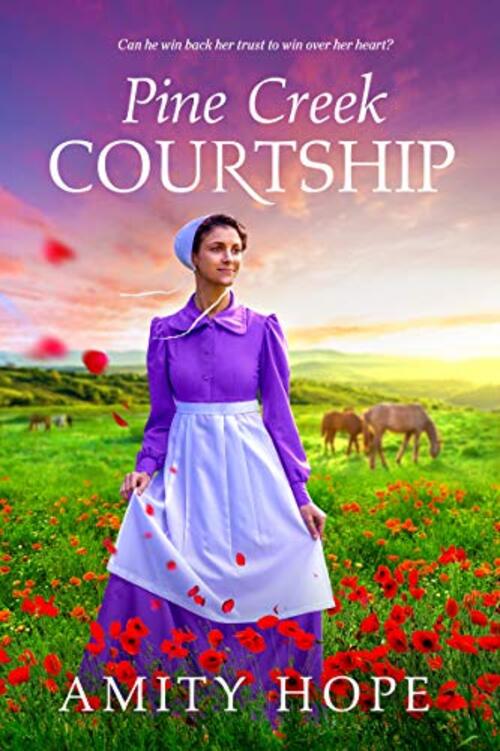 Love may be right around the corner in the heartwarming, sweet, and gentle Pine Creek series from Amity Hope.
After the death of her beloved father, Emma Ziegler just wants to keep her family's maple syrup farm afloat and raise her two young siblings. But when her meddling aunt's first choice of a husband for her turns out to be Emma's last choice—Pine Creek's most notorious bachelor—Emma grows desperate. Her aunt won't listen, no matter how much she tries to tell her the man in no way embodies the Amish values of faith or hard work.
Kind and industrious Levi Bontrager has always wanted to protect his best friend Emma, even after a secret from their youth left them growing apart. Which is why he steps in to claim that Emma cannot wed anyone else, as she is currently courting him. Yes, the small lie leaves him feeling guilty, but Levi's hope is that if he can win back the beautiful Emma's trust, he can also win over her heart…for real.
But can a courtship that began just for show ever blossom into a true romance that could save both their futures?
Romance | Amish [Entangled: Amara, On Sale: March 30, 2021, Mass Market Paperback / e-Book, ISBN: 9781682815687 / eISBN: 9781682815908]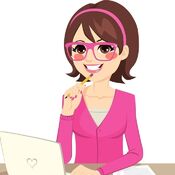 Amity Hope is a romance author with a degree in elementary education, who worked in that field for ten years before deciding to chase her dream. If she's not writing or spending time with her boys, she's most likely reading. An author of many books for young adults, Amity made her Amish fiction debut with Pine Creek Courtship. She lives in beautiful northern Minnesota with her two sons.