He turned on the lamp, pulled up a footstool, and sat in front of her. Reluctantly, it seemed, he held out his injured hand.
"Ow!" Abby commiserated. That bird had taken a chunk out of Quinn's pointer finger, just below the middle knuckle. "You need stitches."
"I've fixed worse cuts than this with duct tape." He dug through the kit and handed over a tube of Neosporin. "Just get on with it."
"How did he get you so bad?" As gently as she could, she smeared the antibiotic cream over the open gash.
"Made the mistake of leaning my hand on the aviary wire when I poured the food into his bowl." He handed over a fresh Band-Aid. "I won't do that again."
"I'm sorry. I hate that you're having to do all this for me." She wrapped the Band-Aid around his finger and smoothed down the adhesive edges.
"My fault, remember?" He replaced the bandages and Neosporin and snapped the lid shut. "Can you please stop apologizing?"
"I'm sorry."
He tucked a strand of hair behind her ear. "How does your foot feel?"
The throbbing pain from earlier this morning now burned with the heat of a thousand suns. "Not too bad. I should probably take something, though, to keep it from getting worse."
She told him where to find the medicine, and he brought back a couple of tablets and a glass of filtered water from the fridge door. She took the pills and set the glass on the side table. "You want one of my pain pills for your bird finger?"
"No, thanks." He turned off the lamp. "Lie back."
She obeyed, and he tucked pillows under her foot, then covered her with an ugly crocheted throw that draped over the back of the couch. "Think you can manage to rest with your foot up for a couple hours? I'll get some work done next door, then come back and check on you when I'm done."
"Thank you."
He put his hands on his hips and scowled down at her. "I wish you'd stop thanking me, too."
"I'll try, but I really am grateful for all you're doing."
He knelt down next to her, his blue eyes serious. "You are driving me crazy, you know that?"
"Am I? I'm sorry."
He ran a hand along her arm, a light touch that made her shiver. Then he leaned in close, so close…his mouth inches from hers. "Stop apologizing."
Then he kissed her. His lips were warm, firm, gentle, exploring. He teased her lips with his tongue, encouraging her to open her mouth. She did, and he slipped his tongue inside, just a little. With light flicks of his tongue on hers, he teased her to respond. She explored the tastes and textures of the inside of his mouth; his tongue soft-rough and sweet, his teeth shiny-slick and tasting of peppermint. And while their mouths were getting acquainted, the rest of her body tightened and tingled, everything in her reaching out toward him.
He stood and brushed his feathery hair back with both hands. "Get some rest. I'll check on you later."
(c) Babette de Jongh, Sourcebooks Casablanca, 2021. Reprinted with Permission by the publisher. 
Welcome to Magnolia Bay #1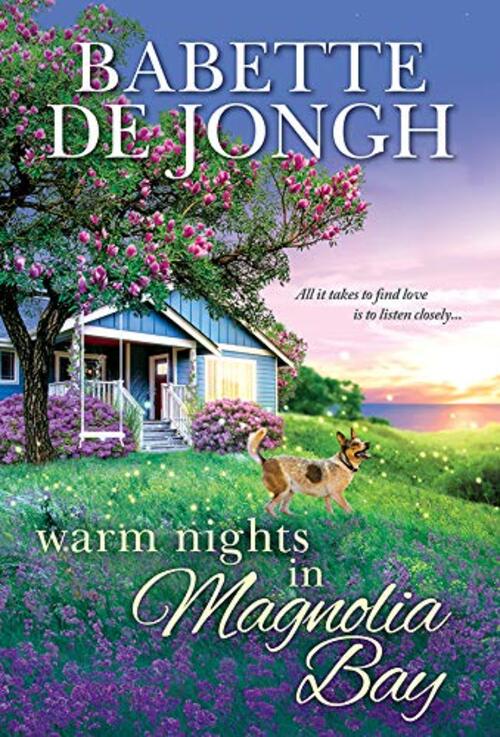 An extraordinary new series from an extraordinary author…
Abby Curtis has made such a mess of her life that Rock Bottom is an ambitious climb. With nowhere else to go, she lands on her Aunt Reva's doorstep at Buckaroo Barn, home to a motley assortment of rescue animals. Reva, a telepathic animal communicator, gives Abby time to reinvent herself by leaving Abby in charge of the farm while she's away. Abby immerses herself in caring for the animals and running educational programs to teach kids to appreciate and relate to them. Just when Abby is finally starting to feel like herself again, a sexy new neighbor moves in next door, determined to find some peace and quiet, and challenging Abby in ways she never expected. Can she convince her stubborn new neighbor to give the noisy petting zoo next door…and her…a chance?
You'll fall in love right along with Abby as animals and humans alike find unexpected ways to connect, nurture each other, and thrive.
Fiction | Romance Contemporary [Sourcebooks Casablanca, On Sale: March 30, 2021, Mass Market Paperback / e-Book, ISBN: 9781728216959 / eISBN: 9781728216966]
Babette de Jongh lives in the backwoods of L.A. (that's Lower Alabama) with her husband, whichever of the kids happen to be home, and double-digit numbers of assorted animals. When she's not writing, she's outside working in the garden, in the basement sculpting something, or working at her "other" job as a telepathic animal communicator, counselor, and healer. She teaches workshops on animal communication at Dragonfly Pond Farm.