Let's talk book boyfriends.
We all have them, right? And all through my teens, that was the only kind of boyfriend I had. I was such a gawky, awkward girl that when my friends were out on dates, I was home watching episodes of The Love Boat.
But I did have my romance novels.
I read a ton of romances back in the day and there was one similar feature to all of the stories: The girl always fell for the guy first. It was the guy who had to come to his senses and realize that she was worth loving.
And I always wondered, Why can't he fall for her first? Why can't she be the one who has to be convinced?
I wanted to read that book. If there was going to be a character in love, heart cracked open and oozing need—why couldn't it be the guy?  Maybe it was about fairness. I want to even the score after all those books I read, all those poor heroines who fell first. Maybe it was a little wish fulfillment. There's something sexy about a guy who's fallen hard and isn't afraid to admit it to a girl.
Or fight for her.
So that's why, now that I'm writing my own romances, I get to have my way with the guys and write the Book Boyfriend I want.
In ANNOUNCING TROUBLE, it's Josie who has real reasons to keep her heart safe. And though Garrett has reasons as well, he's the one who cracks and oozes first. Don't get me wrong. He's strong. Cocky. Confident. He's an athlete used to getting whatever he wants. But he's also vulnerable and that makes him a heart breaker in my book.
I love that in a book boyfriend. I hope you will, too. But hands off Garrett, he's mine. 😉
What do you love most in a Book Boyfriend?
Thanks for being here and thanks to Fresh Fiction for inviting me to visit!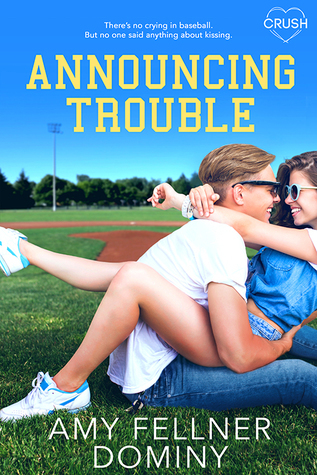 I may know everything there is to know about baseball, but that doesn't mean I have to like it. Or like him. Garrett Reeves: sidelined player and the embodiment of everything I've learned to hate about baseball. He's gorgeous, he's cocky, he's laser-focused on getting back in the game, no matter the cost.
When he convinces me to call games alongside him, our chemistry heats up the booth. We're good together, whether I want to admit it or not. I'm finding that I like baseball again, but even worse, I'm liking Garrett. A lot.
But when he has to decide between our future and a new shot at his dreams, I know baseball will win out every time.
Disclaimer: This Entangled Teen Crush book has tons of hilarious banter, lots of sexual tension, and a hero who will throw a wild pitch right at your heart.
Young Adult Contemporary | Romance Sports [Entangled Crush, On Sale: August 5, 2019, e-Book, ISBN: 9781640638433 / ]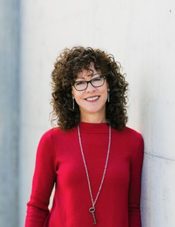 Amy Fellner Dominy is the award-winning author of books for teens, tweens and toddlers. An MFA playwright, Amy's novels include The Fall of Grace; Die for You; A Matter of Heart; Audition & Subtraction; OyMG and the picture books series, Cookiesaurus Rex. Amy was recognized in 2017 by the Arizona Library Association with the Judy Goddard Award. Her novels have been recognized as Bank Street College of Education Best Book Selections, and OyMG is a Sydney Taylor Notable Book for Teens. Amy lives in Phoenix with her husband and a puppy who is training them.